Can Terrace Marshall Continue to Produce with Joe Brady?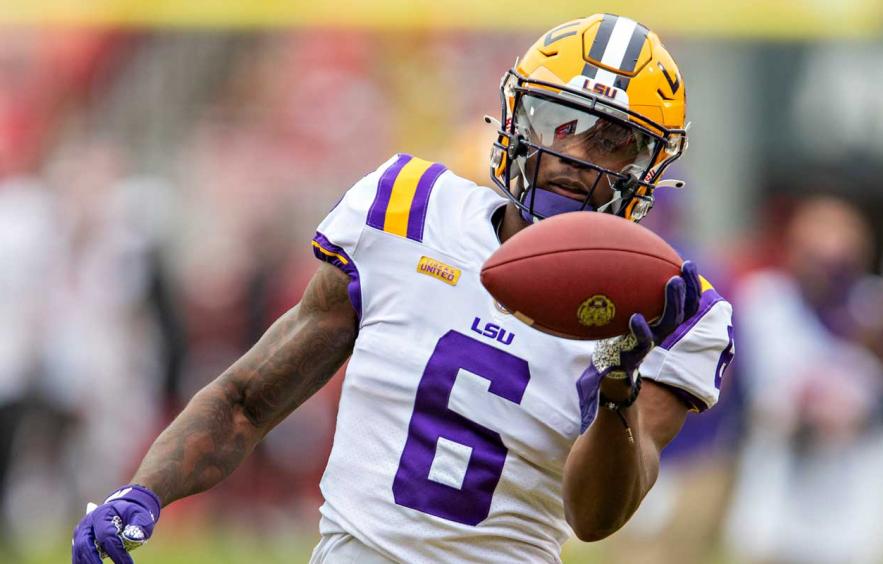 Wesley Hitt/Getty Images
Sliding down the draft board after NFL Combine medical rechecks, Terrace Marshall landed in Carolina with 59th overall pick. An interesting landing spot, Marshall enters a Panthers offense taking a shot on former New York Jets signal-caller Sam Darnold. However, the Panthers also provide immediate opportunity and familiarity for Marshall with his former LSU play-caller Joe Brady. With a chance to contribute early, Marshall's stock continues to rise post-draft.
This piece will examine Marshall's collegiate production and what to expect at the NFL level. Second, this piece will analyze Marshall's fit with the Carolina Panthers and how this could influence the entire offense.
Terrace Marshall

Size Speed Specimen

A late riser in the NFL Draft process, Marshall actually entered LSU as the third-ranked receiver in the 2018 class and a higher recruit than Ja'Marr Chase. Marshall stands 6-foot-3, 205 pounds with a 4.40 40-yard dash. One of the few size-speed specimens in this class, Marshall showed the ability to play in and out of the slot during his time with LSU.

From a production standpoint, Marshall put very little on the field in 2018 with just 12 catches for 192 scoreless yards. However, Marshall rebounded with 46 receptions for 671 yards and 13 scores in 2019 while playing with superstars Ja'Marr Chase and Justin Jefferson. More impressively, Marshall produced this stat line while missing three games due to a foot injury.

Moving forward, Marshall operated as the true alpha receiver in 2020 after Jefferson entered the draft and Chase opted out of the season. Opting out himself after seven games, Marshall finished with 48 receptions, 731 yards, and 10 scores for LSU. This gave him an elite 46.1% College Dominator Rating and a 19.3 Breakout Age. College Dominator refers to the total percentage of receiving yardage and touchdown production a player accounted for in their final season, while Breakout Age refers to the age of a player during their first season accounting for 20% of receiving yards and touchdowns in their offense.
Terrace Marshall

Game Logs, 2020

| Opponent | Targets | Receptions | Yards | TD |
| --- | --- | --- | --- | --- |
| Mississppi State | 10 | 8 | 122 | 2 |
| Vanderbilt | 4 | 2 | 67 | 2 |
| Missouri | 14 | 11 | 235 | 3 |
| South Carolina | 7 | 6 | 88 | 2 |
| Auburn | 9 | 4 | 28 | 0 |
| Arkansas | 11 | 7 | 57 | 0 |
| Texas A&M | 12 | 10 | 134 | 1 |
From an efficiency standpoint, Marshall also proved himself as one of the country's more versatile receivers. Early in his career, Marshall played almost exclusively on the boundary, with Jefferson manning the slot. In 2019, Marshall saw 23 of his receptions, 439 yards, and eight touchdowns occur at least 10 yards downfield. However, Marshall subsequently moved inside and played 73% of his snaps in the slot during his 2020 season. Marshall also won in a variety of ways with nine contested catches (17th) and averaged 6.4 yards after the catch per reception (69th) that season.
The main concern with Marshall's profile remains the injury history noted above. Marshall missed three games in 2019 with a stress fracture in his foot and underwent a knee scope this January. He also suffered a lower body injury as a senior in high school that limited him early in his LSU career. With Marshall opting out after seven games this year, he put up only 106 receptions, 1,594 yards, and 23 scores in his three-year LSU career.

Offensive Fit in Carolina
With Curtis Samuel moving on this offseason, Carolina entered the NFL Draft with a receiver need behind D.J. Moore and Robby Anderson. While the Panthers signed David Moore to help fill the void, Marshall offers the higher ceiling as Samuel's potential replacement. Samuel himself vacates 97 targets, 77 receptions, 851 yards, and three scores in the offense. Samuel also played 71.4% of his snaps in the slot, making Marshall's offensive fit even more intriguing.
Running a spread scheme at LSU and throughout his first year in Carolina, offensive coordinator Joe Brady looks likely to continue this trend moving forward. Last year, Moore played in the slot on 22.7% of his snaps, while Anderson reached 32.6%. This position historically holds value in Brady's system. Back in 2019 at LSU, Justin Jefferson notched 111 catches, 1,540 yards, and 18 scores, while playing a majority of his snaps in the slot. Last year, Carolina played with at least three wide receivers on the field for 66% of their offensive plays.
From a production standpoint, Anderson actually functioned as Carolina's most efficient receiver from the slot last year with 2.39 yards per route run (PFF) from that alignment. Moore checked in at 0.92. Moore and Anderson both ran a 4.42 and 4.36 40-yard dash respectively, giving them similar athleticism to Marshall. While neither mirrors Samuel's 5-foot-11, 195-pound build, both could theoretically play a higher percentage of their snaps in the slot this season. With each offering elite athleticism, Carolina's offense should offer explosive potential regardless of alignment.
Carolina Slot Production

| Player | Height | Weight | 40-Time | Slot Yards/Route |
| --- | --- | --- | --- | --- |
| D.J. Moore | 5'11' | 215 | 4.42 | 0.92 |
| Robby Anderson | 6'3" | 190 | 4.36 | 2.39 |
| Terrace Marshall | 6'0" | 205 | 4.40 | 2.40 |
| David Moore | 6'0" | 215 | 4.43 | 0.60 |
With that said, it is possible that all three receivers simply rotate their time spent in the slot as well. Head coach Matt Rhule explained, playing both inside and outside is "paramount to the things we try to do". With Carolina expected to embrace the pass again after throwing 59% of the time last year, Marshall should walk into some immediate production. How much remains difficult to gauge with Anderson and Moore commanding 136 and 118 targets last year. Not to mention, Christian McCaffrey barely played in 2020, potentially propping up Samuel as the WR3 last year. Either way, Marshall's ADP remains outside the top 150, making him a worthy flier in redraft leagues.
As for dynasty, Marshall remains a bet on pure talent. 4for4's George Kritkos ranks Marshall as his WR6 among rookies, WR46 overall, and 86th overall player in dynasty startups. Moore remains under contract through 2022, but Anderson will be a free agent at the end of this season. Marshall and Anderson hold many physical similarities, making Marshall a potential heir in the event of an Anderson departure.
Bottom Line
Even in a crowded depth chart, Marshall looks like a worthy flier across fantasy formats. On Underdog Fantasy, Marshall currently comes off the board at pick 150.6. While concerns exist surrounding Darnold and his overall standing on the depth chart, Carolina projects to embrace a pass-heavy approach in 2021. The Panthers currently have Darnold under contract through 2022. However, without a positive first year, they likely hit quarterback again in the near future. While this makes Marshall more attractive in dynasty leagues, the chance for a Darnold resurgence trickles down to Marshall with his ADP outside the top 150.