5 Settings to Spice Up Your Fantasy Leagues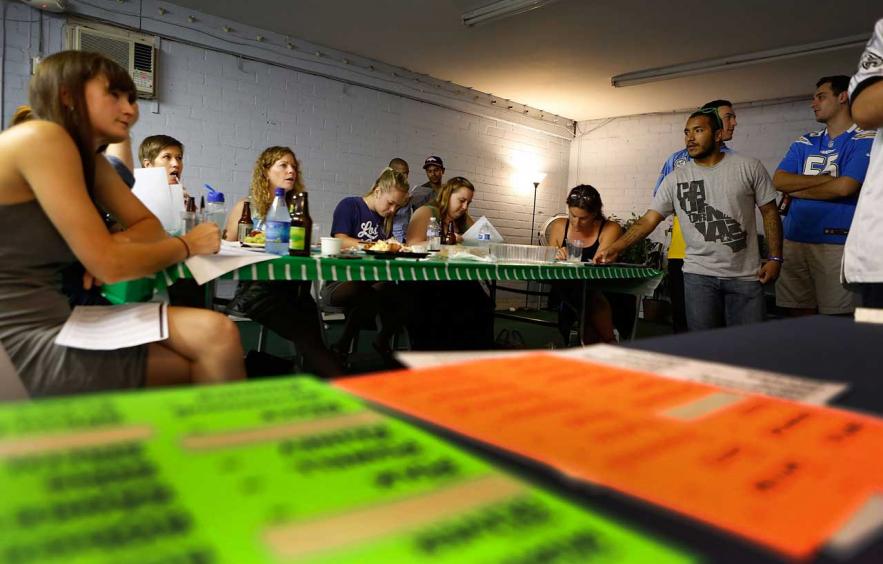 Randy Shropshire/Getty Images
We all have at least one fantasy league that has kept things "status quo" for the past decade. They've shot down your proposals to switch the league to PPR, to eliminate kickers, defense, or maybe add an additional flex spot to your roster. If your league has grown bland in recent years below are five settings to add some spice to your fantasy leagues.
Implement Tight End-Premium Scoring
Every season, it seems like there are only a handful of tight ends who are truly useful for fantasy football. If you miss out on the likes of Travis Kelce, George Kittle or Darren Waller, then you're left scrambling for a player who can get you 10 points a week consistently. Worry no longer about missing out on an elite fantasy tight end in your drafts, as implementing a tight end-premium scoring system can resolve your woes.
Editor's Note: Connor Allen helps us further understand TE-Premium.
A tight end-premium scoring system is one that expands upon a PPR (points per reception) format. For example, every player in a full PPR format receives 1.0 points per reception. In a tight end-premium format, tight end receptions can be worth 1.5 or 2.0 points per reception, while all other positions remain at 1.0 points per reception. Putting a premium on the tight end position raises the value of tight ends overall in your fantasy league and makes more players beyond Kelce, Kittle and Waller worth drafting and trusting weekly. Not only does it make other tight ends like T.J. Hockenson and Mark Andrews more enticing to draft, but it raises the ADP of tight ends in your league and will make your draft less predictable and more exciting.

3rd Round Reversal Drafting
Has your home league draft gotten stale in recent years? Using the snake draft pattern is one of the most common for fantasy football, but there is a way to make your draft much more interesting for those holding a late first-round pick: implement a 3rd round reversal (or 3RR, as it is also known). The idea of the 3rd round reversal is as simple as it sounds. When your draft reaches the 3rd round, the draft order reverses. This means the person who holds the 10th overall pick in a 10-person league would then have the first selection in the third round before the draft returns to a normal snake style in round four. Not only does this make the draft more exciting for late-round pick holders, but it also makes drafts fairer. In traditional snake drafts, the fantasy managers who hold the first, second and third overall picks have a significant value advantage over those holding the eighth, ninth and 10th overall selections. Implementing a 3rd round reversal balances brings another element of skill to your draft day.
Points Per Carry Scoring
Like 3rd round reversal drafting, points per carry is a fairly self-explanatory rule change. Running backs (and other offensive skill players) receive a pre-set amount of points per carry they have in the run game. For example, if Derrick Henry had 20 carries for 200 yards and zero touchdowns, he would have 40 fantasy points for that game. Implementing a points per carry scoring system helps even out the value gap between pass-catching running backs and more traditional "thumper" running backs (like Henry and Nick Chubb) who don't see as much passing game work. If you're sick of how heavily weighted catches are to running backs in PPR scoring formats, but can't get your league to change the scoring format entirely, then maybe proposing a points per carry rule change is the right solution to keep your longtime league fun and fair.
Keeper Leagues
Keeper leagues are one of my favorite league settings to revitalize any fantasy league. Have you been doing the same redraft format for 10 years, but you and your league don't want to take the full leap into a dynasty league? A keeper league is the perfect middle-ground between redraft and dynasty, as you're able to have strategic elements from both standards of playing. In general, a keeper league is a redraft league, but instead of redrafting your entire team the next season, you're allowed to keep a set number of players you drafted the season prior.
Editor's Note: The keys on how to run a keeper league from Brandon Niles.
I've provided some sample keeper league rules you can try out and propose to your league commissioner, should you be interested in doing so.
League Rules:
Can keep up to two players per season.
Players must have been drafted by a team. No undrafted waiver wire players can be kept.
You get one keeper from rounds 1-9 of the draft and one keeper from rounds 10-16. You cannot keep two players from rounds 1-9, or two from rounds 10-16.
The first year you keep a player, you forfeit the round draft pick you selected him with the year prior. For example: in 2020 you selected Antonio Gibson in the 12th round of your draft. If you decide to keep him, you forfeit your 12th-round draft pick in 2021.
The second year in a row you keep the same player, you forfeit the round draft pick of his current ADP. For example: at the end of the 2021 season you decide to keep Antonio Gibson again. In your 2022 draft, you would forfeit the pick of his ADP (let's say it's a third-round pick).
Declare a keeper deadline. Make a deadline for all keepers to be submitted to your league commissioner, so they can be taken out of the pool of available players on draft day.
These are sample rules, so feel free to add or adjust any of them to fit your specific league. I'd highly recommend implementing a keeper league system to add that extra layer of strategy come draft day.
It's Time to (Super)Flex on Your League
One of the most trendy fantasy league settings in recent years is the addition of a Superflex roster slot to your fantasy teams. Superflex not only sounds cool but gives your roster much more versatility for week-in, week-out lineup configurations and changes the values of quarterbacks for the better. In a Superflex slot, you can play a tight end, running back, wide receiver or quarterback. The most popular position to put in your Superflex slot is a quarterback, due to their high fantasy point floor on a weekly basis. Adding a Superflex adjusts the values of quarterbacks to where they should be on draft day. The late-round quarterback approach is not as feasible in a Superflex draft, since quarterbacks are drafted much earlier. You can roll out of your draft without a second solid quarterback, but it's far from ideal if you want to maintain a competitive team. I'd suggest adding at least one Superflex slot to your fantasy rosters since it makes the game much more fun—and isn't that what fantasy football is all about?
Editor's Note: Greg Smith has a primer on 2QB/Superflex leagues if you'd like to know more about this format.