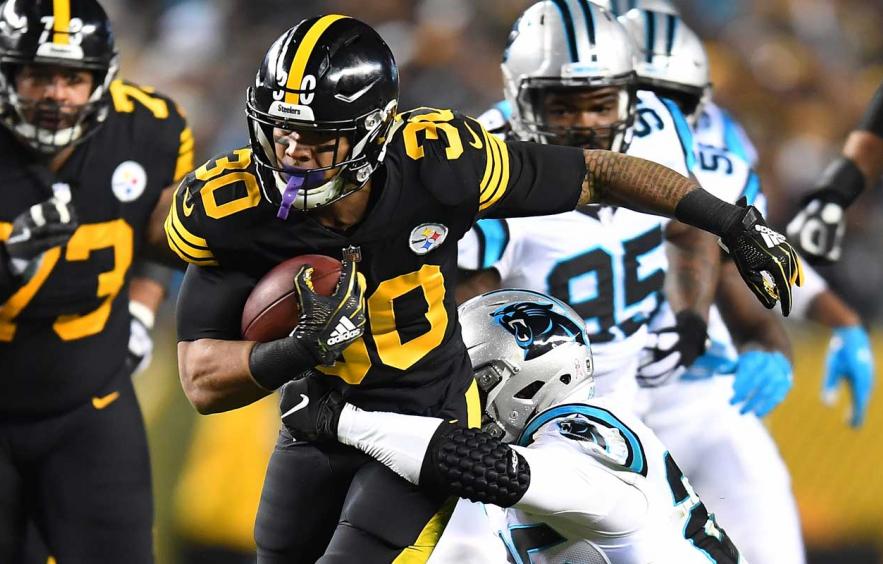 Joe Sargent/Getty Images
These last eight months may have felt more like eight years, but we finally have some much-needed relief in the form of a new NFL season. The buildup may have felt a bit unusual, but the season is not lacking for intrigue or storylines. Long-time veterans have joined new teams, players have come out of retirement, and a few surprises right at the end of the offseason has the season set up for a fun ride.
Year 2 of The Rundown is going to look a little different. The plethora of stats will remain but the format will be more laser-focused on key players trending up and down at each position as well as a quick synopsis of each game including betting lines, offensive and defensive pace, and any other key stats to know. Week 1 will look at a lot of 2019 data but as the season progresses, 2020 information will be added and analyzed.
Like last year, this article will leverage the wide array of 4for4's data library including snaps, touches, targets, fantasy scoring, and red zone information. Lucky for you, this article will put everything in one place in time for those weekly matchup decisions.
Quarterbacks Trending Up
Cam Newton

, New England

Patriots

A Week 1 matchup against the Dolphins is nice and things seem set up well for Cam to have a good start to his Patriots tenure. 2019 saw 26% of the team's targets go to running backs and that should continue here, enabling Cam to avoid any major turnovers. And this was the sixth-highest scoring group of fantasy wide receivers in 2019 so expect some scoring opportunities through the air to feature that group. Sony Michel was also tied for eighth with 41 red zone rushing attempts. Expect Cam to take a few of those chances as early as this week.
Gardner Minshew

, Jacksonville

Jaguars

Much like the Patriots in 2019, the Jaguars have funneled their pass targets away from the tight end position (just 12% last year). That should continue this season with no noticeable upgrade at the position, sorry Tyler Eifert, but a bigger change could occur in the red zone. The team had nearly the same number of pass attempts (63) as they had rush attempts (62) but Leonard Fournette, the recipient of 43 rushes and 50 overall red-zone touches, is gone. That's where Minshew could see a boost both in the air and on the ground starting with his matchup against the Colts.
Quarterbacks Trending Down
Daniel Jones

, New York

Giants

Positive red zone regression from Minshew is much better than potential negative regression from Jones this season. It's not his fault, but is it likely that he has more than twice the pass touchdowns inside the 10-yard line (10) compared to rushing touchdowns by running backs (4)? Probably not. He should be a top-24 quarterback most weeks, as the Giants produced one in 14 of 16 games last year, but the Steelers are a tough matchup for the young signal-caller. This looks like a good week to bench Jones.
Aaron Rodgers

, Green Bay

Packers

Much like Jones, Rodgers is the victim of a bad matchup. The Vikings allowed the seventh-fewest points per possession in 2019 (1.74) and the Packers averaged fewer than 200 yards passing in their two matchups. Rodgers himself received little help this offseason and they are likely to lean on the running game and defense to win another low scoring game. Rodgers was the 17th and 30th ranked fantasy quarterback against the Vikings in 2019. It will be hard to expect much better than a mid-QB2 finish.
Running Backs Trending Up
James Conner

, Pittsburgh

Steelers

Even with a terrible quarterback situation in 2019, Steelers running backs managed 11 top-24 fantasy finishes with Conner accounting for five of them (three were top-12). This week will start the 2020 tally as Conner gets a Giants defense that allowed the third-most points to opposing offenses and saw 29 rush attempts per game. Conner should get his chances here as there were 12 instances of 15-plus touches from a Steelers running back last year. As long as he's healthy, Conner will get the ball.
Tarik Cohen

, Chicago

Bears

In 2019, Tarik Cohen had as many top-24 finishes as David Montgomery with five. With Montgomery's status still up in the air as of this writing, it's hard not to see a scenario where he hits the top-24 in Week 1 in his matchup against the lowly Lions. He did it in Week 10 while Montgomery was healthy and the latter reached the mark in Week 13 so it's likely that streak gets extended. While Cohen only had one game with 15-plus touches, he did have 11 contests with five or more targets, so at a minimum, the passing game should be there for the diminutive runner.
David Johnson

, Houston

Texans

Sometimes a new team can be a tough transition, but Johnson walks into a great situation. The Texans gave Carlos Hyde 15-plus touches in 10 different 2019 games and accounted for over half the rushing attempts inside the 10-yard line. Add in the departure of DeAndre Hopkins, the sixth-ranked fantasy wide receiver and fifth-most targeted player, and suddenly Johnson becomes one of their top options. Houston put up nearly 150 rushing yards per contest against the Chiefs last year and scored 31 points in each of those contests, making this a ripe matchup for the veteran.
Running Backs Trending Down
Devin Singletary

, Buffalo

Bills

Despite the Bills giving 15-plus touches to a running back on 12 occasions last season, the position ranked just 29th in fantasy points scored. That was largely due to a lack of passes thrown their way, as just 16% of targets went to the position. It's hard to see that changing too much with Stefon Diggs joining the team. It makes the upside limited against a Jets defense that finished second in rushing yards allowed. Tread lightly here.
Nick Chubb

, Cleveland

Browns

A tough Week 1 matchup against the Ravens, as they had the fewest rush attempts against due to game script, exacerbates a tough positional situation. After Kareem Hunt joined the lineup, Chubb finished outside the top-24 running backs in four of eight contests, which includes a Week 16 game against the Ravens where Chubb was the 51st ranked running back. Chubb should get more than 15 touches - he managed the feat in all but one game - but the efficiency won't be there for those expecting a top-12 performance. The Kareem Hunt extension just hit the wire as this gets published, which may cap Chubb's upside for a while.
Antonio Gibson

, Washington

Football Team

It seems odd to place a rookie on a downward trend but the hype for Gibson has elevated him to a place where a Week 1 letdown is probable. He gets an Eagles defense that ranked third in rushing yards allowed, a tall feat for a player who only had one double-digit carry game in college. The saving grace could be the receiving game but no running back not named Chris Thompson managed five targets in a contest for Washington last year. A potential timeshare and a poor game script won't help either.
Wide Receivers Trending Up
DeSean Jackson

, Philadelphia

Eagles

The Eagles can't just target the tight ends in this offense. Since the Eagles only target wide receivers on about 40% of their pass attempts, it is important to create big plays from the limited volume. Washington allowed over 400 offensive yards in both contests against the Eagles with Carson Wentz finishing as a top-eight quarterback each time so there should be opportunity for Jackson here.
Allen Robinson

, Chicago

Bears

Unlikely to sneak up on anyone, Allen Robinson had eight top-24 wide receiver weeks in 2019 and finished as the WR11. However, this is one of those matchups where he should thrive. In two 2019 contests against the Lions, Robinson finished 22nd and 10th among fantasy receivers after seeing 21 targets. The Lions were last in passing yards allowed and bottom five in most pass defense categories in 2019. Even Mitch Trubisky can't screw this up.
Stefon Diggs

, Buffalo

Bills

The Bills are one of the most pass-heavy offenses towards wide receivers with 68% of targets going to the position and that was before the addition of Diggs. While the Week 1 matchup against the Jets is mostly pass neutral, former top receiver John Brown had a top-12 week against the Jets last season. Diggs should see an increase in his five red-zone targets from 2019 and Josh Allen was able to support two wide receivers in the top-36 last year. A strong season starts here.
Wide Receivers Trending Down
Cooper Kupp

, Los Angeles

Rams

This isn't a slight on Kupp's total season, but Week 1 might not live up to the rest of his 2020 campaign. Kupp had seven top-24 finishes in 2019 and led the team with seven different games with 10-plus pass targets. The Cowboys remain a top-10 pass defense and held more quarterbacks under 200 yards (six) than allowed over 300 (three). Kupp's saving grace here will be the red zone as his seven such touchdowns in 2019 was more than double any other receiver. That said, it's hard to feel confident about such a boom or bust proposition, so a finish outside the top-24 is more probable than a top-12 week.
DeAndre Hopkins

, Arizona

Cardinals

Much like Kupp, Hopkins has such a high bar to meet weekly so any stumbling blocks can really impact a fantasy team. A new team is hard enough but a truncated offseason and a Week 1 matchup against the top pass defense in terms of yards allowed is deserving of caution. In two matchups last year, no Cardinals' wide receiver finished in the top-24, with Kyler Murray averaging under 200 passing yards. The positive is that Murray threw for multiple touchdown passes in both contests and Hopkins is likely his first option in the red zone. A top-12 finish here seems like an unlikely outcome but he will still be startable as the targets should lead to enough volume in this game.
A.J. Green

, Cincinnati

Bengals

Joe Burrow is definitely an overall upgrade to the Bengals but it's easy to forget that the Bengals quarterback group ranked as the 12th-highest scoring unit in fantasy last year. That was largely due to game script with the team forced to throw the ball 616 times in 2019. Green wasn't part of that as an injury kept him out but he walks back into a tough matchup against the fifth-ranked Chargers pass defense, a team that has held the last nine opponents under 300 yards passing. This game could be closer than expected so the pass volume could be a bit lighter here. Green could stumble out of the blocks and finish outside the top-36 wide receivers.
Tight Ends Trending Up
Noah Fant

, Denver

Broncos

The Broncos have a group of young offensive weapons that have redraft and dynasty fantasy players alike excited for the future. Fant is an integral part of the group and did well for a rookie, finishing 16th at the position with eight top-24 weeks. Two areas of opportunity are an increase in volume - he had just four games with more than five targets - and an improvement in the red zone, where he failed to catch any of his six targets inside the 10-yard line. His Week 1 opponent, the Tennessee Titans, rank 26th in schedule-adjusted fantasy points allowed to the tight end position. The positive matchup and the potential of a Year 2 bump could make this a quick ascent into weekly starter status.
Eric Ebron

, Pittsburgh

Steelers

The league's worst passing game, fantasy-wise in 2019, targeted tight ends just 13% of the time with Vance McDonald seeing all but four of those 59 pass attempts. McDonald may remain on the team, but that level of centralization of targets at the tight end position and an expected increase in pass efficiency bodes well for Ebron, the presumed starter. He also gets Ben Roethlisberger back and faces a Giants defense that ranked bottom five in passing yards and net yards per pass attempt allowed. McDonald led the Steelers in red-zone targets last year and the position could do it again with Ebron.
Tight Ends Trending Down
Austin Hooper

, Cleveland

Browns

Hooper's 2019 was a revelation. In just 13 games, he had eight top-12 finishes with at least five targets in every contest. Unfortunately, that was with the Falcons, an elite passing team, and not his current team, the Cleveland Browns. His new team struggled with tight end production, likely due to a lack of talent, and targeted them just 67 times all season. That number will go up but will it be at the expense of Jarvis Landry or Odell Beckham? Week 1 features a matchup against the Ravens - the second-best team against opposing fantasy tight ends - and the sixth rated pass defense overall last year. Week 1 may be an instance to look to other options for the normally startable Hooper.
Chris Herndon

, New York

Jets

Another brutal tight end matchup, Chris Herndon faces the Bills, a team that held the Jets' tight ends under five fantasy points in both 2019 matchups. The pass game overall wasn't much better either with Sam Darnold ranked outside the top 20 both times. Herndon is an upgrade on the 2019 tight end depth chart so he will be an improvement on the 26th fantasy-ranked tight end group. It just won't be the case here.
Game Pace
Texans

(+9.5) @

Chiefs

; Total: 54.5

This should be a quick game with the Chiefs sporting the sixth-fastest offensive pace, when adjusted for game situation, and the Texans rated 14th in 2019. Both games exceeded 50 total points last year including the Divisional Playoff matchup that totaled 82 points. Keep an eye on the two new running backs, who could help extend drives via the pass or run.
Seahawks

(-1) @

Falcons

; Total: 49.0

Typically, the Seahawks are a slow-paced offense but they rank 16th when the game is within six points, a likely scenario here. The Falcons, meanwhile, always play fast with a seventh rank in close games and ninth overall when accounting for game script. This one should feature a few extra plays as both teams are generally efficient as well.
Jets

(+6) @

Bills

; Total: 40.0

This game could be a bit of a slog. The Bills play decently quick, even ranking 15th when leading by seven or more points. The Jets though, are a slow team, ranking 25th when trailing by more than six points but a more reasonable 16th when adjusting for game script. A slow game will give the Jets little chance for useable fantasy assets but the Bills should be able to move the ball well enough to be relevant even in a low scoring contest.
Bears

(+3) @

Lions

; Total: 44.0

The Bears averaged almost two more seconds per play than the Lions last year but both pick up the pace in the second half, ranking top 10 during that time. Both also rank top-10 fastest when trailing by six or more points so if this gets out of hand, the pace won't slow too much.
Packers

(+2.5) @

Vikings

; Total: 46.5

Unlike the other NFC North game, these two teams are among the 10 slowest teams in the second half of games. That's mostly due to grinding out a win after an early lead, something we have to hope doesn't happen here. This will already be a run-heavy game so several fewer passes and several fewer plays could stymie some key players.
Dolphins

(+6.5) @

Patriots

; Total: 43.5

The Patriots were the fastest-paced team when adjusting for game script in 2019 and get the 13th fastest in the Dolphins. The Patriots are still the 11th fastest team when leading, while the Dolphins are the 10th fastest when trailing, so the pace won't slow as much if (and when) this one gets out of hand. The Dolphins could have a few "trash toys" that we can use in this game when garbage time hits.
Eagles

(-6.5) @

Football Team

; Total: 43.0

Both of these teams average more than 28 seconds per play and rank in the bottom half in terms of pace. When the Eagles lead big, that rank jumps to ninth but Washington fails to keep up, ranking 30th when trailing by more than six points. The Eagles should still produce about the same number of plays, same with Washington, so the scoreboard will change the play calls more than the play count.
Raiders

(-3) @

Panthers

; Total: 47.5

The Panthers were the fastest-paced team before adjusting for game script, averaging just over 25 seconds per play, more than four seconds quicker than their Week 1 opponent, the Las Vegas Raiders. The Panthers rank top five in almost every situation while the Raiders are bottom five. I guess that'll balance out but let's hope it stays a close game.
Colts

(-7.5) @

Jaguars

; Total: 45.0

Both teams ranked bottom 10 in game-adjusted pace but were top six when leading a game by at least seven points. In this one, it's likely the Colts are put in the latter situation, which isn't bad since both teams are about a second faster per play than the average. That should lead to a few extra plays and put the Jaguars in a position to pass even more than their team construction already skews.
Browns

(+7.5) @

Ravens

; Total: 48.5

These teams are bottom six in game-adjusted pace with the Ravens actually the slowest team overall at 30.63 seconds before that adjustment. The Browns rank 29th when trailing by seven or more points and the Ravens are 29th when leading by that much or more. The Ravens were insanely efficient last year, ranking first in points per drive while the Browns were just 20th in that offensive stat. It'll be one-sided and the Browns will have fewer opportunities to reach the end zone.
Chargers

(-3.5) @

Bengals

; Total: 44.5

A tale of two teams, the Bengals were ranked seventh in game-adjusted pace while the Chargers were dead last. The post-Rivers era could speed things up but it's hard to say. The Bengals, meanwhile, are willing to up their pace when trailing and in the second half so Burrow should get some extra plays late in the game if they're trying to play catchup.
Buccaneers

(+3.5) @

Saints

; Total: 49.5

Tampa Bay kept a good pace last year and as mentioned, Tom Brady's former team was the fastest in the league. That should create plenty of extra opportunities for yards and scores against a Saints team that saw the third-fastest pace against them. The Saints offense was slower, averaging nearly 30 seconds per play as the second slowest team in the league last year. They were also ranked 30th when leading by seven or more points. The Buccaneers need to keep this one close.
Cardinals

(+7) @

49ers

; Total: 47

Arizona was predictably a fast team under Kliff Kingsbury, ranking fourth in overall and game-adjusted offensive pace. The 49ers ranked 29th and a little better at 20th when adjusting for game situation. The Cardinals are the second-fastest when trailing by seven or more, which is likely in this matchup, averaging just 24 seconds per play. The play count here should be pretty good with the Cardinals leveraging the pass late in the game as they pick up the pace.
Cowboys

(-3) @

Rams

; Total: 51.5

From a pacing perspective, this is the best game on the docket this week. Both rank top three fastest in game-adjusted pace and that plays out when the game is close as well with first and third-ranked per play averages in that situation as well. This is going to lead to a lot of plays and possessions, which is a big reason this game is going to be high scoring and fruitful for fantasy players.
Steelers

(-4.5) @

Giants

; Total: 47.5

The Giants go quickly, ranking in the top 10 in most game situations. The Steelers were slow last year, ranking 29th in game-adjusted pace, but it's easy to pin that on their revolving door situation at quarterback. I expect the Steelers to revert closer to their 11th ranking in 2018 and give this game a nice pace for fantasy players to profit from.
Titans

(+1) @

Broncos

; Total: 41.5

The contest features two good defenses against a pair of quarterbacks who are navigating the production from the hype. This will be a slower game as both are below average in terms of offensive pace, averaging more than 28 seconds per play last year. Ryan Tannehill will need to maintain the magic from 2019 to be efficient here while Drew Lock has to contend with an already difficult Titans defense just adding Jadeveon Clowney to the fold.