Fantasy Debate: Patrick Mahomes vs Lamar Jackson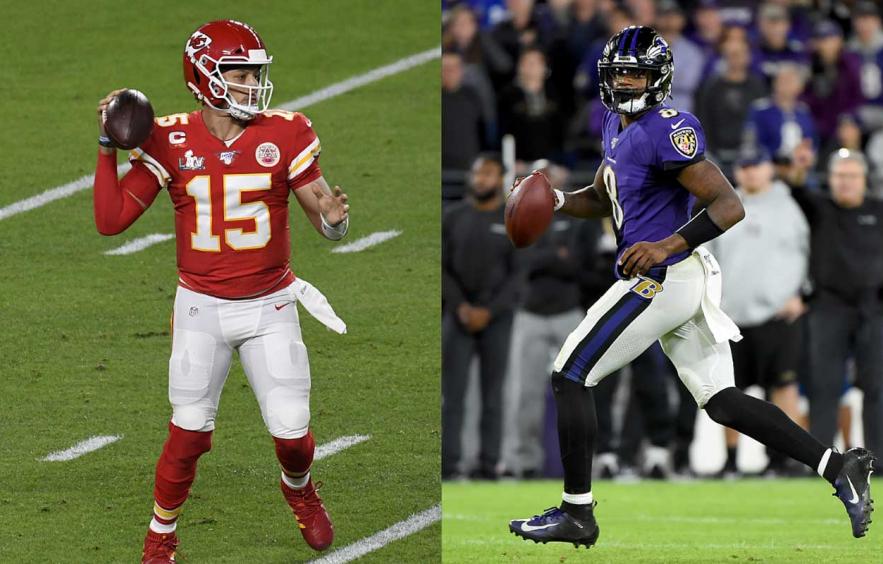 Will Newton/Getty Images
Patrick Mahomes and Lamar Jackson are being drafted as the top two quarterbacks off the board, both with ADPs in the second round. For those that do want to spend up at quarterback in fantasy drafts, Eric Moody will explain why he prefers the Chiefs signal-caller this season and Alex Gelhar will defend last year's MVP as the player that he would target.
The Case for
Patrick Mahomes
Eric: After Lamar Jackson's historic season, Patrick Mahomes has competition in regards to who's the first quarterback taken in fantasy football drafts this summer. The Chiefs quarterback and Super Bowl MVP finished as the fantasy QB6 after missing two games. Mahomes averaged 288 passing yards, 304.4 air yards, and 1.9 touchdowns per game last season. He finished as a QB1 in 64% of his games, averaging nearly 24 fantasy points per game. Mahomes's ankle injury that occurred in Week 1 negatively impacted different aspects of his game. He fought through this injury, but ultimately ended up missing time with a knee injury.
"We all know damn well Patrick Mahomes is the best player in the NFL. Number one, number one, number one. Number one again. ... Here's the thing. this list became null and void when Carson Wentz wasn't on it."



—@mspears96 pic.twitter.com/Mmm319poGn

— Get Up (@GetUpESPN) July 30, 2020
Mahomes finished last season ranked eighth in true passer rating (105.7). This rating factors out unpressured throwaway and dropped passes. Mahomes finished 2018 ranked first with a true passer rating of 113.3. He averaged 318.6 passing yards, 329 passing air yards, and 3.1 touchdowns that season. Mahomes finished as a QB1 in 73% of his games averaging nearly 27 fantasy points per game and was recognized as the NFL's Most Valuable Player. He is surrounded by a plethora of receiving weapons that can threaten defenses downfield including Tyreek Hill and Travis Kelce.
Mahomes excels at throwing the deep ball and has a passer rating of 115 on pass attempts greater than 20 yards according to Pro Football Focus. He is in a great position to finish as the fantasy QB1 in his third season as the Chiefs starter. Kansas City should continue to be an offensive juggernaut in 2020. The Chiefs have averaged 401.4 total yards and 32.5 points per game. A healthier Hill and the addition of Clyde Edwards-Helaire at running back makes Kansas City even more lethal. We have Mahomes projected to finish as the fantasy QB2 and Jackson as the QB1.
| Player | Pos | Team | FF Pts | Pass Comp | Pass Att | Pass Yds | Pass TD | INT | Rush Att | Rush Yds | Rush TD |
| --- | --- | --- | --- | --- | --- | --- | --- | --- | --- | --- | --- |
| Lamar Jackson | QB | BAL | 382.33 | 330 | 500 | 3790 | 32.7 | 9.2 | 132.94 | 910.11 | 5.607 |
| Patrick Mahomes | QB | KC | 377.99 | 383 | 580.5 | 4980.4 | 40.2 | 10.3 | 49.678 | 278.944 | 2.697 |
I'd rather see you prioritize Mahomes at his average draft position over Jackson. Our very own T.J. Hernandez mentioned in his predictable stats series that passing yards per game has the strongest correlation from year to year. He also mentioned to beware of rushing numbers:
The fact is that most quarterbacks don't run very much, so the majority of them are always going to have very low rushing totals from one year to the next—this explains the very strong correlation of rushing yards from year to year. If we narrow the sample down to quarterbacks who rushed for 200 or more yards in a season, the correlation drops to .57. Quarterbacks who rushed for 300 or more yards in a season saw a correlation of just .45, while the 21 quarterbacks that rushed for 400 or more yards in a single season since 2010 saw a statistically insignificant year-to-year correlation of .31.

We see the same effect when looking at rushing touchdowns. If a quarterback scored at least four in a given season, the rushing touchdown correlation fell to just .35.
Jackson averaged 26.7 pass attempts, 208.5 passing yards, and 235 passing air yards per game last season. Do we anticipate he will improve as a passer in 2020? Is everyone expecting Jackson to replicate his rushing numbers? These are questions that are conveniently not being asked. Defensive coordinators will design a scheme that will force Jackson to beat them with his arm.
Due to his unique athleticism and style of play, it was difficult for coaches to game plan and practice in preparation for Jackson. NFL coaches have a history of catching up to groundbreaking performances. Could Jackson be an outlier? It's hard to repeat as the fantasy QB1 in consecutive seasons. The last quarterback to do this was Drew Brees in 2012 and 2013. Mahomes and not Jackson should be on your radar if you prefer to draft your fantasy quarterback in the early rounds.
The Case for
Lamar Jackson
Alex: Of all the debates I've written thus far, this one feels like the silliest. I mean, let's be real for a second—you can't really go wrong if you land Lamar Jackson or Patrick Mahomes as your starting quarterback. They represent the last two league MVPs and are responsible for authoring two of the best fantasy quarterback seasons in recent memory. Nevertheless, this is a debate, and the fighter I've chosen to take into battle is Lamar Jackson.
Let's start with the obvious advantage Jackson brings to the table: rushing ability. Jackson set league records (post-merger) in rush attempts (176) and rushing yards (1,206) by a quarterback. Part of the reason for Jackson's record-setting season was that the Ravens built designed runs into their offensive scheme, more so than pretty much any team we've seen in the modern era. Running the ball with Jackson and a deep, talented backfield became this team's identity—an identity that won't be changing this offseason. While Jackson might not hit his 2019 highs, fantasy managers can expect basically an RB2 worth of value just from Jackson's ability on the ground. And then, we add in his passing prowess.
Jackson's rushing records allowed him to set another first in the NFL, when he became the first player to throw for 3,000-plus yards and rush for 1,000-plus yards in the same season. Jackson threw for 3,127 yards, completed 66.1% of his passes, led the league with 36 touchdowns and posted a sterling 6:1 touchdown-to-interception ratio. And he did all of this while resting in Week 17 and sitting out in the fourth quarter of five separate blowout wins during the season. That's more than two games of playing time he sat out during the season, and he still outscored the QB2 (Dak Prescott) by 72.9 fantasy points. This discrepancy despite Jackson essentially "missing time" is part of why he should remain the QB1 in drafts next season.
Jackson put up these gaudy numbers despite pretty much everything going right for the Ravens. They only lost three games all season (including the playoffs, which I'll come back to in a second), and won 12 straight games to conclude the regular season. During that win streak, the Ravens always had the lead at the end of the first quarter. What I'm trying to illustrate here is that for the vast majority of the year the Ravens were never knocked off script or out of what they wanted to do. They asserted their will against most teams, rarely getting into dog fights … until the playoffs.
When the Titans delivered the first several blows in the Divisional Round game, the Ravens were forced onto their backfoot and forced into relying on Jackson even more than usual. His response? All he did was throw for 365 yards, one touchdown, two interceptions while adding 143 yards on the ground, scoring nearly 30 standard fantasy points. And that was with Jackson scoring just one passing touchdown.
Why is this important? The odds of the Ravens coasting through the 2020 season as easily as they did much of the 2019 season are extremely unlikely. Their defense will likely not be as strong. Turnovers will happen. And the team will likely be forced into more offensive shootouts, much like the tried to do in the Divisional Round loss against the Titans.
As we discussed on a recent episode of The Most Accurate Podcast, it's this variance that supports the notion of keeping Jackson as the QB1. He won top honors by a mile despite sitting out two games and facing little adversity in most games. If he and the Ravens are forced into even just two to three more shootouts next season, and Jackson scores more than one touchdown in those games, it is entirely possible he surpasses his insane 2019 totals. And if not, well, we know what his fantasy scoring floor looks like and that is quite good too.