Fantasy Debate: Joe Mixon vs. Derrick Henry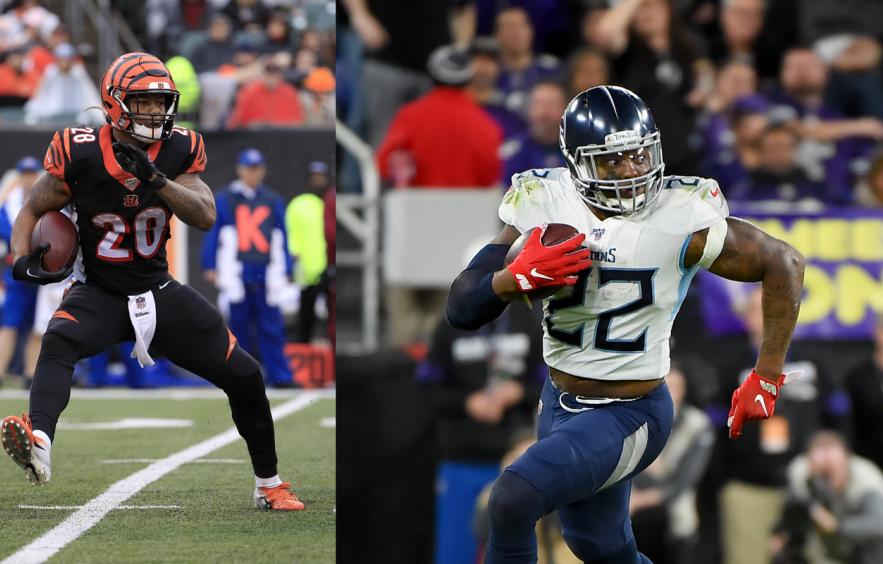 Andy Lyons/Will Newton/Getty Images
Joe Mixon is coming off draft boards as the RB6 in My Fantasy League drafts, with Derrick Henry right behind him as RB7. In this debate, Justin Edwards will argue for Mixon, while Eric Moody takes the side of Henry.
---
---
Justin: Joe Mixon and Derrick Henry; two very different running backs with different paths to success, but because of Mixon's versatility, I believe he is the better choice to lead you to the fantasy promise land.
Suffering through inept offensive line play, three games of Ryan Finley, and the league's 30th-ranked scoring offense, Joe Mixon still finished 2019 as the overall RB13 in half-PPR scoring. He accomplished this by dominating the Cincinnati Bengals' share of running back touches and making himself available as an outlet in the passing game.
Mixon was third in the NFL with 79% of his team's running back touches but the team was all the way down at 23rd with running backs only garnering 53.4% of the team's total touches. This has much to do with the fact that Cincinnati was trailing by an average of 35:28 of in-game time each week, the third-highest mark of 2019. This, in turn, forced the ball out of the running backs' hands and into the in-and-out of Andy Dalton and rookie fourth-round pick Ryan Finley.
Saying that the Bengals offense was inefficient —or downright inept— when they moved the ball through the air would be more than an understatement. Using AY/A (adjusted yards per passing attempt), and Sports Info Solutions' On Target % (literally, what percentage of passes were on target) we start to get a picture of why drives stalled and why Mixon's 16 rushing attempts from inside the five-yard line could be easily repeated in a more consistent offense.
Bengals Quarterback Rate Stats, 2019

| Player | AY/A | Rank (Qualifying QBs) | On-Tgt% | Rank (Qualifying QBs) |
| --- | --- | --- | --- | --- |
| Andy Dalton | 6 | 29 (33) | 73.60% | 36 (53) |
| Ryan Finley | 4.9 | Did not qualify (would have been last place) | 67.10% | 50 (53) |
The learning curve is long and speckled with successes and failures for rookie quarterbacks —and we are in unprecedented times with Joe Burrow a long way away from being able to run the Cincinnati offense— but, I don't think it's a hard sell to say that the man who just had the greatest college football season of all time can perform better than the worst quarterback tandem in the league. Joe Mixon is in line for an efficiency boost.
Joe Mixon had 52 rushing missed tackles forced last season ?

5th most among all RBs pic.twitter.com/tY62Ko1Agj

— PFF Fantasy Football (@PFF_Fantasy) June 5, 2020
Despite breaking a tackle on 21.9% of his runs (11th-highest), Mixon had 4.1 yards per attempt (39th/68 qualifying running backs), highlighting how often he was forced to dodge defenders in the backfield. Where Mixon was better able to flex his elusiveness was in the open field, where his 9.5 yards after the catch per reception ranked him fifth among all running backs.
With Giovani Bernard another year older and much less efficient with the ball in his hands (7.3 YAC per catch), it would behoove Zac Taylor and the Bengals to keep Joe Mixon on the field with their new rookie franchise quarterback even more often in 2020. And if the rumored contract extension comes through before the season begins, that's exactly what they'll do.
According to a recent article here at 4for4 about touchdown regression, TJ Hernandez hits on why Derrick Henry might be swinging the other direction in 2020, and found this nugget on Henry's passing game 'usage':
"...Henry became just the second player in the last 10 years to finish as an RB6 or better in half-PPR leagues with fewer than 30 targets"
Despite being considered by most of us in the football community as a "between-the-tackles banger", Derrick Henry averaged 2.8 yards per carry on inside runs in 2019. That ranked him 63rd out of 66 qualifying running backs with a minimum of 20 rushing attempts. Joe Mixon, behind a bottom-three offensive line, finished with 3.5 YPC and a 48th ranked finish.
While Tennessee lost PFF's sixth-best run-blocking tackle to free agency Jack Conklin, Cincinnati added Xavier Su'a-Filo in free agency and welcome back left tackle Jonah Williams who missed his entire rookie season after being drafted in the first round of 2019. I expect the pendulum to swing from Henry and towards Mixon in 2020.
Eric: Henry has finally become the running back he was touted to be after being drafted in the second round of the 2016 NFL Draft out of the University of Alabama. The only other backs who have accumulated more fantasy points in half-PPR than Henry (487.5) over the last two seasons are Todd Gurley (552.5), Alvin Kamara (523.8), Saquon Barkley (558.4), Ezekiel Elliott (581.2), and Christian McCaffrey (747.7). Henry averaged 22 opportunities and 19.4 half-PPR fantasy points per game last season. He led the running back position with 47 broken tackles and the second-most yards after contact (968). Did you know Henry (86.3) had the highest number of rushing yards per game last season with seven or more defenders in the box? He only averaged 1.7 targets per game in 2019 while averaging 13.3 yards after the catch per reception. This was the best among running backs with 20 or more targets. No other back had higher fantasy points over expectation than Henry. Opponents focused on stopping Henry with stacked boxes and it didn't matter.
Derrick Henry literally put the team on his back ?pic.twitter.com/zPrECjk9ua

— sportsthread (@sportsthread) June 14, 2020
The Titans offensive line finished fourth in Football Outsiders' adjusted line yards while their running backs finished fifth in open field yards. This suggests that the weight of Tennessee's running game was held evenly by Henry and the offensive line. The Titans ranked seventh in rushing attempts per game (28.7) and third in rushing yards per game (143.5). Tennessee's offensive line helped pave the way for Henry to lead the NFL in rushing. The addition of the 2020 first-round draft pick Isaiah Wilson helps the Titans offensive line remain a huge strength for the team this season.
Primary reason the Titans beat the Patriots? Their offensive line pushed the Pats DL around and dominated up front. They did WORK ? pic.twitter.com/d3RXA467AO

— Brandon Thorn (@BrandonThornNFL) January 6, 2020
The Titans offense was much better with Ryan Tannehill under center instead of Marcus Mariota starting in Week 7. You may be wondering if Tennessee can replicate the success they had last season. The good news is that Tannehill and offensive coordinator Arthur Smith are set to return. Tannehill agreed to a four-year, $118 million extension with $62 million guaranteed. Henry, on the other hand, signed a $10.2 million franchise tender with the Titans. He and the team will work together trying to come to terms with a contract extension. They'll have until July 15th, otherwise, Henry will play under the franchise tag this season. In either scenario, the 26-year old running back will be provided all of the opportunities he can handle.
Henry was more effective than Mixon last season from a fantasy point over expectation perspective, considering both backs were given significant volume. Henry also finished 2019 with more yards after contact, broken tackles, and first downs. The Bengals offensive line also finished 26th in adjusted line yards and 19th in open field yards. This implies Cincinnati's offensive line and Mixon struggled mightily in 2019. His fantasy production was a byproduct of opportunity share. The Titans have one of the easiest running back schedules according to our signature strength of schedule metric, adjusted fantasy points allowed, or aFPA. Henry is in a great position to finish as an RB1 and outperform Mixon in 2020.
About Author