CeeDee Lamb Aims to be the Lone Star in Dallas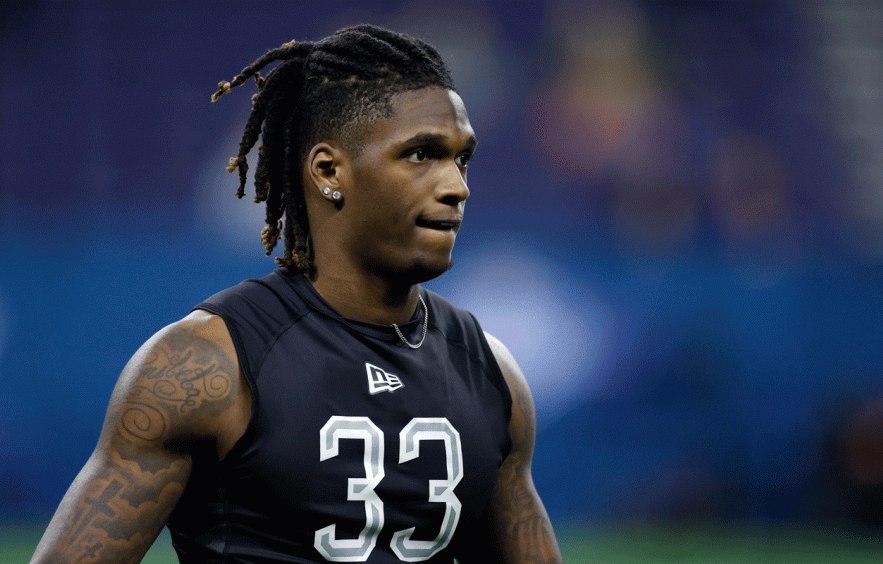 Joe Robbins/Getty Images
In the moment, the NFL Draft was looking like a worst-case scenario for CeeDee Lamb. NFL teams who had clear holes at wide receiver were passing on Lamb, sometimes for other options at the position. Fortunately for him, the mini-slide stopped and he was selected 17th overall to the Dallas Cowboys, something that seemed unlikely heading into the draft and wasn't flagged by many as a team need.
So now that he will don the Cowboys star, what does that mean for his new team and Lamb's overall outlook? Further, how should fantasy players approach him in 2020 and beyond?
Don't forget to also check out TJ Hernandez's article on 18 rookies who could can make an immediate fantasy impact.
CeeDee Lamb

's College Career

Oklahoma recruited Lamb, a four-star wide receiver who managed over 2,000 receiving yards and 33 touchdowns his senior year of high school, to fit into their vertical passing system. It helps when you receive passes during your three-year college career from Baker Mayfield, Kyler Murray, and Jalen Hurts. That said, Lamb walked into an elite program and instantly contributed - a very positive sign for an NFL prospect.

His freshman year featured both Marquise Brown and Mark Andrews and yet he still managed a 15% target share and over 17 yards per reception on 46 catches. But it was his sophomore year that truly represented a breakout. With Andrews gone and Murray stepping in at quarterback, Lamb recorded over 1,000 receiving yards and jumped his catch rate up by over 10 points despite no decline in yards per reception. He was also quite good in the red zone as all four of his receptions inside of 10 yards went for touchdowns.

His junior year saw another quarterback change but Lamb's first chance at being the top receiver with Brown gone. His catch rate dropped a bit (from 75% in 2018 to 68% in 2019) but his 14.6 yards per target were the best in the 2020 NFL Draft class. His 23% touchdown rate on receptions was also among the leaders at the position for the class. Lamb also had just one pass broken up by a defender all season, which can be partially attributed to his elite ability to separate from cornerbacks.

CeeDee Lamb showed during his time that he was more than just a vertical threat and can play all three wide receiver roles on an NFL offense. The NFL Combine showcased his speed (4.50 seconds in the forty-yard dash) and at 6-foot-2 and 198 pounds, Lamb used the limited offseason to confirm his status as a top-end prospect with the length and quickness to succeed in the NFL.
The
Cowboys

Offense with

CeeDee Lamb

If Lamb wasn't drafted by the Cowboys, there wouldn't have been many complaints about the personnel heading into the season. With Lamb, however, the team goes from a good receiving group that's top-heavy to one that suddenly has some depth and a surplus of explosiveness. Those qualities were largely lacking in 2019 as Randall Cobb did well but isn't the sub-4.5 speed option anymore, and Jason Witten probably gets outrun by defensive tackles at this point. With both gone, it represents a huge opportunity in terms of vacated targets.

Witten and Cobb represent over 10 targets per game and while some of that could funnel to existing players like Amari Cooper, Michael Gallup, Ezekiel Elliott, and to a lesser extent, Tony Pollard; there is still a clear black hole here for Dak Prescott. Cobb is the obvious replacement from a snaps and position perspective, and the veteran had a 70% snap share in 2019. That seems like a reasonable floor for the rookie. Witten played 75% of the snaps as well and while Blake Jarwin will assume a good percentage of snaps, it is more likely that new coach Mike McCarthy fires up a higher rate of three-receiver sets. According to Sharp Football Stats, the Cowboys ran three-receiver sets on 72% of pass plays last year, above the 65% NFL average. However, the Packers in 2018 under McCarthy were up to 78% on three-receiver sets, representing some additional upside. McCarthy had another 6% of offensive snaps that season with four-receiver sets, which would further the likelihood that Lamb is consistently on the field.

One question that remains is where Lamb will play when he is on the field. Cooper is a very good slot receiver and could spend more time there (just 11% in 2019) with both Gallup and Lamb able to line up outside. With Lamb also able to shift inside, it gives the Cowboys more flexibility with alignments to create better matchup situations for their receivers. Lamb's involvement could be somewhat dependent on his ability to pick up multiple positions in the offense quickly. That could be hard given the existing environment and possible truncated offseason, but Lamb showed in college how he can make an immediate impact.
Bottom Line
CeeDee Lamb is in an enviable situation but may take a year or two in order to reach full potential and a full workload, with the Cowboys.
Lamb could overtake Gallup in the pecking order within the next year as he is a superior athlete and overall technician.
80-100 targets is a safe floor for the rookie receiver with upside to 120. The bonus is with Dak Prescott as the quarterback, those targets will be mostly catchable and lead to efficient results.
He is currently the 64th player off the board in early redraft leagues, making him the WR22 based on ADP. That is a bit high for the current third receiver on his own team, who also has a top-five running back. For comparison, he is WR41 in 4for4's never-too-early-rankings.
In dynasty leagues, Lamb is ranked as my 26th overall player and WR14. He should be a strong consideration in the 1.04 to 1.06 range in rookie drafts.