Austin Ekeler's Fantasy Outlook for 2020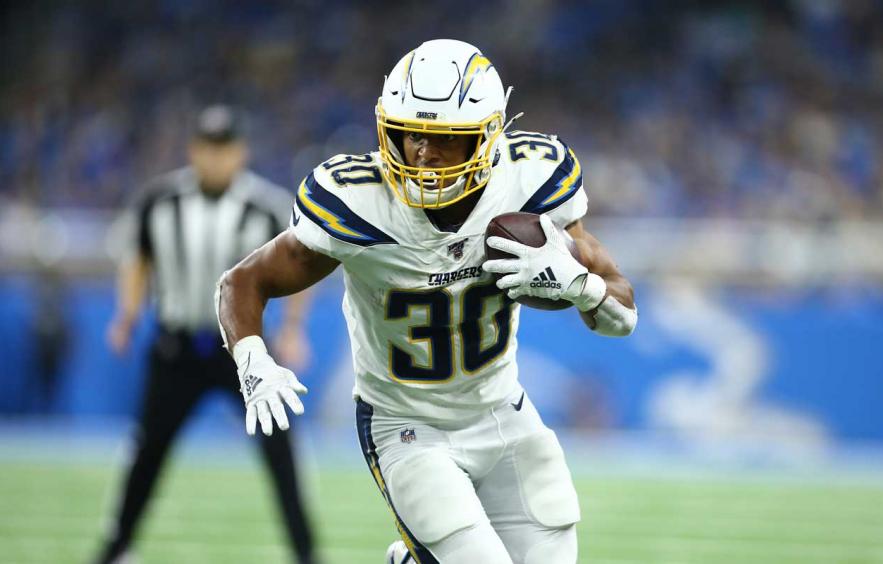 Rey Del Rio/Getty Images
In early March, the Chargers and restricted free-agent running back Austin Ekeler agreed to a multiyear extension. His extension is a four-year, $24.5 million deal that includes $15 million guaranteed and cements Ekeler as the Chargers' No. 1 running back in 2020. This transaction unofficially put an end to Melvin Gordon's time in Los Angeles as the starting running back. He would later sign with the Broncos. Ekeler could make up to $26 million through incentives over the course of the deal. This article will discuss the 24-year old running back's statistical history, how he will be used by the Chargers, and what you can expect from a fantasy perspective.
Austin Ekeler

's Statistical Body of Work

From 2017–2018 Ekeler had averaged 7.6 expected points (EP), 2.2 total fantasy points over expectation (FPOE), and 9.8 PPR fantasy points per game. The undrafted rookie out of Division II Western State University has been very durable missing only two games while playing a limited number of snaps. He only played 18.5% of the Chargers offensive snaps in 2017 and 35% in 2018. EP is based on the average fantasy point value of plays in similar down, distance, and field position instances. FPOE, on the other hand, takes a player's actual fantasy points and subtracts out the expected points. EP measures volume while FPOE measures efficiency. Ekeler showed fantasy players and the Chargers' front office a glimpse of what he was capable last season with a high number of opportunities as Gordon's contract holdout extended through Week 4 of the regular season.

Ekeler finished as the RB4 in PPR formats last season. He averaged 20.2 opportunities and 8.8 fantasy points per game more than expected. Once Gordon returned the Chargers backfield operate as a committee. He averaged 18.1 opportunities per game from Week 5 on. Once the dust settled Gordon (0.83) wasn't as effective as Ekeler (1.29) when evaluating their fantasy points per opportunity.

Ekeler finished 2019 with a career-high 557 rushing yards, 92 receptions, and 993 receiving yards. Did you know his receiving yards and reception totals were the second-most by a running back in a single season in Chargers history according to Pro Football Reference? Ekeler's fantasy stock is trending up in 2020 with some other changes Los Angeles' front office made.
Fantasy Outlook for
Austin Ekeler

in 2020

The Chargers will begin the 2020 season in a new stadium and a new starting quarterback. The franchise recently parted ways with Philip Rivers after 16 seasons. The Chargers will move forward with Tyrod Taylor, who they signed to a two-year contract last season, as their starter. He was the Bills' starting quarterback from 2015–2017. Taylor averaged 19.7 fantasy points per game and threatened defenses through the air as a passer and as a runner with his legs. He's also been publicly endorsed by Chargers' head coach Anthony Lynn and general manager Tom Telesco. Ekeler's contract implies that they will lean heavily on the running game. LeSean McCoy averaged 21.4 opportunities and 17.4 PPR fantasy points per game with the Bills from 2015–2017.

The Chargers have also made moves to bolster an offensive line that finished the season 21st in adjusted line yards and allowed the fifth-most sacks. Two notable moves made by Telesco include signing tackle Bryan Bulaga to a three-year, $30 million deal and trading with the Panthers for five-time Pro Bowl right guard Trai Turner. These moves in addition to center Mike Pouncey, a four-time Pro Bowler, returning after having neck surgery should improve the quality of play for the Chargers offensive line.

Ekeler could see more stacked front in 2020 with Taylor under center after seeing a light front on 62.1% of his rushing attempts in 2019. Improved offensive line play could also better position him to improve his yards created per attempt. This metric measures all yards above and beyond what was blocked. Yards created are generated by the runner after the first evaded tackle. Ekeler finished last season ranked 37th among running backs in this metric while finishing with only seven rushing attempts of 15 yards or more.

Only seven running backs have had a more productive age 24 fantasy season than Ekeler since over the last decade.

Here is how all of these running backs finished the following season:
Chris Johnson finished as the RB7 with 273.0 PPR fantasy points
Arian Foster finished as the RB4 with 303.0 PPR fantasy points
Todd Gurley finished as the RB14 with 219.0 PPR fantasy points
Adrian Peterson finished as the RB6 with 276.0 PPR fantasy points
Maurice Jones-Drew finished as the RB13 with 234.0 PPR fantasy points
LeVeon Bell finished as the RB2 with 341.6 PPR fantasy points
Each of these running backs had their own set of circumstances that led to these results. Ekeler can handle a high number of touches and his versatility as a receiver out of the backfield provide him a higher ceiling than many running backs. The most likely scenario is that Ekeler leads a committee with Justin Jackson handling around 70% of the opportunity share.
The Bottom Line
Ekeler is being compensated as the clear lead back for the Chargers. Los Angeles' offense thrived with him being featured last season during Gordon's holdout. He has an opportunity to surpass 2,000 yards from scrimmage, accumulate 100 or more receptions, and score double-digit touchdowns.
Ekeler is currently RB11 in our ADP Fantasy Football Rankings. He has the potential to outperform and finish as a high-end RB1 in PPR formats. Some fantasy players may succumb to familiarity bias in drafts and have an inclination towards selecting players they are more familiar with. Don't make that mistake and show no hesitation in selecting Ekeler if he's available in the second round of fantasy drafts.