5 Settings to Spice Up Your Fantasy League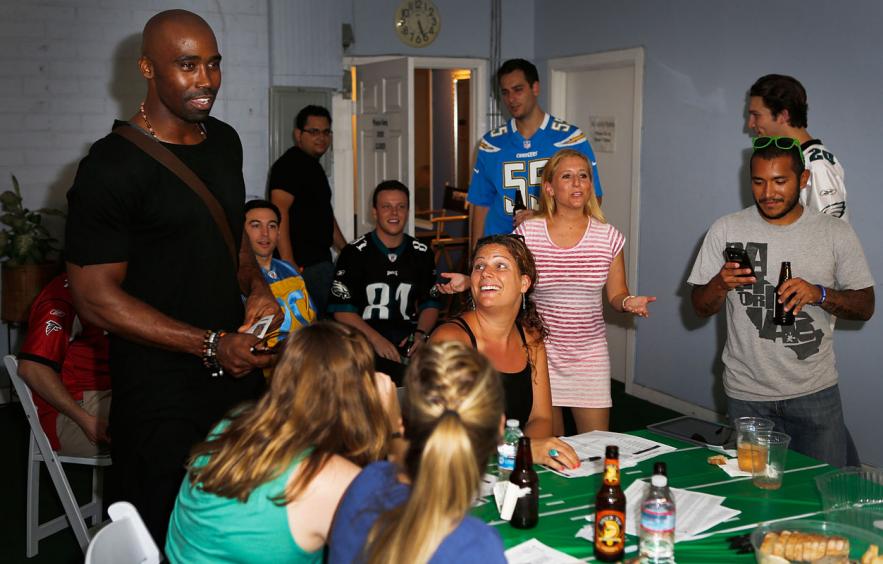 Randy Shropshire/Getty Images
Draft strategy dominates the discussion throughout the final weeks leading up to the start of the season. And, rightfully so. The players are what we watch over the offseason and every week throughout the regular season. But the settings can offer a much-needed twist on traditional leagues.
Create or join a 2020 Yahoo Fantasy Football League for free today
Settings are what separate the casual from the diehard leagues. Whether they're roster restrictions, scoring settings, or just changes to how free agents can be added, they create an added nuance beyond the week-in-week-out volatility of fantasy football. Adjusting seasonal strategies around these settings can produce the edge needed to win leagues. With most leagues gearing up for the season, I looked around the industry for some of the best settings to consider for your league in 2020.
The Reality of the Situation
The pandemic has affected college football, the preseason, and we have no guarantees on a 16-game season. Fantasy managers with an eye on depth charts may have the greatest edge, as it's possible teams will have to call up multiple backups to fill out their active roster. Regardless, some commissioners may be forced to balance a competitive edge with an entertaining distraction from the world. For some leagues, they may need to consider the following settings.
Team 'Position X'
What happens if a player is diagnosed with COVID-19 or quarantined on the night before or morning of a game this season?

The NFL will permit clubs to elevate a practice squad player with notice to the league office up until 90 minutes before kickoff, per source.

— Tom Pelissero (@TomPelissero) August 4, 2020
The NFL is still working out their game-day protocols, but the latest reports are a concern. In this scenario, we wouldn't know about a player's availability until pre-game without much warning. In addition, the quarantine duration after a positive test will likely impact their next game. Injuries will already be a constant source of inquiry throughout the week and leading up to game time. So, while normal situations would allow for a player missing a game, some added flexibility may be required.
A Reasonable Approach
Using a 'Team (Position X)'. This negates the possibility of taking a zero in your lineup in a single week. The setting would take your starter's team and automatically slot in their backup should they miss a game. However, this is typically reserved for the quarterback position. We draft multiple running backs and wide receivers leaving the waiver-wire thin. The lessened demand at tight end results in viable starters available each week. With quarterbacks, we're not just drafting the player, but their situation (pass catchers, defensive matchup, etc.). An unexpected loss at quarterback would be devastating and drafting backups isn't an optimal strategy. A Team tight end option is also a possibility but securing your quarterback spot may be a necessity this season.
Increased Bench/IR Slots
Bench slots are normally limited to add another strategic layer to the game. Short benches promote more transactions on the waiver wire or via trade. It means we'd need to prioritize our draft selections and position ourselves to quickly fill a gap should an injury occur. But in standard settings, the ability to mitigate the risk of both injuries and infected players becomes difficult. A simple solution exists.
A Reasonable Approach
Choosing to increase bench or IR slots will likely be the choice for most leagues heading into 2020. Fantasy platforms may differ on what designations allow a player to be put on IR, so a larger bench may be simpler. It solves the immediate problem but can have unintended side effects.
Additional space reduces the pool of available players as more are kept on our rosters. Draft strategies will need to incorporate a 'win-now' approach along with a 'full-season' outlook. Like a best-ball league, our rosters will need to withstand the season. Some slots should allow for quick churning should a player test positive. Others should capture our long-term view of the season. From handcuffs to high-upside players, the extra space can be leveraged to our advantage.
Competitive Settings
We'll have to approach 2020 differently than in years past. If your league has already adopted the above settings, here are some others if you're up for the challenge.
Adjusted Quarterback Scoring
The fantasy community needs to come together and talk about quarterback scoring.
Jameis Winston was the QB3 in 2019. He set career highs in passing attempts and yards while having the eighth-highest yards per attempt. Fantasy managers loved Winston and the likely game scripts the Bucs would face each week. But it exploited a long-standing scoring setting specific to his position.
Winston was able to hit all these statistical highs while leading the league in interceptions. It's what separated him from the other top quarterbacks. They relied on efficiency (e.g. EPA, positive CPOE, AY/A). Winston relied on volume. Like Blake Bortles in 2015, Winston could dig himself (and fantasy managers) out of his own hole through passing and his real-world errors were swept under the rug.
A Reasonable Approach
Two scoring proposals:
6 points for touchdowns, -4 for interceptions
-2 for interceptions, -4 for Pick-6's, and a scaling multiplier for additional interceptions
Fantasy football is and should be fun while we watch our players produce for our squads. But it should also have a stronger connection with reality. Pick-6's and interceptions should carry a greater penalty balancing the scales between fantasy and actual football. It would alter our draft strategy and cause us to look into how quarterbacks respond under pressure. And, we should. Wide receivers are broken down by route trees and separation metrics. Running backs are studied for their vision as they weave through the offensive and defensive lines. Quarterback tendencies should have a stronger tie to fantasy and their mistakes should carry more weight as we score the position.
Free Agent Acquisition
Waiver wire priority can have its own strategy. Fantasy gamers try to position themselves each week to be at or near the top of the queue and churn their roster. It's critical to your team's success that you find the right targets to acquire while dropping dead weight from the bottom of your team. Traditional leagues use default settings like 'First Come, First Serve' or a queue that either resets weekly or moves bidders to the back once a selection is made. Again, there can be some nuance here, but we can add another layer to picking up players who can up the ante for your leagues.
A Reasonable Approach
A Free Agent Acquisition Budget (FAAB) puts every team on a level playing field and focuses on a player's perceived value relative to the league. Bids to cover bye weeks or season-ending injuries must all be covered with FAAB which can impact a league in multiple ways. From the draft to in-season management, leagues incorporating a FAAB generate unique strategies as they navigate the season.
Players may be drafted with an eye on their direct path to opportunity reducing the need to acquire more players once the season is underway. During transaction periods, FAAB dollars can be spent on the priority picks or foregone for low-cost/free options with viability later in the season. However, the general idea is to maintain enough funds to bid on a league-winner should an injury occur. The intertwining of opportunity and cost gives fantasy managers another avenue to build a winning roster and a simple setting to incorporate for your league this season.
Adjusted Running Back Scoring
Point-Per-Reception leagues were designed to balance the value between running backs and receivers. It was a simple solution, but boosted running backs, as well. Now, other than Derrick Henry, you can't draft an RB without any projected usage in the passing game and expect top-tier results.
Average RB Targets, 2016-2019

| Season | Average Targets |
| --- | --- |
| 2019 | 69.4 |
| 2018 | 66.5 |
| 2017 | 66 |
| 2016 | 54 |
The average targets for top-20 running backs have steadily increased over the past four seasons. We depend on their targets, but it's fair to question what we're rewarding. The idea behind PPR was to reward receptions, but not all targets are created equal. The average aDOT for a running back with 30 or more targets was just 0.9. Of that sample, 14 had an aDOT less than zero. We've normalized dump-off and swing passes with post and dig routes. We need a way to separate the two positions and properly score their ability given their on-field deployment.
A Reasonable Approach
A two-pronged approach to level the playing field across both wideouts and rushers, while rewarding both positions for their differing skillsets: 0.5 PPR, 0.25 Point-Per-First-Down. The effect of receptions (short or deep) is minimized while more than a running back's ability to fall forward is credited. Specifically, backs are rewarded in the area where it counts (other than the red zone). The ability to convert a third down or convert a first down (preferably via passing) adds to a team's win probability as it puts them in scoring positions or increases their time of possession. Accomplishments either via rushing, albeit with diminishing returns, still affect how both teams approach their next series of plays. Small, but important, events like these should have some connection to fantasy scoring, boosting the position and providing some varied results in running back finishes. Let's apply this to last year's results.
With this adjustment, we see a slight shift in the top 10, as pass-catchers are slightly devalued but their ability to create scoring opportunities for their team keeps them in a similar range. In addition, it balances the results across both running backs and wide receivers. Wide receivers dominated the top 20 in PPR scoring with 11 finishing in this category, but are reduced to six with this change. It'd likely fuel more running back drafting in the early rounds, but our targets may change as the first-down bonus must be considered.
The Bottom Line
These settings up the ante on our ability to pay attention to details. The minutia that our league-mates might gloss over in their excitement to draft that can net us the right player or combination of players to take down our league. Traditional settings are the perfect intro to fantasy football and enjoying this hobby we look forward to each year. But, if you're looking for an additional challenge, talk to your commissioner about adopting some of these settings to take the next step.