O-Line Rankings and Matchups to Exploit: Week 8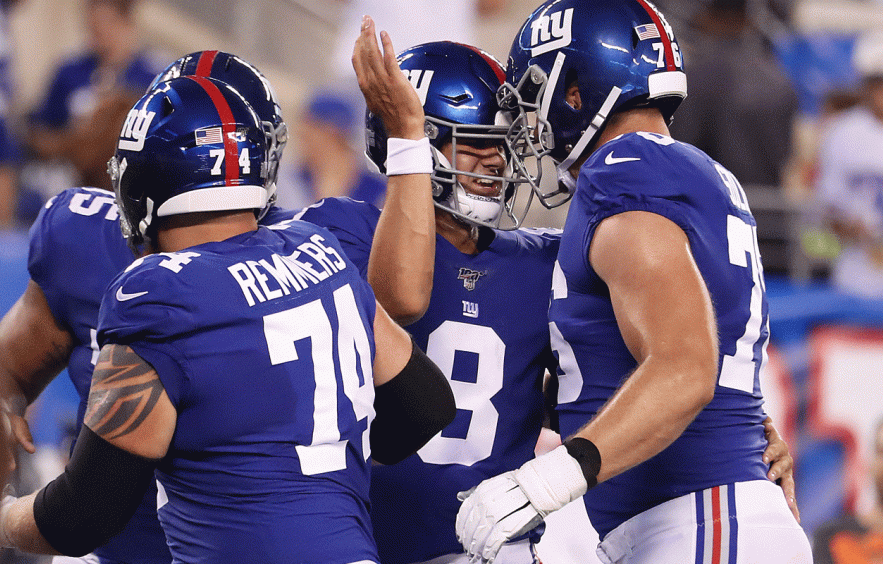 Al Bello/Getty Images
Evaluating offensive line play regarding its effect on fantasy football output has been a stone unturned throughout the course of our game within a game. Here at 4for4, we're dedicated to looking at fantasy pieces from all angles, and that includes the positive and negative impact an offensive line has on that team's fantasy assets.
Below I'm going to be digging into specific weekly matchups between offensive lines and the opposing defense's aFPA —one of the many useful tools available to us here at 4for4. Many sites publish raw fantasy points allowed by position, but 4for4 goes a step further and adjusts those numbers for a defense's relative year-to-date schedule strength. Beginning this week and moving forward, aFPA will reflect the current season since we believe the three weeks of information begins to show reliable numbers and patterns.
Let's begin by diving into the passing game to see what o-line/defense matchups we can exploit.
Favorable Quarterback Matchups
Basically, what we're looking for here is a tall bar (a team ranked low in aFPA) towards the left of the graph (a team ranked high in offensive line play) for a positive correlation to offense and a small bar towards the right to a positive correlation for a defense. Here are the plays that stick out to me:
Steelers

vs

Dolphins

Mason Rudolph comes back from his terrifying concussion to face off against the 2019 NFL's punching bag. Meeting the Dolphins at home in Heinz Field, the Steelers are currently favored by 14.5 points in a game with a 43.0 total. We can feel relatively comfortable that the game script has a high chance of following the path of Rudolph's second career start against the equally lowly Cincinnati Bengals when Pittsburgh came away with a 27-3 win on the back of a highly efficient, low-aDOT performance from their quarterback. Rudolph finished that game with 24 completions on 28 attempts for 229 yards and two touchdowns, keeping the ball close to the line of scrimmage en route to sporting a 3.2 average Intended Air Yards, the lowest mark of the week according to Next Gen Stats.

The running backs were heavily targeted in that dink-and-dunk offense as both Jaylen Samuels and James Conner combined for 16 receptions and 140 yards on top of the twenty carries they were allotted. While it's completely reasonable to assume the Steelers would like to take the lid off of the offense and see what Rudolph can do with a downfield approach, I just don't think it's going to happen here. I think they'll take care of business underneath, peppering Diontae Johnson, JuJu Smith-Schuster and Vance McDonald with targets while we wait yet another week for the Oklahoma State to Oklahoma State connection between the quarterback and James Washington.
Giants

@

Lions

The New York Giants are rolling into Ford Field in what seems like a sneakily exceptional spot. They will look to have a full ensemble of healthy offensive playmakers with news that Sterling Shepard should be ready to go and they'll be facing a defense without recently traded Safety Quandre Diggs. Former teammates and the people that cover Detroit closest are not fans of the move, including Detroit Free Press writer Dave Birkett who remarked;
"Lions general manager Bob Quinn made a business decision to send one of his starting safeties to another NFC playoff contender for a Day 3 draft choice at a time when his team is entering a winnable stretch of games with little room for error after three straight losses."
While that same article cited the fact Diggs is currently Pro Football Focus' 61st-ranked Safety, there's plenty of reason to believe the 26-year-old former All-Pro could have turned it around as the season went along. Nevertheless, what's done is done. Tracy Walker is set to take more coverage snaps from the slot for the Lions and that should bode well for Sterling Shepard if he indeed is fully healthy. Walker has allowed 11.09 yards per pass attempt out of the slot according to Sports Info Solutions, which ranks sixth-worst amongst safeties.
With security blankets all over the field, an ever-improving offensive line, a defense in Detroit with the 27th-ranked Adjusted Sack Rate and turmoil in the opposing locker room, Daniel Jones has a lot of paths to production this week.
Texans

vs

Raiders

It's taken a while to gel with new left tackle Laremy Tunsil, but the Houston Texans have strung together some very positive performances from the offensive line, especially in the passing game. Statistically speaking, the Texans still rank 25th in both Adjusted Sack Rate and QB Hits Allowed but much of that is from the beginning of the year and has been exacerbated by Deshaun Watson's propensity to hold on to the ball longer than necessary. As Watson becomes more comfortable staying in the pocket behind a line that continues to solidify (three sacks taken across the last three games), we get more and more peeks of his infinite upside.

The Week 7 blowout by the hands of the Green Bay Packers has called the Raiders defense and particularly their pass rush into question, and has prompted reports of a trade possibility before the deadline.
Raiders will be buyers at Oct. 29 trade deadline. Already have called around the league looking for LBs and pass rush help, per sources.

— Adam Schefter (@AdamSchefter) October 20, 2019
As it stands, the Raiders' ten sacks rank them fifth-worst and the lack of pressure is a big reason why they've been carved up by opposing passing games for most of the last 22 games.
Passer rating vs #Raiders the past 2 seasons: 105.3

QBs with passer rating of 105.3 in NFL history (min 200 att): Patrick Mahomes, 113.6

— Josh Dubow (@JoshDubowAP) October 20, 2019
With Will Fuller out for the foreseeable future, the Houston three-wide receiver set will look like: Deandre Hopkins, Kenny Stills and Keke Coutee. Each of Stills and Coutee are priced below $5,000 on Draftkings this week.
Favorable Defensive Matchups
Jaguars

vs

Jets

It may be unfair to judge the New York Jets current state of affairs on offense after having to face a brutal New England Patriots defense on Monday Night Football, but the truth is this offensive line has been in shambles regardless of opponent or starting quarterback. Lacking in pass blocking, run blocking and compounding problems by committing the fourth-most penalties in the league, the big men up front are pulling the e-brake on drives regularly.

Darnold isn't helping the situation, particularly on Monday night when he completed only one of 15 downfield attempts. The short game will need to be in full effect this weekend as they head to Jacksonville to play a team that would love nothing more than to squeeze the clock and limit Jets snaps. If fighting the clock isn't enough, they'll also be contending against a trio of players ranked inside the top-40 of Sports Info Solutions' Pressure%; defensive tackle Taven Bryan (13th), linebacker Josh Allen (37th) and defensive end Calais Campbell (39th).
Packers

@

Chiefs

I am continuing with this writeup more or less ignoring the news that Patrick Mahomes is practicing today and hasn't been ruled out of Week 8's contest. Not because I don't want to see Mahomes lace-em-up this week but purely because it's such an inherently stupid idea that I can't believe Kansas City would do it. This leaves us with the quarterback play of the savvy veteran Matt Moore, who will look to fill in for the next week (or month). Moore is a perfectly fine replacement, but there are only a few quarterbacks in the world that can work the type of magic that Patrick Mahomes does inside of a collapsing pocket. And Matt Moore is not one of them.

The KC offensive line has taken a precipitous fall down my rankings as the season continues on as they have not been able to shore up the left side of the line with both left tackle Eric Fisher and left guard Andrew Wylie dealing with injuries. Cam Erving, in particular, has been one of the worst offensive linemen in the league this year.
Chiefs LT with Eric Fisher has been Cam Erving.



He's the 97th graded OT via @PFF this season. 97th out of 107. It's a yikes.



Preston and Za'Darius Smith on deck if Fisher can't go.

— Peter Bukowski (@Peter_Bukowski) October 23, 2019
Erving (or anybody lower on the depth chart) will have to face off against the Green Bay Packers Smiths: Preston and Za'Darius. The "Smiths" currently have 13 combined sacks and 58 combined pressures. Fifty. Eight.
Favorable Running Back Matchups
The above rushing aFPA graph will work exactly the same way as the QB aFPA graph worked; tall lines on the left are areas we want to attack and short lines on the right should make you second guess the fantasy pieces associated with those offenses.
49ers

@

Panthers

The San Francisco running back touches were a bit skewed in their last game out with Matt Breida missing time to be checked for a concussion and subsequently being poked in the eye. Regardless, we've seen Tevin Coleman's touches increase in each of his four games since returning from injury (8 -> 16 -> 20 -> 22) and he stands on top of this frustrating running back by committee mountain. With the deadline week addition of Emmanuel Sanders, it will be difficult to know exactly how the targets are distributed before we actually see him take the field this Sunday but it's probably safe to assume that the running backs are going to see a smaller piece of that pie moving forward.

There is still a floor here for the 49ers rushing game and particularly in this matchup against the Carolina Panthers. Carolina is the truest run-funnel team in the league at this point in the season, ranking third in pass defense DVOA and 30th in rush defense DVOA. That plays directly into the hands of what San Francisco wants to do and even if we see a near-even split between Breida and Coleman that gives each of them a 12-15 touch floor (barring any future eye pokes).
Patriots

vs

Browns

From one impossible backfield by committee to another. It may be incredibly annoying but when we have matchups like this it's for the best that we dig in as opposed to simply ignoring it. The plays here will depend on the availability of Rex Burkhead, who was back at practice this morning and has been absent from gameday since Week 4. Burkhead's 17 targets through the first three games of the season notably demolishes all hope for James White being a viable play and his work on the ground also caps the ceiling of Sony Michel. However, if Sexy Rexy is held back for another week the Michel/White pairing has a juicy matchup at home against Cleveland as 13 point favorites.

Over the last three competitions against teams who lean heavily on the run, the Browns have allowed 618 yards, with an additional 15 catches and 122 yards through the air to opposing running backs.
Running Backs With Bad Matchups
As opposed to breaking down every bad match-up through the rest of the slate, here are some running backs I'm looking to avoid because of their poor offensive line and the strong defensive fronts they will be facing:
Every Miami running back, Dolphins
That's all I've got for this week, everyone. If there's something you'd like me to dig into specifically with regards to offensive line vs. defensive lines please give me a shout! For further reading regarding our aFPA statistic and how to use it in your favor, give John Paulsen's Sneaky Starts series a read!