NFL Week 8 Betting Picks & Preview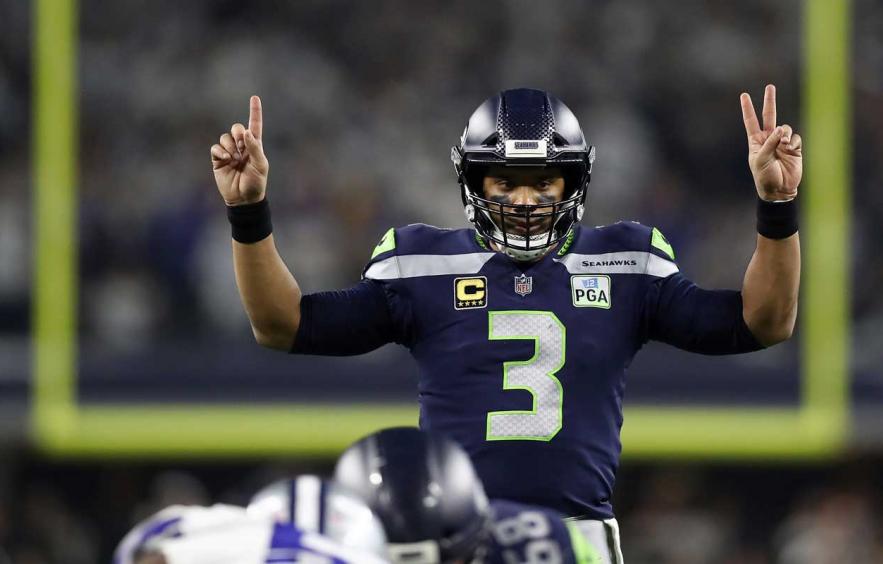 Ronald Martinez/Getty Images
NFL Week 7 Recap: While the Texans failed to cover as a 1-point underdog versus the Colts (who dominated the matchup despite allowing Houston a chance to cover late), the Cardinals (+3) beat the Giants outright as a road underdog and the Rams (-3) won a laugher in Atlanta against a hapless Falcons team (more on them below). The 2-1 week improved my ATS record this season to 13-10. While I'm well off my winning percentage of a year ago (65%), I'm still profiting at a 57% clip. Let's see if we can't improve that number this weekend.
Spread: Seahawks -3.5
O/U: 53
Time: 1:00 p.m. ET, Sunday, October 27
The line for this game is -3.5 at William Hill in Vegas, so that's the number I'm using for this pick. That said, for those wondering, if Matt Ryan doesn't practice on Friday and misses Sunday, I'm still willing to lay the points with Seattle up to -6.5. Anything over that number and the value has been sucked out of the line.
As I wrote last week, the Falcons are an unmitigated disaster. Then things somehow got worse in their 37-10 loss to the Rams. Ryan injured his ankle, the players looked like they quit on dead-man-walking Dan Quinn and they potentially lost another key piece on defense when Grady Jarrett (abdomen) was injured. If Seattle rolls Sunday as I expect, Quinn could receive his pink slip during the bye. He's a good man that clearly commanded the respect of his players at one time, but the Falcons have to tear this thing down. Trading Mohamed Sanu was a start, but if teams are interested in Devonta Freeman, Vic Beasley (not sure why they would want a pass-rusher who doesn't rush the passer but nevertheless…) and Desmond Trufant, there's no reason for Atlanta to try and keep those pieces.
Meanwhile, Russell Wilson completed just 20-of-41 passes for 241 yards, with one touchdown and one interception in the Seahawks' 30-16 loss to the Ravens. It was Wilson's worst performance of the season, so I'm banking on a major rebound from him on Sunday. He's familiar with Quinn's scheme since it's the same one he has faced daily in practice since he entered the league in 2012. Quinn's scheme is paint by numbers, so Wilson will have a field day picking it apart, much like rookie Kyler Murray, the recently benched Marcus Mariota and Deshaun Watson have done in recent weeks when facing Atlanta.
There's a chance Falcons players could circle the wagons and play hard to save Quinn's job, although they could have been doing that for the past two weeks. Instead, they appear to be a team that has quit.
NFL Week 8 Selection: Seattle Seahawks -3.5
UPDATE: Ryan was ruled out on Saturday, forcing oddsmakers to adjust the line with Matt Schaub set to start under center for the Falcons. As I noted above, I'm only willing to lay -6.5 on the Seahawks. With the line up to 7.5 or 8 at most books, this is now a NO PLAY for me. Seattle could still roll, but the value is gone and the line feels inflated. Plus, Quinn worked for Pete Carroll as the Seahawks' defensive coordinator before he was hired in Atlanta. With Quinn's job on the line, I worry about Carroll calling off the dogs in the fourth quarter to avoid embarrassing his former assistant. Either way, I am now passing on this game but I will add more selections after taking another peak at the slate.
---
DraftKings Sportsbook Deposit Bonus: Available to Current & New Users! Create an account, deposit and DraftKings will match 50% of the deposit amount up to $500. Additionally, new users will get their first bet matched with up to a $200 risk-free bet.
---
251 New York Giants at 252 Detroit Lions
Spread: Lions -6.5
O/U: 49.5
Time: 1:00 p.m. ET, Sunday, October 27
Over the past two years, I have mostly avoided totals. Hey, you have to know your strengths and weaknesses, and last year I had a better eye when it came to the sides.
That said, have you seen the slate this week? Including Redskins-Vikings on Thursday night, there are five double-digit spreads in Week 8. Untrustworthy teams such as the Bears, Titans and Lions are laying points, while squads like the Chargers, Jets and Bucs aren't getting enough points to entice. Outside of Week 1, this might be the hardest slate to cap this year. Thus, it forced me to go outside of my comfort zone and look at the totals.
One total I do love is in Detroit, where the Lions host the Giants. The Lions placed running back Kerryon Johnson (knee) on injured reserve earlier this week and while they haven't run the ball effectively this season even with Johnson, they should be particularly pass-happy on Sunday. The Giants secondary has struggled all season, allowing 8.3 yards per pass, which ranks 29th in the NFL. They're also 27th in pass defense DVOA at Football Outsiders, so Matthew Stafford should produce plenty of explosive passing plays this weekend.
On the other side, the Lions traded safety Quandre Diggs to the Seahawks this week, much to his surprise, and if corner Darius Slay (hamstring) is out or limited, then Detroit's secondary depth will be tested. This is already a defense that struggles to generate pressure (27th in Adjusted Sack Rate) and without its key secondary pieces, points shouldn't be at a premium for the Giants.
The over has cashed in five straight games involving the Giants, who can't defend and who aren't hapless offensively thanks to Saquon Barkley. They're the perfect 'over' team and with the weather not a factor inside Ford Field, I see no reason why both of these teams can't get into the 30s on Sunday.
NFL Week 8 Selection: Giants/Lions OVER 49.5
---
Looking for more picks? Check out Sharp Angle Sports for access to Anthony's CFB selections and exclusive NFL selections from SuperContest Winner James Salinas, who is a documented 63% ATS over 320 NFL selections since 2015.
---
261 Philadelphia Eagles at 262 Buffalo Bills
Spread: Bills -2
O/U: 43.5
Time: 1:00 p.m. ET, Sunday, October 27
The Eagles appear to be at the proverbial fork in the road. After they were embarrassed last Sunday night in Dallas, they'll either regroup, realize the talent that they have, understand that the NFC East is still there for the taking and rebound in the second half (much like they did last season), or they'll continue the downward spiral, which is more likely in my eyes. I see the Eagles in (Mr.) self-destruct mode and are closer to ruin(er) than they are to finding a warm place. They're also hurt.
Okay, I'll stop. I hope other Nine Inch Nails fans appreciated that detour.
Heading into the matchup with the Cowboys, I still believed the Eagles' issues were all in the secondary and once they got their defensive backfield healthy, they would pick up their play. But Carson Wentz has been turnover prone, and the offensive line has been inconsistent. The offense, including play-caller Doug Pederson, rarely appears to be in rhythm and once again, Wentz's play is being questioned inside the locker room.
The Eagles have also struggled on the road, surrendering an average of 31.5 points in four contests away from the City of Brotherly Love. Turnovers have been an issue early in games, including in Dallas where the Cowboys turned two Philly turnovers into a pair of touchdowns in the first quarter last Sunday. In fact, the Eagles were outscored 51-17 in the first two quarters in losses to Minnesota and Dallas. Wentz hasn't helped matters, turning the ball over six times in Philly's three road losses.
Meanwhile, the Bills boast the league's third-best overall defense (292.7 yards per game) and the NFL's seventh-ranked rushing attack (135.8 yards per game). This isn't an easy draw for Buffalo, as Philadelphia's interior defensive line is extremely talented. That said, the Eagles remain banged-up at linebacker and in the secondary. Thus, while the Bills aren't equipped to throw the ball all over the yard, they should be able to slowly chip away at the Eagles' front seven while sustaining long drives, building a lead and then chewing clock in the second half.
The bottom line is that the Eagles are struggling, there are signs of the wheels completely falling off and you don't want to be playing in Buffalo against a nasty Bills defense when you're not firing on all cylinders offensively.
NFL Week 8 Selection: Buffalo Bills -2
271 Denver Broncos at 272 Indianapolis Colts
Spread: Colts -5
O/U: 42
Time: 1:00 p.m. ET, Sunday, October 27
Much like the 49ers-Panthers game, this is another matchup that I liked the more I broke it down over the weekend. This Denver team couldn't beat a Kansas City squad last Thursday night despite the Chiefs losing Patrick Mahomes early. Why should we believe that the Broncos will show up today in Indy and play well after trading one of their few offensive weapons (Emmanuel Sanders) earlier this week?
Four weeks ago, the Colts tried to sleepwalk through a home game versus the Raiders as a 5.5-point favorite and wound up losing, 31-24. On the surface, their matchup with the Broncos on Sunday feels eerily similar to that home loss to Oakland. After all, the line is nearly the same (the Colts are 5-point favorites today) and both Oakland and Denver are non-divisional opponents that reside in the AFC West.
That said, if you go back to that game, Indy was severely banged-up. T.Y. Hilton, Malik Hooker and Darius Leonard all missed that week. I'm not making excuses for the Colts, who still have enough talent to beat the Raiders in a home game that they were favored by nearly a touchdown in, but it is what it is. Those are three of their best players, all of whom, will play Sunday versus the Broncos.
Now healthy and fully aware of what the Raiders did to them in that Week 4 matchup, I expect the Colts to come out on Sunday firing on all cylinders. Justin Houston and Denico Autry should feast on a Denver offensive line that surrendered nine sacks last week in that loss to Kansas City. Joe Flacco is a disaster under center and without Sanders to throw to, he'll be a sitting duck again this afternoon. The wheels are falling off the Broncos and this one has runaway written all over it in Indy.
NFL Week 8 Selection: Indianapolis Colts -5
269 Carolina Panthers at 270 San Francisco 49ers
Spread: Panthers +5
O/U: 40.5
Time: 4:05 p.m. ET, Sunday, October 27
In efforts to limit my plays, I initially left this selection on the cutting room floor. That said, like a catchy song that just won't leave your head, I can't shake the Panthers.
The 49ers are one of only two remaining unbeaten teams (the Patriots are the other), but why are they laying nearly a touchdown to a Carolina team that hasn't lost since Kyle Allen replaced the injured Cam Newton? The Niners' nasty pass rush will undoubtedly be Allen's toughest test to date but he has done an excellent job managing games for the Panthers. Since replacing Newton, Allen has thrown for 901 yards with seven touchdowns while also completing 65.5% of his passes.
The key today, however, is the absence of Kyle Juszczyk (sprained MCL). Kyle Shanahan is one of the few playcallers in the NFL that still utilizes a fullback to make his outside zone rushing attack pop. Without Juszczyk, the 49ers were held to a season-low 2.4 yards per carry and 99 total rushing yards two weeks ago in their win over the Rams. The Panthers' weakness defensively is against the run (especially since placing Kawann Short on IR), but without Juszczyk, I don't believe the Niners will be able to take advantage of said weakness.
The bottom line is that oddsmakers are giving us nearly a touchdown with a team on a four-game winning streak that is also coming off its bye. Even if Allen struggles, Christian McCaffrey should help the Panthers keep the game close throughout.
NFL Week 8 Selection: Carolina Panthers +5
2019 NFL ATS Betting Record
Week 1: 1-2
Week 2: 1-2
Week 3: 3-1
Week 4: 3-1
Week 5: 2-1
Week 6: 1-2
Week 7: 2-1
Season Total: 13-10 (57%)