TJ's #Taek: Week 2 NFL DFS Recap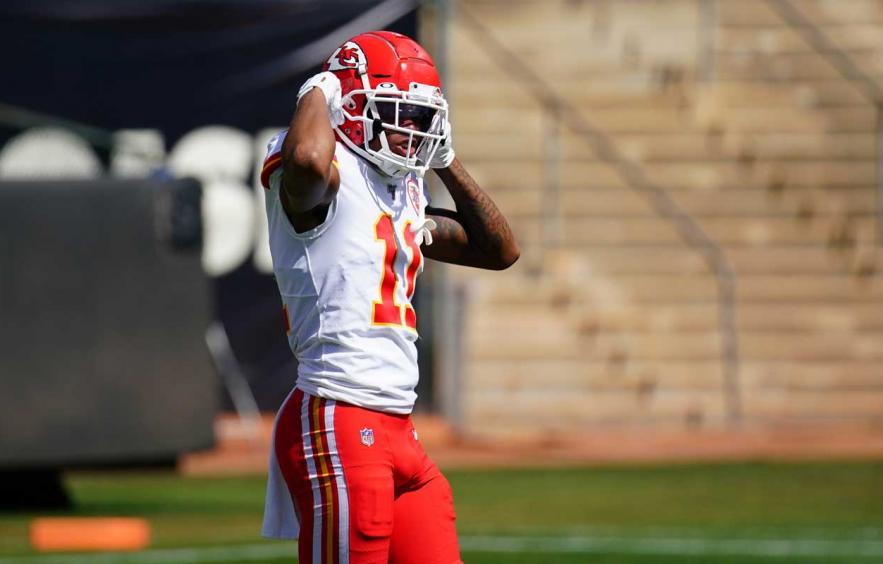 Daniel Shirey/Getty Images
Week 2's winning lineups from the biggest contests on FanDuel and DraftKings can be used to tease out lineup-building strategies and offer clues on how you could have landed on a similar team. Reviewing your hits and misses each week is imperative if you want to be a profitable DFS player. Examining winning lineups is also a useful exercise in cultivating a winning approach.
DraftKings Week 2 Millionaire Winning Lineup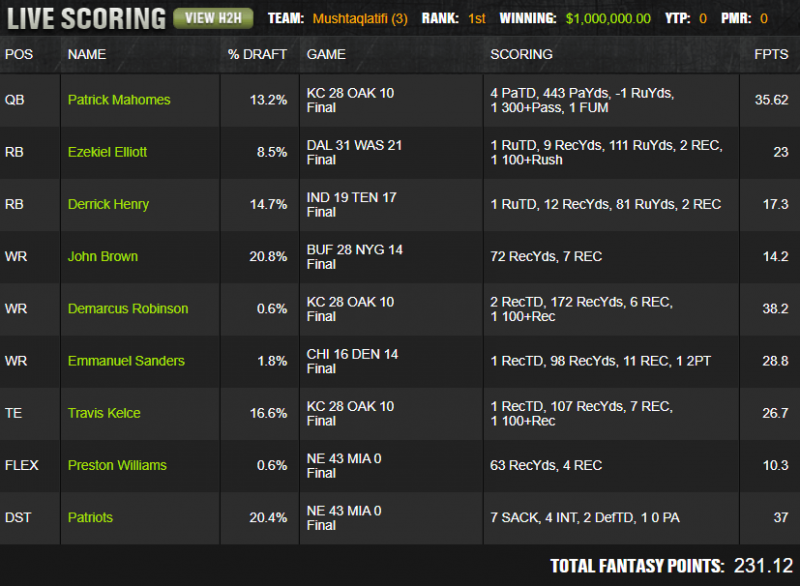 The chalk didn't hit as hard in Week 2 as in Week 1 and it showed at the top of leaderboards. This lineup is a good reminder of two important GPP concepts—you don't need to smash all nine roster spots and sometimes finding a way to get to studs with the highest ceilings can be worth it regardless of salary. In this case, paying all the way down for a receiver such as Preston Williams allowed Mushtaqlatifi to pay almost all the way up at four different positions, including two of the biggest stars on the best offense in the league. This is an especially effective strategy when virtually no players priced below $4,400 were expected to draw much ownership, allowing for an especially unique lineup build.
What Were the Indicators for the Low-Owned Plays?
The only pause about Ezekiel Elliott was when he would return to his normal workload and the way to profit from his Week 1 game was to roster him before it happened. Zeke wasn't severely under-owned but still a great leverage play when you consider the fact that the other expensive backs, Saquon Barkley and Alvin Kamara, were owned in 17% and 39% of lineups, respectively.
As the week approached Sunday, Mecole Hardman picked up steam as the potential low-owned player to target in the Chiefs offense but after seeing just one target on 79% of snaps in Week 1, there were concerns the scraps left by Tyreek Hill's absence could go elsewhere. As it turned out, Demarcus Robinson was that player and served as a reminder that wide receiver usage is highly volatile.
Nothing pointed to a particularly great matchup for Emmanuel Sanders but he did see nearly 23% of Denver's targets in Week 1 and that volume is nothing to ignore, even in a bad offense. Sanders did serve as a price pivot off chalk Tyrell Williams and Mecole Hardman.
FanDuel Week 2 Sunday Million Winning Lineup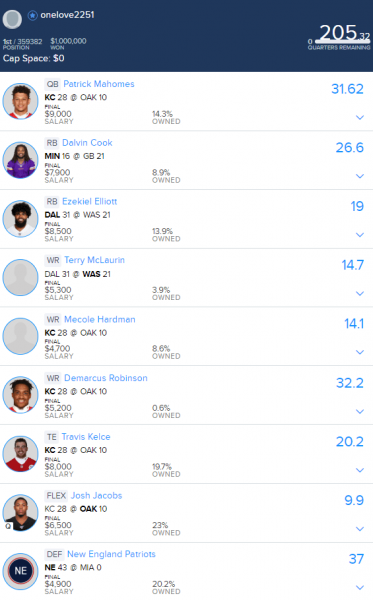 Not much was different at the top of the leaderboard on FanDuel where onelove2251 cornered the Chiefs' entire touchdown market. Even with a chalk running back turning in an underwhelming game, this lineup reminds us how important ceiling games are, allowing you to topple a field of nearly 360,000, even if you get a dud somewhere. As has been the case almost every week since FanDuel added a flex spot last season, there's little reason to get away from rostering a third running back as much as possible.
The Redskins spread the ball around relatively evenly in Week 1 but target share isn't the only market number to pay attention to when searching for upside receivers. A player's share of air yards is generally a strong predictor of future success and Terry McLaurin's 43% share in Week 1 ranked 13th among all players. He did just enough with that opportunity to give Week 2's Sunday Million winner a relatively comfortable win.
TJ's Final #Taek
It takes a few weeks to know what's real and what are early-season aberrations but it's foolish to not start reacting to new information we have as quickly as possible—that's the only way to edge out the field. While raw fantasy points can be misleading, especially with just two weeks of data, volume is repeatable and usually quite sticky. Some might look at a play like Terry McLaurin and consider it random luck but if we are looking for the right indicators, we can also find players ready to pop, even if a matchup or value table doesn't indicate a big game.
After two weeks, eight players rank in the top 20 in percentage of team targets and percentage of team air yards—DeAndre Hopkins, T.Y. Hilton, Sammy Watkins, D.K. Metcalf, Adam Thielen, Michael Thomas, Keenan Allen and Allen Robinson. If any of these players draw low ownership in Week 3, their names could very well be featured in the above space next week.