The Top Contrarian DFS Stacks: Week 12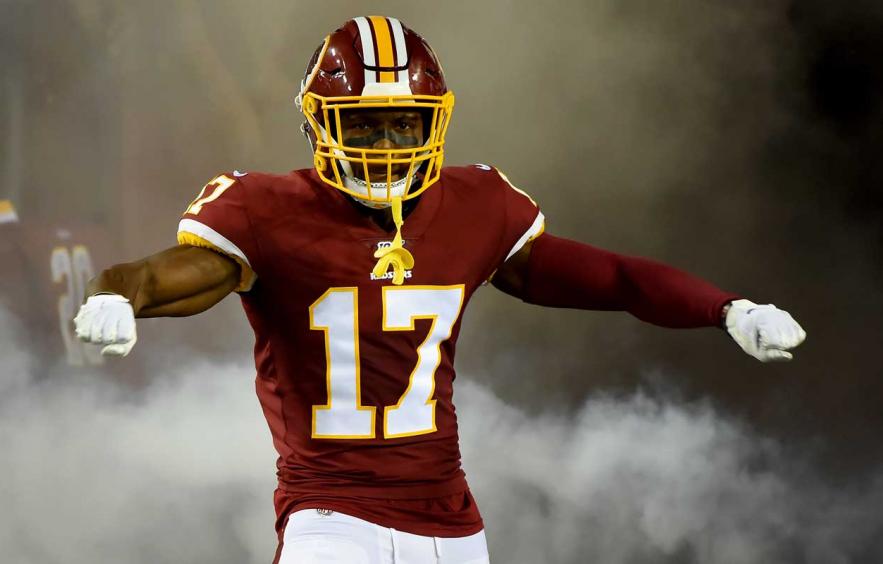 Will Newton/Getty Images
When laying out Week 12 NFL DFS contrarian stacks, I'll be using a combination of our Stack Value Reports and GPP Leverage Scores to find unique stacks that can take down a tournament. I encourage you to read the series on how to win a GPP in the DFS Strategy Hub. You'll quickly realize that taking down a tournament requires a balance of players ranging from low-owned to chalky.
I like building contrarian stacks around my chalkier core of players because you only have to get one instance correct for it to hit. For example, if we hit on a contrarian quarterback play while having a pass-catcher or two from that same game, the positive correlation of those stacks is technically getting one contrarian play correct despite filling multiple roster slots. I feel this is easier than having a chalkier stack while trying to hit multiple individual low-owned plays throughout the rest of your lineup. Keep in mind that these are contrarian stacks, so you don't have to use these stacks in a large percentage of lineups to be overweight on the field. They should be used in tandem with a chalkier core of players.
QB/WR1/Opp. WR1 Stack
QB
Carson Wentz

($5,600 DK/$7,300 FD)

TE

Zach Ertz

($6,000 DK/$6,100 FD)

WR

DK Metcalf

($6,300 DK/$6,700 FD)

Despite facing a grueling schedule, Carson Wentz has managed to average nearly 18 fantasy points per game. This is certainly a matchup that favors a passing game script as the Seahawks rank fifth-worst in the league at stopping opposing quarterbacks, but 12th best at stopping the run. The game script in general favors an up-tempo offensive shootout as both pass defenses have been beatable all year. If this game does end up exceeding it's implied total, it's likely Wentz approaches Russell Wilson in terms of raw fantasy points, so I like the discount on the Eagles side. Wentz has a respectable 4:1 touchdown-to-interception ratio and this could actually be a game on the schedule in which he could hit the 300-yard bonus and put up multiple touchdowns. Zach Ertz seems to be the main cog in the Eagles' offense going forward. He went from setting the record for tight end receptions in a season to only having 37 through the first eight games. In his last two games, however, Ertz has caught 18 balls on 22 targets for 197 yards and a touchdown. The Seahawks have struggled against tight ends, ranking 26th in raw fantasy points allowed. Obviously this recommendation is stronger with the absence of Alshon Jeffrey, but even if he suits up, Ertz will again be heavily involved in the game plan. He should be able to rack up receptions as he's very adept at finding the soft spots in zone coverage.

The Eagles provide another pass-funnel defense in this game, so the air yards should be plenty. Tyler Lockett looks like he's set to play, but if he's limited or ruled out Metcalf can have a field day against this Eagles' secondary. The glaring stat for me is that Metcalf has played 95% of team snaps over the past three weeks which has included eight targets per game. The Eagles don't have a corner that can match Metcalf's physicality. Before the Week 9 game against Tampa Bay, Metcalf's season-high for receptions had been four but has since put together back-to-back six reception games on the board and has averaged almost 100 yards in those two games. I wouldn't mind adding to this stack, but these are the three players that have the most upside. You can create multiple stacks with Russell Wilson, Tyler Lockett if healthy, and Miles Sanders and Dallas Goedert from the Eagles' side.
QB/WR1/WR2 Stack
QB
Nick Foles

($5,400 DK/$7,200 FD)

WR

D.J. Chark

($6,400 DK/$7,000 FD)

RB

Derrick Henry

($6,900 DK/$8,400 FD)

The return of Nick Foles did nothing to diminish D.J. Chark's breakout performance. Many speculated that Dede Westbrook would flourish in the slot due to the fact he and Foles had a connection throughout camp and leading up to Foles's injury in Week 1. That was not the case as Chark received 15 targets that resulted in a two touchdowns. In addition to his 8/100/2 monster stat line, Chark has played back-to-back games with huge snap shares of 94%. It's very evident that he's the go-to number one receiver in Jacksonville. The Titans tank 18th in aFPA to wide receivers and while it's not a matchup we normally look to target, it's also not one that raises a red flag. The game script somewhat dictated all the passing this past Sunday, but even in neutral circumstances, the Jaguars were leaning on Foles, as they called less than 10 run plays.

I actually like pairing up the Jaguars pass-catchers with Derrick Henry. He will probably be a popular cash and tournament play, however, I don't think many people will be pairing him up with the Jaguars passing attack as that goes against conventional wisdom. However, we have seen the Titans jet out to big leads on the back of Derrick Henry's big runs. Two weeks ago, Henry and the Chiefs' pass-catchers won a lot of tournaments in this very same way. Henry was the focal point of the offense, ripping off a big run and racking up gobs of fantasy points, which required Mahomes and the Chiefs to keep pace, so I don't necessarily think it's too off the map to think Henry is the correct pairing with Foles and Chark. Henry is in a great spot as well. The Jaguars have dropped to 26th in aFPA to running backs. They've been gashed on the ground this season and Henry is the kind of back that the Titans will keep feeding if they feel he is beating up on a run defense. His massive 234-yard, four-touchdown day last season came in a home matchup with the Jaguars as well. I could see this being a huge day for Henry with the Jaguars leaning on Foles and Chark to keep pace.
QB//RB1/WR1/Opp WR1 Stack
QB
Dwayne Haskins

($4,900 DK/$6,700 FD)

WR

Terry McLaurin

($6,000 DK/$5,800 FD)

WR

Kenny Golladay

($6,600 DK/$7,800 FD)

Dwayne Haskins and Terry McLaurin would be the talk of the town if not for a holding penalty that negated a huge 70-yard completion against the Jets this past Sunday. McLaurin hauled in three targets for 69 yards, but it would have been a much more appealing day had his biggest play of the day not been called back. The same goes for Haskins—that completion would have put him over 20 DraftKings points with the potential for the 300-yard bonus and an additional touchdown on that drive. These are the instances that don't show up in the box score, or really even the air yards report that can be of great importance. Week 12 brings a Lions' defense that allows the third-most passing yards to opposing offenses and the second most fantasy points. Playing an inexpensive quarterback this week allows us to spend up at other positions. This Redskins-Lions contest has the potential to be a shootout with two very weak defenses facing two offenses that have the matchup edge.

Golladay only reeled in one reception last week for 34 yards, however, he led the Lions in weighted opportunity according to airyards.com. He also led the team in total air yards with 71. Sure Marvin Jones had the bigger fantasy day due to the fact he secured two touchdown grabs, but this is a chance for a great leverage spot here for Golladay. We know he's capable of putting up monster games, he has three games this year with 26 or more fantasy points. Jeff Driskel adds to Golladay's appeal for me as well, since becoming a starter, Driskell has shown the ability to escape the pocket and keep the play alive. Golladay has been the beneficiary due to his jump ball skills. In the past two weeks at least two long receptions by Golladay were a result of Driskel escaping the pocket and throwing Golladay a 50/50 ball on an improvised play. This stack makes a ton of sense if you believe this game can be a shootout in Washington