A Look Back at Tight Ends in 2018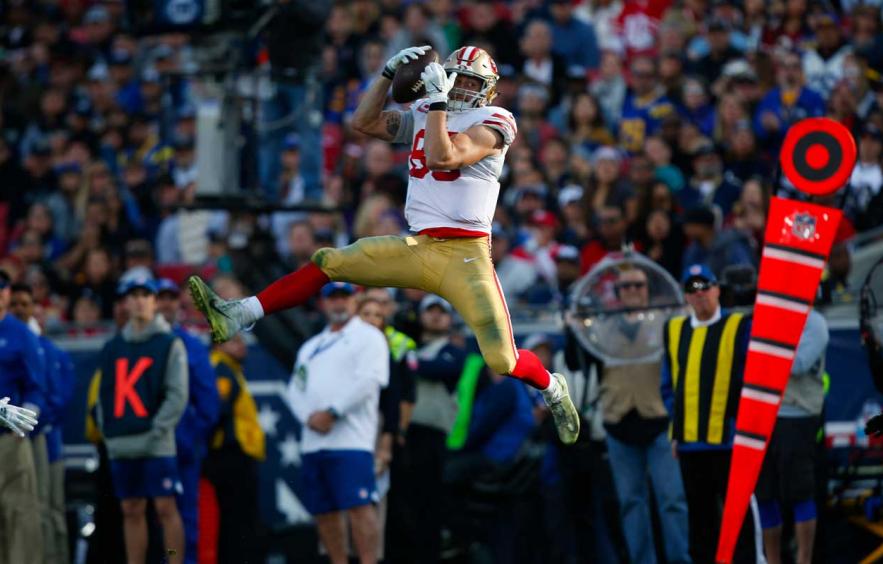 Michael Zagaris/Getty Images
Some of us hoisted fantasy championship trophies in 2018, while others probably want to forget last season even happened. Either way, it's a good idea to take a look back and see what worked and what didn't at each position, so we can get a better idea of where to focus our efforts as we head into this year's draft season.
In this piece, I'll tackle a unanimous wasteland from the 2018 season, the TE. 2018 proved to be a rough ride for those who did not draft within the top tier which consisted of Travis Kelce, Zach Ertz and Rob Gronkowski. Kelce and Ertz ended as TE1 and TE2 respectively, with Gronk's limited 13 games putting him as TE11 on the season. However, there were some undervalued guys who overproduced, elevating rosters across fantasyland.
The table below shows the ADPs of the 20 highest drafted TEs in the order they came off draft boards in 2018. At the end of this piece will be a table showing the final standings of the TE position and how it all panned out.
2018 Tight End Favorites
I'll start this look back with some TEs that I was high on heading into last year. These are guys that I highlighted during draft season as players with the potential to break out on new teams or improved situations, based on year-to-year data and team schedules. There were some hits, and of course my fair share of misses.
Targets Per Game
When comparing year-to-year correlations for various TE stats, targets per game (TGTs/G) showed a correlation of 0.48 heading into 2018, meaning that—compared to most stats—targets are very likely to carry over the following season. It's also been shown that targets correlate with fantasy points almost as strong as any other stat for tight ends. The three players I pegged to succeed based on potential TGTs/G were Charles Clay, Jared Cook and Tyler Kroft.
Clay was a disaster so we can just put him to the side here. Cook ended the season as TE5 in both TGTs/G with 6.3 and total targets with an impressive 101 on the year, resulting in an overall finish of TE5 in PPR fantasy points. He certainly outperformed his TE16 ADP and it will be interesting to see how the targets are dispersed in his new home of New Orleans in 2019.
Kroft didn't exactly pan out for me, but C.J. Uzomah did, so I am taking some credit here. It was Uzomah who grabbed the oft-injured Tyler Eifert's targets and served as a decent TE streamer for most of the season. From Week 5 on, Uzomah averaged 4.4 TGTs/G, which was good enough for TE13. He ended the season as TE18 in PPR points, and that was with Jeff Driskel under center for five and a half weeks.
Fantasy Points Per Game
The stat with the strongest year-to-year correlation for TEs was found to be PPR Fantasy Points per Game (PPR FPs/G), with a 0.57 on the scale from -1.0 to 1.0. An absolute value of 1.0 signifies a perfect correlation so PPR FP/G have a moderate-to-high relationship year after year.
Eric Ebron is my shining star from this category. In Detroit, he ended as TE16 heading into last season with 8.3 PPR FPs/G and his spot in Indy was the ideal place for a breakout. Andrew Luck loves himself a TE and before his 2018 campaign, boasted a 69% success rate to TEs in his career. Ebron destroyed his 14th round ADP last season, checking in as TE4 in PPR FPs/G with 13.9, posting 222.2 overall.
Strength of Schedule
Schedule-adjusted fantasy points allowed, or aFPA, is a metric we rely heavily on at 4for4, and for good reason. By removing bias, we can level the playing field and compare matchups in an "apples-to-apples" manner.
Heading into the 2018 season, Ebron was a guy I identified as having one of the softest schedules for TEs, as the Colts faced teams that were projected to allow an average of 12.6 PPR points and 7.8 standard points per game to the position. His 13.9 PPR and 9.8 standard fantasy points per game outperformed that predicted average but showed us what an indicator or sticky stat aFPA can be.
Unfortunately, the other TEs with the best SOS didn't exactly pan out as I would have hoped. Austin Seferian-Jenkins was in a sweet spot to produce in the Jaguars offense but got hurt early in the season, plus there's the whole Jacksonville falling apart thing. Mike Gesicki was another guy on a team with a really cushy schedule for TEs, but just didn't see enough work to make anything happen fantasy-wise.
The Emergence of
George Kittle
San Francisco's resident TE deserves his own category here because he slayed his 12th-round ADP like a beastly dragon. I highlighted Kittle in a piece entitled George Kittle is heading for a sophomore surge last March and he came through big time. He was the 49ers' pass-catching workhorse, with 135 targets to the next player's 66 (Kendrick Bourne). Kittle was also the top PPR producer in San Francisco's offense, with nearly 100 more points on the season than Matt Breida.
His 6'5'', 252-lb build is ideal for success, as he can win one-on-one situations both in the red zone and downfield. The 49ers signed a 6'3" Jordan Matthews this offseason, but the rest of the receiving corps is either under six feet or right above it. Kittle was 14th in the league in red zone targets with 19, boasting an impressive catch rate of 52.6% inside the 20-yard line. Bottom line here is that the 25-year-old should be right up in that top tier again in 2019, but if you want him, be prepared to pay.
2018 Overvalued Tight Ends
Next, are some of the players I pegged as due for a regression, or those who were being drafted too high heading into last season.
Greg Olsen's fifth-round ADP was too elevated for my liking last season for a myriad of reasons. Injuries were probably the biggest concern, and he did see limited playing time in 2018. We only got nine games out of the 33-year-old, and he finished at TE25 in PPR points, 209th overall. His TGTs/G when he was on the field was somewhat diminished compared to years past, as he was fourth in Carolina's offense, behind Christian McCaffrey, D.J. Moore and Devin Funchess. Aside from 2017 when he was also sidelined for a large chunk of the season, Olsen ended each year with the highest or second-highest TGTs/G in the Panthers' offense, going back to 2012. When examining the players taken around Olsen last season, or the opportunity cost, one would have gotten nearly double the output from Dion Lewis or Allen Robinson, both also fifth-rounders.
David Njoku was on an offense that was a legit enigma heading into 2018. He had a decent coming out party in 2017 with 386 receiving yards and four touchdowns, but it was unclear in what direction this Browns' team was heading. I think I can speak for everyone here that Cleveland achieved way above any and all expectations for last season. Njoku's production and target share week to week were still inconsistent, however, despite outperforming his ADP. There were weeks where he saw double-digit targets, then a series of contests with under five balls thrown his way. Njoku ended two spots above his preseason ADP, and will most likely be popular again this year as an elite breakout candidate. With the amount of pass-catching weapons in the Browns' locker room in 2019, he may be a guy I'd wait on again in favor of solid depth at another position.
It's easy to dismiss Jordan Reed as perennially hurt and move on. Last season, I was not buying him as a seventh-rounder or TE10. He had missed 28 contests in a five-year span, resulting in fantasy numbers all over the place. The 28-year-old managed to play 13 games in 2018, grabbing 54 balls for 558 yards and two scores. For those who drafted Reed and hung on, you were rewarded with a TE15 overall performance, which wasn't awful given the QB situation in Washington and the crapfest TE turned out to be.
Kyle Rudolph is a guy I'll take an L on last season. Based on the loss of Pat Shurmur, his high touchdown dependency and the other weapons in the Vikings' offense, I thought he was due for a regression. Rudolph actually outperformed his ADP by a spot, going from TE8 over the summer, to finishing 2018 as TE7 in total PPR points. He was third in overall targets and TGTs/G on Minnesota's offense, and 10th among TEs in total targets with 81 on the season. Despite his jump from preseason ADP, you were still better off grabbing another position player in the seventh round though, as Rudolph finished 107th overall in PPR points, compared to better finishes from many guys drafted around him. To name a few, Tarik Cohen was 45th, Tevin Coleman was 67th, Adrian Peterson 70th and Alshon Jeffery finished 72nd.
Key Takeaways
The stats we utilize to predict success at TE are still viable year after year. Even in a garbage season for the position, there were some players who rose up like Ebron, Kittle and Cook, with others simply out producing and providing solid value such as Njoku, Vance McDonald and Austin Hooper. The top tier is still the top tier, and you will be paying again this season to get your hands on Kelce, Ertz and Kittle.
However, if that's not your style or in your plans, there will be plenty of TEs in situations to yield points in 2019, and I will be highlighting those in the weeks and months to come. Chasing production from season to season can be tricky, but we will be here to provide plenty of value picks to outsmart your league mates heading into draft season.