Can John Brown and Cole Beasley Revamp the Buffalo Bills Passing Attack?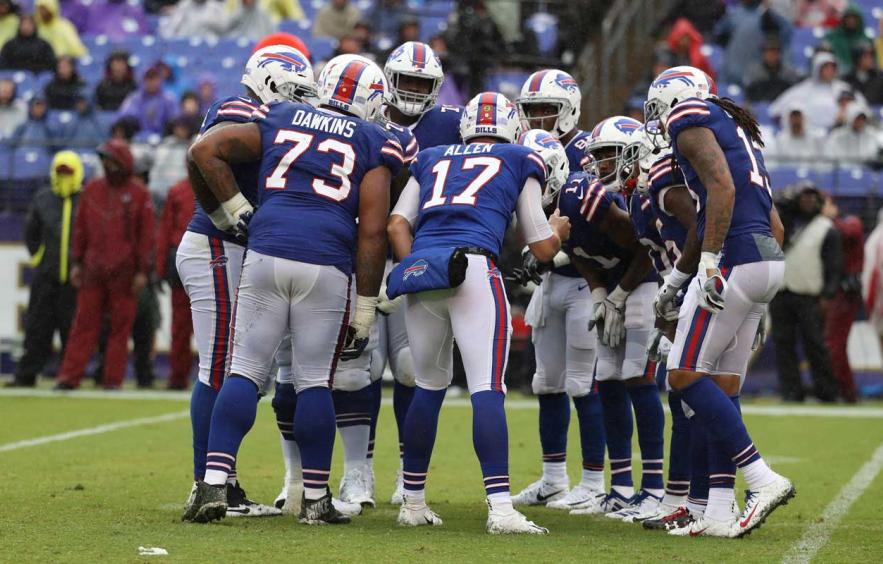 Rob Carr/Getty Images
The Buffalo Bills were active in free agency this spring, acquiring both John Brown and Cole Beasley to help bolster their passing attack. Brown was signed to three-year, $27M contract and Beasley to a four-year, $29M contract. How can each receiver help Buffalo?
Impact of
John Brown

's Signing

Fantasy owners of Brown last year remember all too well his boom-bust weeks with Joe Flacco. Brown averaged 13.2 PPR points with Flacco under center, high-pointed with a 7-134-1 stat line against New Orleans. He was the WR22 during the first nine weeks of the season with only Julio Jones and DeAndre Hopkins surpassing him in Air Yards (1,160).

When Lamar Jackson took over, Brown's downfield speed was shelved with the team orchestrating a heavy run and short pass offense. He dropped down to 3.6 PPR points per game during this time frame and was unstartable in fantasy circles.

Airlifted to Buffalo, there's reason for optimism for Brown heading into 2019. The promising part of Brown's signing with Buffalo is how often Josh Allen threw downfield last year. In his rookie season, Allen threw 20+ yards downfield on 20.3% of his dropbacks, the highest rate in the league last year. He also led all quarterbacks in average depth of throw at 11.48 yards (min. 180 dropbacks).

Brown's average depth of target (aDOT) during his time with Flacco was 17.3. It dropped down a full four yards with Jackson under center (13.3). Pairing Brown with an aggressive downfield thrower in Allen should help both players in the long run. While some of these targets may come at the expense of Robert Foster, Brown should experience an uptick in value this year, particularly in best-ball leagues.
Impact of
Cole Beasley

's Signing

Accuracy issues were an issue with Allen coming into the draft, and it shouldn't be any surprise that he struggled in this category Year 1. Allen ranked dead last in the league in PFF's adjusted completion rate (which takes out dropped passes, throwaways, spikes, etc.).

The Beasley signing could be a way to help Allen rectify this weakness in his game. Beasley has a career catch rate of 70.9%, head and shoulders above that of any other receivers currently on the Bills roster. Pairing Allen with Beasley should help Allen's accuracy numbers climb. Beasley's low aDOT routes will provide a strong complement to both Brown and Robert Foster running deep routes on the outside. These high-percentage throws coupled with Beasley's above-average catch rate should naturally help buoy Allen's accuracy ratings.

Beasley should also help in the third down department for Buffalo, providing a safety blanket for Allen when scrambling isn't an option. Last year the Bills' third-down conversion rate was the third-worst in the league (31.63%). Out of Beasley's 65 receptions last year, 39 of them either went for a first down or a touchdown last year (60.0% conversion rate). That rate stacks up comparably to fellow slot receivers JuJu Smith-Schuster (60.4%) and Larry Fitzgerald (59.4%).
Fantasy Impact
Brown and Beasley join a Buffalo squad that was bottom-five in pass play percentage (53.57%) and struggled staying on the field. Allen averaged just 26.7 dropbacks per game (third-lowest among qualifying QBs) and the Bills' third-down conversion rate kept them from staying competitive in games.
By bringing in Brown, the Bills hope to provide Allen two deep threats on both sides of the field and keep secondaries back out of respect for the speed of Brown (4.34) and Foster (4.41). By stretching the defense vertically, room should open underneath for Beasley as third-down chain mover to sustain drives. There will likely still be volume concerns with OC Brian Daboll calling plays, who labeled the running game, "really important for us", but it's clear the vision Buffalo has for both of these new receivers in the offense.
In summary, there weren't many big-name players for the Buffalo front office to target in free agency this year. They found two players that they think can help their young quarterback take his game to the next level, by providing him a weapon to build on his downfield passing strength (Brown), and another to help with his accuracy weakness (Beasley).
Overall, we can call this a net win for both Allen and Brown with a minor ding to Beasley's value. Brown escapes the run-first mentality in Baltimore but will still see volume concerns in Daboll's offense. As mentioned earlier, he remains a better value in best-ball leagues with how frequently Allen throws the deep ball. Beasley sees a downgrade in quarterbacks going from Dak Prescott to Josh Allen. He'll likely have a few fantasy-relevant weeks, but guessing which weeks he hits pay dirt isn't a gamble I'd be willing to take in traditional leagues.
This offense goes only as far as Josh Allen can take it. The front office did what they could, upgrading from Kelvin Benjamin and Zay Jones to John Brown and Cole Beasley. It'll be up to Allen to improve on his accuracy issues that traveled with him from Wyoming to Buffalo if this offense is to see any kind of step forward.