TJ's Take: Week 14 NFL DFS Recap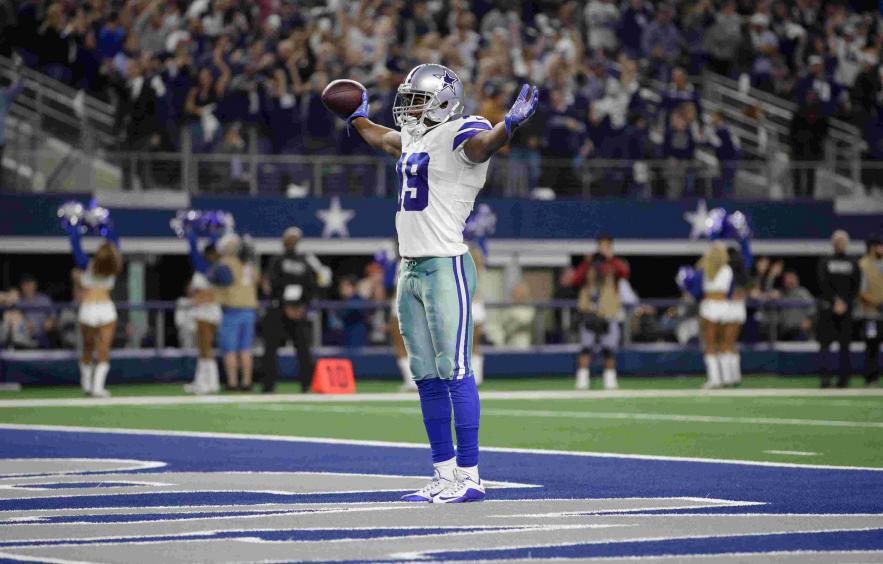 Week 14's winning lineups from the biggest contests on FanDuel and DraftKings can be used to tease out lineup-building strategies and offer clues on how you could have landed on a similar team. Reviewing your hits and misses each week is imperative if you want to be a profitable DFS player but examining winning lineups is also a useful exercise in cultivating a winning approach.
DraftKings Week 14 Millionaire Winning Lineup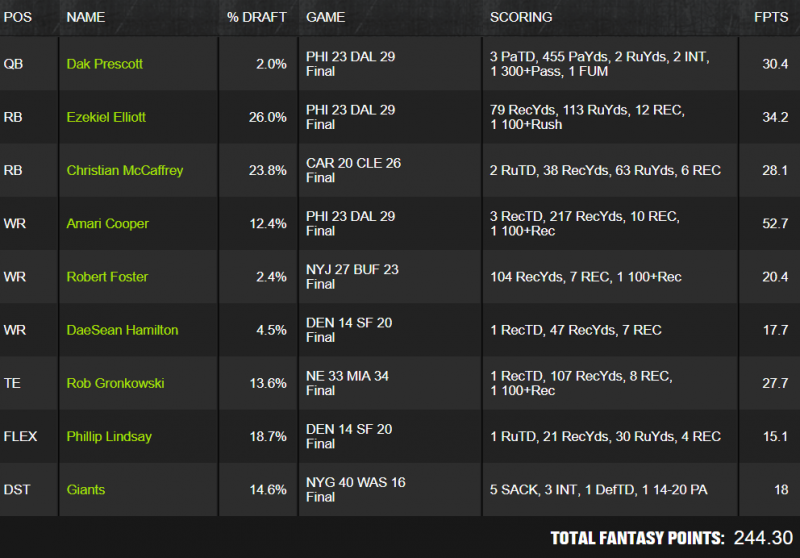 This winning Millionaire lineup was about as status quo as you can get, in terms of building a profitable GPP lineup in 2018—find a low-owned stack that offsets the ownership of high-volume, expensive backs in excellent spots. Notice that this stack isn't simply an under-owned quarterback with a pass catcher, but a team stack, which will always be somewhat unique, especially if that offense—the Cowboys in this case—isn't one with an astronomical point total. Crk3250 added a popular tight end and defense, as well, but found two cheap, unpopular receivers to offset that high ownership elsewhere.
What Were the Indicators for the Low-Owned Plays?
Going into Week 14, the Eagles were one of three defenses ranked outside the top 20 in schedule-adjusted fantasy points allowed to quarterback, running back, and wide receiver. While the Cowboys were implied for fewer than 24 points, they are a great candidate for a QB/RB/WR stack because of how concentrated their offense is—since Amari Cooper joined Dallas, he has accounted for a quarter of their targets while Ezekiel Elliott sees over half of the touches. With Cooper and Elliott drawing heavy ownership, it made sense to add Dak Prescott to at least a couple lineups that already featured the other 'Boys.
Daesean Hamilton made sense as a pivot off of Courtland Sutton—With Emmanuel Sanders on IR, a quarter of Denver's target opened up and Hamilton figured to slide into Sanders' slot role. San Francisco has been arguably the worst team against slot receivers this year, as highlighted in Week 14's DFS MVP podcast.
Like Hamilton, Robert Foster was a leverage off of a popular teammate at the same position. Zay Jones ended up on over 13 percent of Millionaire lineups and with Kelvin Benjamin released earlier in the week, there was an opportunity for Foster to see a huge increase in snaps against a poor pass defense.
FanDuel Week 14 Sunday Million Winning Lineup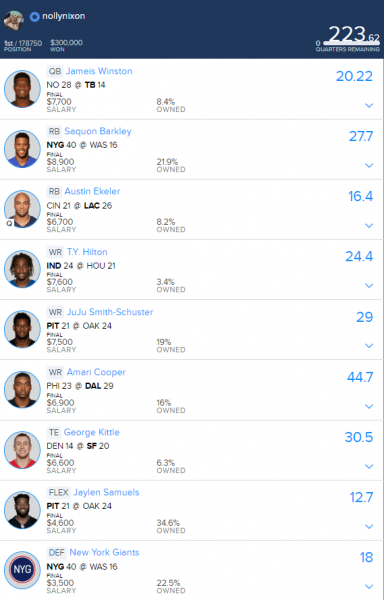 For the third week in a row, a major tournament was won with a "naked' quarterback. As I've stressed with this strategy, you're looking for a mobile quarterback that spreads the ball around. In Jameis Winston's two games since taking back the starter role, four Buccaneers were targeted at least five times in each game and that was the case again in Week 14. By adding almost 50 yards on the ground, Winston provided more than a passing touchdown worth of fantasy points.
What Were the Indicators for the Low-Owned Plays?
Austin Ekeler was a unique low-owned play in that he was part of a popular backfield, but he split ownership with his teammate, Justin Jackson. After Anthony Lynn declared Ekeler a candidate to get more rest, is was Ekeler—not Jackson—that became the leverage play in this offense.
Going into Week 14, T.Y. Hilton had seen at least nine targets in three straight games, ranked sixth among all players in that span. That kind of volume always carries with it tournament-winning upside, especially when that player accounts for a third of his team's' air yards.
TJ's Final Take
This late in the season, it's rare to switch up your routine but it's also important as a profitable DFS player to always look for the best value, not just within a lineup but in game selection, as well. This week, Yahoo is offering a $1,000,000 GPP with $250,000 guaranteed in overlay. At 1 $20 price point, players shouldn't overextend their bankroll to max enter this game, but for those that generally play at or around this level, it would be foolish to not transfer your normal action to this game.
In a recent DFS MVP theory segment, Holden Kushner and I discussed playing through losing streaks. One way to get back on track can be something as simple as a change of digital scenery. By switching to a platform with a different pricing structure and format, users are forced to think outside of their normal patterns—that alone can bring new ideas and a fresh perspective to your game. While fatigue may be setting in this time of year, that's no excuse to not do everything that you can to maximize your profit over the final weeks of games. A bad week or two can crush an otherwise great season but remaining diligent to the end can pay massive dividends, too.