Super Bowl 56 PrizePicks Props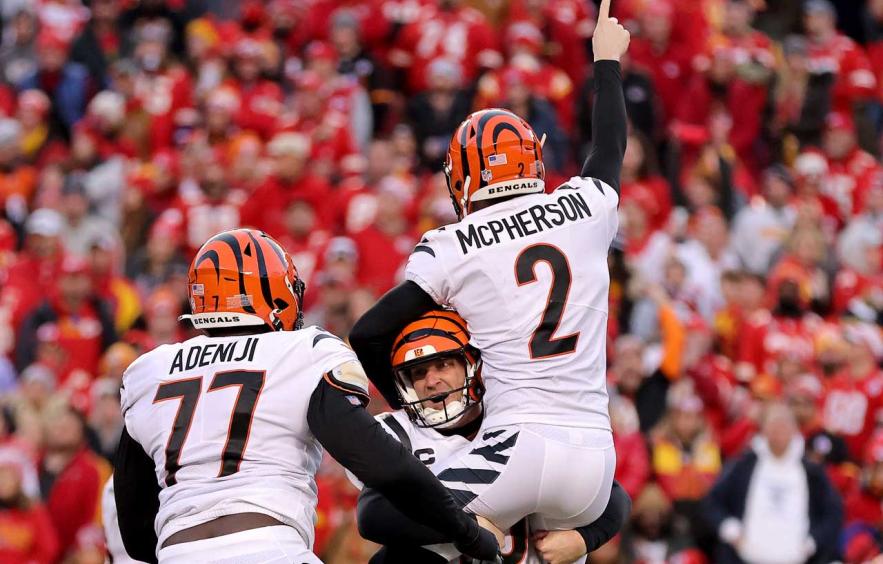 David Eulitt/Getty Images
If you're not familiar with PrizePicks, they offer pick'em situations involving player stats and fantasy points. To complete an entry, select two or more options for your chance to win money up to triple your entry cost. More information on rules can be found here. Do not forget to check out the 4for4 PrizePicks tool to make picks beyond what I list each week.
Conference Championship Record: 2-5
Season Record: 85-65
Last week was by far my worst week. I ran pure for a long time, so this is the first time all my PrizePicks props I played together on the site did not hit. Humbling, but inevitable.
Super Bowl 56 Picks
Evan McPherson

Over 9.0 Fantasy Points
4for4 Projection: 7.1 Fantasy Points
This may seem bad, but if you are a Bengals fan, Evan McPherson has four field goals made in three straight games. Kudos also goes to the Bengals defense for aiding McPherson and limiting opponents to 24, 16 and 19 points scored in three playoff games. The Bengals have played close games all postseason and now face a Rams defense with an elite cornerback and defensive tackle that can limit their high-powered offense. A bend-but-don't-break Rams defensive performance will lead to field goal attempts. The Bengals are four-point underdogs with an over/under below 50 points—a game script that could lead to kickers mattering. McPherson is averaging 14 fantasy points in his last five games.

Matthew Stafford

Over 4.5 Rushing Yards
4for4 Projection: 8.0 Rushing Yards
I love this prop because Matthew Stafford has been excellent in short-yardage situations during the postseason. He has topped five rushing yards in each game on the Rams' run to the Super Bowl and is averaging five rushing attempts per game over that span. The Bengals have had defensive line injury issues, leaving potential short-yard avenues for Stafford to pick up yards on the ground. Stafford also has two red-zone rushing scores this postseason.
Joe Mixon

Over 24.5 Receiving Yards
4for4 Projection: 30.2 Receiving Yards
The last time Joe Mixon went under 25 receiving yards in a game occurred in Week 16. Since then, he has recorded performances of 70, 40, 28, 51 and 27 receiving yards. The Rams have allowed Elijah Mitchell and Leonard Fournette to reach 50 receiving yards in neutral game scripts over the past two weeks.
Cooper Kupp

Over 102.5 Receiving Yards
4for4 Projection: 123.8 Receiving Yards
Cooper Kupp may be the most likely non-QB to win the Super Bowl MVP because of his elite postseason: 25 catches, 386 receiving yards, 4 touchdowns. Another monster game (two already over 120 receiving yards) and Kupp becomes an MVP favorite. Los Angeles's running game has been stagnant this postseason, and Stafford leaning on his breakfast buddy has produced much like it did in the regular season.
Cam Akers

Under 55.5 Rushing Yards
4for4 Projection: 58.4 Rushing Yards
Cam Akers deserves praise for returning from a torn Achilles in July, but he has not produced in the playoffs. Akers's postseason high is 55 yards and he's averaging 2.97 yards per carry. He saw his 24-carry workload against Tampa Bay drop to 13 against the 49ers, while Sony Michel went from one carry to 10. If the Rams want to salt the game away with the lead or keep Cincy's excellent offense off the field, both backs will be involved.