Najee Harris: Hero RB Priced Near Zero RB in Fantasy Football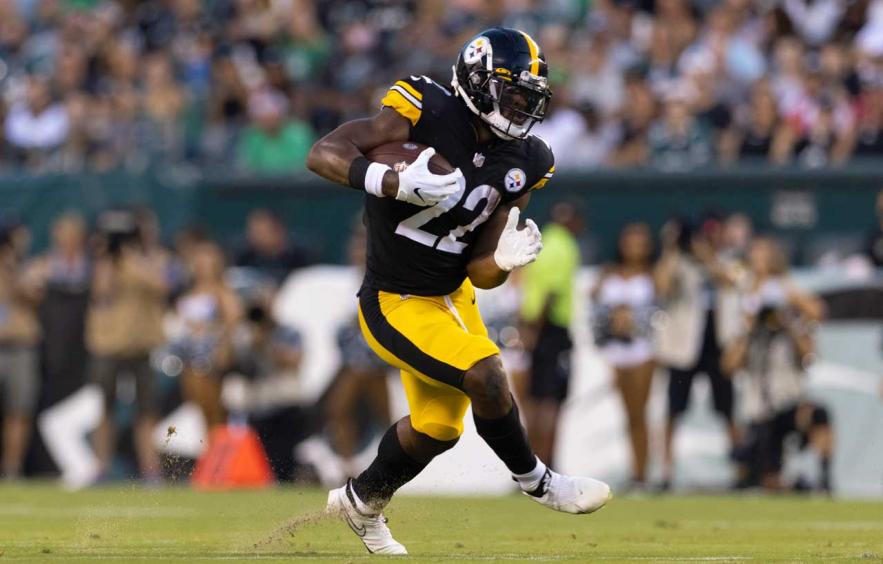 Mitchell Leff/Getty Images
Najee Harris enters his third season with far less excitement than he did following an impressive rookie year where he finished as the RB4. After an RB14 finish in 2022, Harris' ADP is hovering around the third/fourth round turn in Underdog leagues right now. After being a late-first or early-second-round pick in most leagues last offseason, it's been a significant plummet in public perception. He's also sitting at RB11 in our rankings.
Harris had a statistically excellent rookie year. He finished the season with 1,667 yards from scrimmage and 10 touchdowns, catching an impressive 74 balls on 94 targets along the way. While he still found the end zone 10 times last year, he was held to just 1,263 yards from scrimmage, and – most significantly for fantasy purposes – he caught only 41 balls on 53 targets. His targets being nearly cut in half following the retirement of Ben Roethlisberger is concerning for his long-term potential as an elite fantasy running back.
I'm here to tell you why last year may be more of an outlier than we think, and why Harris – and the Steelers offense – should be headed for better things in 2023.
---
Click here for more 2023 Player Profiles!
---
Mr. Inefficient
Scroll through a Twitter search for Najee Harris for a few minutes and you'll see a disparate array of commentary on the divisive third-year back. You'll get fantasy analysts who love him and, like me, see a bounce-back year in store. You'll see critics that range from well-thought and supported skepticism, to the more myopic "he's not good at football." I won't dignify the latter with a link, but I'll instead charitably paraphrase the meaning in that "he's not been efficient."
Much of that criticism is warranted. The efficiency numbers don't look good, even in his highly productive rookie year.
Najee Harris

(In)Efficiency

| Season | Yards Per Attempt | PFF Run Grade | Yards Before Contact Per Attempt | Yards After Contact Per Attempt |
| --- | --- | --- | --- | --- |
| 2021 | T22 of 30 | 19 of 30 | T27 of 30 | T9 of 30 |
| 2022 | T31 of 33 | 27 of 33 | T27 of 33 | T22 of 33 |
*Rank among players with a minimum of 150 attempts
*Numbers above taken from Pro Football Focus and Pro Football Reference
Furthermore, if you combine the 2021 and 2022 seasons, of the 57 players with at least 150 carries over that span, Najee Harris is tied for 49th with a 3.9 yards-per-carry average (per Pro Football Reference). Obviously, that number isn't a perfect barometer of efficiency, but it certainly doesn't help his case.
There are likely a variety of reasons for this inefficiency, but it's hard not to cite the offensive line as a key factor. Going into last season, our own Justin Edwards ranked the Steelers offensive line 27th in the league, saying their "run blocking (in 2021) was pretty atrocious." While the line isn't going to be a strength this year either – I'm eagerly awaiting Justin's 2023 offensive line rankings coming later this offseason – it should be better. They had solid play from center Mason Cole last season, and James Daniels looks like a capable starter at right guard. Most notably, they added a quality starter at left guard in Isaac Seumalo, signed away from the Eagles. They could still use upgrades at both tackle spots, but the team is hoping for some natural progression. Left tackle Dan Moore showed flashes last season and is still just 24 years old, and right tackle Chukwuma Okorafor is only 25. Harris has been a solid fantasy back behind an "atrocious" offensive line for two seasons now, so any improvement in 2023 should be viewed optimistically.
Another factor for last season is Harris' health. Let's not forget he had a foot injury that kept him out of much of the offseason, and left his early season status in question.
Najee Harris

2022 Season Splits

| Weeks | Rushing Attempts | Rushing Yards | Yards Per Attempt | Receptions | Receiving Yards | Yards per Reception | Touchdowns | Total Yards Per Game | Fantasy Points Per Game |
| --- | --- | --- | --- | --- | --- | --- | --- | --- | --- |
| Week 1 - 8 | 108 | 361 | 3.3 | 24 | 112 | 4.7 | 3 | 59.1 | 9.4 |
| Week 10-18 | 164 | 673 | 4.1 | 17 | 117 | 6.9 | 7 | 87.8 | 14.2 |
Harris was the RB34 through the first half of the season, but the RB8 in half-PPR fantasy points per game after the Week 9 bye.
Offensive coordinator Matt Canada commented on the change in Harris' production over the second half of the season, citing health as a major factor. If he can escape the offseason unscathed and with his feet intact, those second-half numbers should be a more realistic expectation.
Finally, it bodes well that Harris performed better with Kenny Pickett under center. Let's not forget Mr. Inefficient started the season with an injured foot and Mitch Trubisky behind center. If Pickett has some natural progression, the offense should improve around him. Eight of Pickett's nine interceptions last year came in his first five starts and Pittsburgh went 6-2 in his final eight games as the starter. I know Pickett has a long way to go before we consider him a top-level quarterback, but asking for nominal improvement to afford the running game more chances to shine isn't a stretch based on what we saw toward the end of last season.
Volume
Let's start by saying Harris as the RB14 last season isn't a "bad" fantasy back, especially when he's being drafted as the RB13 right now. If you take him at cost and he repeats his "disappointing" 2022 season, you're getting quality value. At the risk of using a cliché of which I'm massively guilty of propagating all offseason, he's being drafted at his floor. An only slightly optimistic view would see him through the lens of his RB8 numbers over the second half of the season.
The main reason to be bullish on Harris, however, is the fact that volume is still king at the running back situation. While efficiency can get you a long way and players like Tony Pollard and Austin Ekeler are making due with receiving stats and touchdowns instead of logging top-20 carries (okay, Ekeler was 20th on the dot in carries last season), the biggest fantasy producers are still the most used. Five of the top-six fantasy running backs in half-PPR leagues ranked in the top 10 in carries last year, including the top four (Christian McCaffrey was ninth in carries and second in fantasy points). Harris is going to get another 250+ carries, and if the Steelers can improve at all offensively, he might approach 300. He was fifth in rushing attempts last season and second in 2021.
But is he a two-down back? Harris may have lost targets with the change in quarterback, but he still caught 41 balls. That's tied for 15th in the league among running backs last season. Harris is also a very capable pass-blocker at the position. PFF graded Harris 23rd in pass-blocking out of 79 running backs with at least 150 offensive snaps last year. Harris is the definition of a do-it-all back, and the Steelers aren't going to suddenly pull their 25-year-old former first-round pick off the field because some of his efficiency metrics are low.
What about Jaylen Warren? Fantasy analysts love Warren. For all the negative commentary you can find on Harris by scrolling through Twitter, you can find equal parts relentless optimism regarding Warren. And I get it! Warren averaged 4.9 yards per carry on 77 change-of-pace attempts last season. He also caught 28 of 31 targets for 214 receiving yards. Warren will have a role in this offense, no doubt about it. However, efficiency at a lower volume of touches doesn't necessarily mean it can be maintained with a full workload, and Warren is still a work in progress as a pass-blocker. He's going to spell Harris and help keep the starter fresh. He's not going to keep Harris from being one of the top load carriers.

Bottom Line
Najee Harris' inefficiency was largely impacted by poor health, poor offensive line play, and poor quarterbacking. When those things started to improve last season, his numbers improved as well.
His ADP places him as a tremendous value, drafting him at his floor on the 3rd/4th round turn.
Expected improvements on the offense – including natural progression for quarterback Kenny Pickett and the offensive line – provide significant upside.
Volume remains king in the NFL, and even in his "down" year in 2022, Harris was fifth in the league in rushing attempts.
He also just seems like a delightful person.