Keenan Allen is Fantasy Football's Cheapest Top-12 Wide Receiver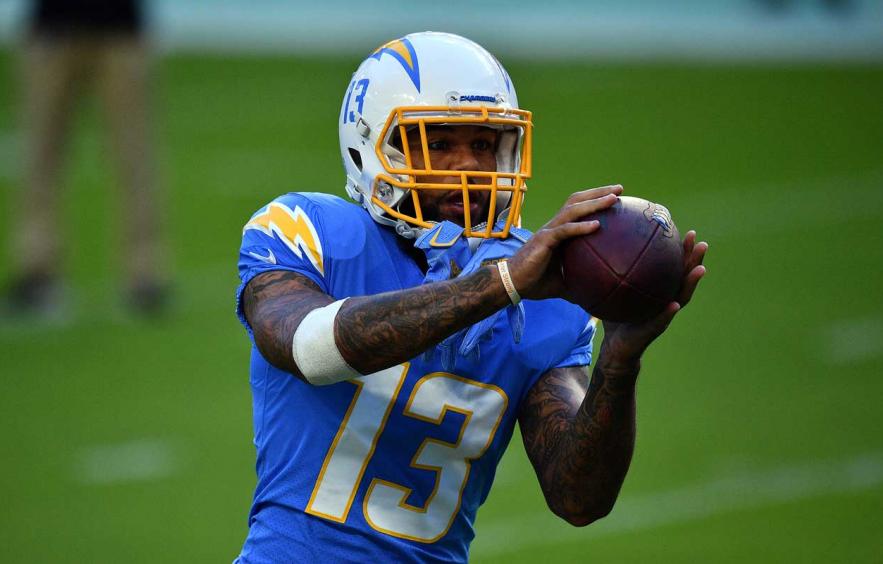 Mark Brown/Getty Images
Since 2017, Keenan Allen has been one of the very best receivers in the NFL. In the last six years, Allen has the second-most targets, second-most receptions, and sixth-most receiving yards. On a per-game basis, he's averaged the fifth-most targets, fourth-most receptions, and eighth-most yards. A broken collarbone and lacerated spleen cost him 23 games in the 2015 and 2016 seasons, however since that time, he's played in 88 of 98 games. Of those 10 missed games, seven of those came last year and that's been enough to send his ADP tumbling.
He's currently being drafted as the WR22 with an Underdog ADP of 42.7. This makes him one of the best-kept secrets in fantasy football right now. Allen's on-field production didn't even decline when he was healthy last season. Last year's injury is bringing back some of the injury concerns from his earlier career, giving fantasy managers an opportunity to draft a top-12 receiver as late in the third round.
---
Click here for more 2023 Player Profiles!
---
Keenan Allen

– A Beacon of Production and Consistency

One of the best indicators of future success is past success and there haven't been many receivers more successful than Allen. Now entering his 11th season in the NFL, fantasy managers may be hesitant to commit to a 31-year-old receiver coming off a season where he struggled with a hamstring injury, but looking at what he's done in the past six seasons, it's impossible to find much, if any, decline in his performance.
Keena Allen Stats, 2017–2021

| Year | Target Share | Targets | Receptions | Yards | TDs | YPRR | TPRR | Half-PPR PPG |
| --- | --- | --- | --- | --- | --- | --- | --- | --- |
| 2017 | 27.7% | 159 | 102 | 1,393 | 6 | 2.6 | 31.6% | 13.6 (WR4) |
| 2018 | 29.2% | 136 | 97 | 1,196 | 6 | 2.6 | 32.2% | 13.5 (WR18) |
| 2019 | 26.0% | 149 | 104 | 1,199 | 6 | 2.1 | 28.1% | 12.7 (WR15) |
| 2020 | 27.1% | 147 | 100 | 992 | 8 | 2.0 | 29.6% | 13.9 (WR11) |
| 2021 | 25.1% | 157 | 106 | 1,138 | 6 | 1.9 | 26.7% | 13.1 (WR11) |
Even the injuries he suffered during the 2015 and 2016 seasons could be considered "freak" injuries. While a broken collarbone isn't abnormal, it's not one to be concerned with in regard to future production or re-injury. A lacerated spleen, however, certainly makes the criteria for a "freak" NFL injury. We're not talking about a player with a torn ACL or anything like that. Evidenced by his production from the table above, he's clearly put those early injuries behind him and has transformed into one of the very best receivers in the NFL.
Allen played in 11 games last year including the team's playoff loss to the Jacksonville Jaguars. However, one of those games was in Week 1 when he sustained the hamstring injury. He only played 33% of the team's snaps and ran just 12 routes before exiting. Despite the limited playing time, he caught all four of his targets for 66 yards. He had a 33% target per route run.
Allen returned in Week 7, but was clearly on a snap count, playing just 31% of the snaps. Looking at the other nine games where he played 65% or more of the team's snaps, it was just more of the same for Allen—pure excellence.
Keenan Allen

, 2022

| Time | Targets | Receptions | Yards | TDs |
| --- | --- | --- | --- | --- |
| Weeks 11–19 | 96 | 66 | 736 | 4 |
| 17-Game Pace | 181 | 125 | 1,390 | 7–8 |
It wasn't just his pure counting numbers that stand out. His numbers in several efficiency metrics stand out, as well. During those nine games, he recorded an elite 27% target share and target per route run. He also averaged 2.14 yards per route run. The 14.5 half-PPR PPG that he averaged during those nine contests would have finished as the WR9, right behind CeeDee Lamb's 14.7 PPG average.
Welcome to Los Angeles,
Kellen Moore
This offseason the Chargers decided to let go of former offensive coordinator Joe Lombardi. When Dallas decided to do the same with Kellen Moore, it became every fantasy manager's dream for him to end up in LA. Luckily for all of us, the Chargers must have thought the same thing because it took them very little time to hire him. Since Dallas hired Moore in 2019, there have been very few offenses as dangerous as Dallas's.
Kellen Moore

Offenses, 2019–2022

| Year | Total Yards | Total Points | Pass Attempts | Passing Yards | Passing TDs |
| --- | --- | --- | --- | --- | --- |
| 2019 | 1st | 6th | 10th | 2nd | 5th |
| 2020 | 14th | 17th | 2nd | 8th | 19th |
| 2021 | 1st | 1st | 6th | 2nd | 3rd |
| 2022 | 11th | 4th | 19th | 14th | 9th |
The table above shows where Moore's Cowboys have ranked in the past four seasons. It's important to remember that in 2020, starting quarterback Dak Prescott missed 11 games and in 2022 he missed five. Certainly, his absences negatively affected their offenses. However, it's clear that Moore has run a very effective offensive system in Dallas.
Dak Prescott's Average Depth of Target with Kellen Moore as OC

2022: 8.2 (14th/49)

2021: 7.7 (19th/44)

2020: 7.8

2019: 9.4 (4th/43)



Justin Herbert's with Joe Lombardi as OC

2022: 6.4 (46th/49)

2021: 7.5 (26th/44)



*Among QBs with 100+ dropbacks

— Connor Allen (@ConnorAllenNFL) May 24, 2023
Fantasy managers should expect a much more aggressive Chargers' offense this upcoming season with Moore calling plays. This should also help Justin Herbert's touchdown rate, which dipped all the way down to 3.6% after being at 5.2% and 5.7% in his first two seasons. Looking at the Dallas offense from last season, fantasy managers should expect Allen to play the same role as Lamb did last season, which was very fantasy-friendly.
Based on the offensive personnel in Los Angeles, the Chargers figure to be one of the most pass-heavy systems in the NFL. With Austin Ekeler in the backfield and a group of receivers that includes Allen, Mike Williams, Joshua Palmer, and rookie Quentin Johnston, the Chargers' offense is designed to throw the football.
While fantasy managers may be concerned about the number of mouths to feed, there's very little, if any, overlap between Allen's strengths and the strengths of Williams and Johnston. That fact will ensure Allen continues to operate as Herbert's No. 1 receiver and primary short and intermediate target. Allen should once again be one of the most heavily-targeted receivers in what should be one of the best offenses in the NFL.
Allen is currently ranked as the WR15 at 4for4, which is solidly ahead of where he is currently going in Underdog drafts right now at WR22. Looking at what kind of fantasy value he's provided in the last six seasons and most recently in the nine healthy games he appeared in last year, Allen is one of the very best value picks in drafts right now with an ADP of 42.7. Being able to draft a receiver as good as Allen is in an offense like the Chargers in the middle of the fourth round is stealing.

Bottom Line
Keenan Allen has been a top-12 receiver in three out of his last six seasons. If we include his nine-game healthy stretch last season, he's performed as a top-12 receiver in four out of six seasons.
In six seasons, Allen has never finished below WR19 in half-PPR PPG, which includes his entire 2022 season, including injury-shortened games. His current Underdog ranking is WR22.
The addition of offensive coordinator, Kellen Moore should improve the overall offensive output for the Chargers, specifically for their passing attack, which should be more aggressive.
Justin Herbert's touchdown rate is poised for positive regression, likely increasing the number of overall passing touchdowns in Los Angeles compared to last year.
Based on Allen's efficiency metrics from the past six seasons, he has shown no signs of any age-related decline. He continues to perform as one of the most efficient and effective receivers in the NFL.
While he missed seven games last year, from 2017–2021, Allen played in 78 of 81 games.
Allen has legit WR1 potential this season and is being significantly undervalued in drafts at present.