Diontae Johnson: The Safest Pick in Fantasy Football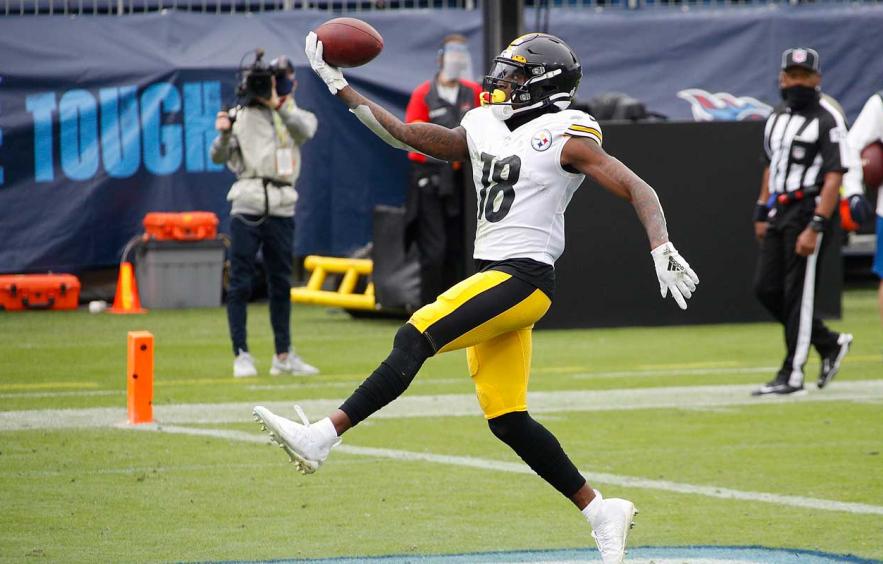 Frederick Breedon/Getty Images
As fantasy managers, we love to chase upside, and who can blame us? It's hard to find a better feeling than watching a player single-handedly win you your week thanks to a huge performance. With this being said, in order to have a strong fantasy team, less flashy, but more dependable players are also important. Perhaps no player better fits that mold than Steelers receiver Diontae Johnson. Here's a look at why Johnson could be the perfect safety blanket for your fantasy team at his Underdog ADP of WR37.
---
Click here for more 2023 Player Profiles!
---
Career in Review
Since entering the league as a third-round pick in the 2019 NFL Draft, Johnson has established himself as one of the better receivers in the NFL. While he had a bit of a down season in 2022 (more on that later), he was the overall fantasy football WR8 in 2021 and had another top-24 finish in 2020. He is one of the foremost route runners in the league and ranked above the 90th percentile in success rate against both man and zone coverage according to ReceptionPerception.
Diontae Johnson is an elite route runner. pic.twitter.com/yzCJvRjm0C

— Big Ben's Burner (@Blitzburghstil1) April 10, 2023
As we all know, in fantasy football, volume is king, and Johnson has made his money in the NFL on the back of incredible volume. There are only four players with more targets than Johnson since 2019: Davante Adams, Stefon Diggs, Travis Kelce, and Tyreek Hill. That's a pretty great list for Johnson to be on. Despite facing target competition from solid receivers like JuJu Smith-Schuster, Chase Claypool, and George Pickens, Johnson seems to always find the ball thanks to his ability to get open.
Room For Improvement
Johnson was a bit of a disappointment in fantasy football last year: he failed to live up to his ADP of WR15, finishing as just the WR39 despite playing in all 17 games of the season. However, there's reason to believe Johnson will bounce back. The main reason Johnson struggled in fantasy last year was because of his lack of production in the touchdown department. In fact, Johnson obliterated the record for most targets in a season without a touchdown with 147.
By pretty much any expected fantasy points metric, Johnson should have been far better than he was last year considering the volume he received. If we were to add just four touchdowns to his fantasy total, he would have been the WR25, which although still a letdown, is not nearly as poor. The chance that Johnson performs historically under expectation in back-to-back years is incredibly unlikely, so I'm optimistic that he will see some positive regression to the mean and get back to his typical touchdown-scoring amount—Johnson had 20 touchdowns in his first three seasons before last year.
Johnson in the
Steelers

' Offense

Heading into this season, Johnson should continue to be the WR1 in the Steelers' offense. While he will face target competition from George Pickens and veteran Allen Robinson, he has proven that he can produce alongside other receivers. Even if Pickens has a breakout season and asserts himself as the top dog in the offense, Johnson will see enough volume as Kenny Pickett's safety option to remain fantasy relevant.

The entire Steelers offense as a whole would see a jump in production if Kenny Pickett has a breakout season. After a rough start to his rookie year, he led the Steelers to a 6-1 record down the stretch and received votes for Offensive Rookie of the Year. If he can make the second-year leap that guys like Joe Burrow and Trevor Lawrence were able to do, Johnson's fantasy value would increase even more.
Assessing Johnson's Floor and Ceiling
Johnson is an absolute steal at his ADP of WR37. For a guy that can be penciled in for at least 120 targets, Johnson will easily clear his draft position as long as he stays healthy. Even last season, which was probably the worst-case scenario season for Johnson, he finished just two spots shy of WR37. Johnson might not have week-winning upside but will be a set-and-forget player for your fantasy team that will hold the fort down and consistently be a solid option. He can certainly finish as a top-24 option this season and will comfortably be in the top-36, which already makes him a value with respect to his ADP. So, there's essentially no risk in taking Johnson: He's being drafted low enough that it would hardly hurt your team if he has another down season, but would be a massive value if he bounces back.
Because of how target-dependent Johnson is, his value changes based on your league's scoring format. He has a lot more value in half-PPR and PPR leagues, as he is consistently among the league leaders in receptions. 4for4 has him projected as the WR29 in PPR, the WR31 in half-PPR, and the WR43 in standard leagues.

The Bottom Line
Diontae Johnson is not the most exciting option in drafts but is a great player who has had excellent fantasy production in the past.
Johnson is coming off a down season where he was historically inefficient in scoring touchdowns and should see positive regression in 2023.
Johnson is a phenomenal pick at his ADP of WR37. He should easily meet his ADP based on sheer volume, and has the potential to finish in the top-24 at the position.
It is important to keep scoring format in mind when drafting Johnson, as his value is quite different in PPR leagues.