Courtland Sutton: The Perfect Post-Hype Sleeper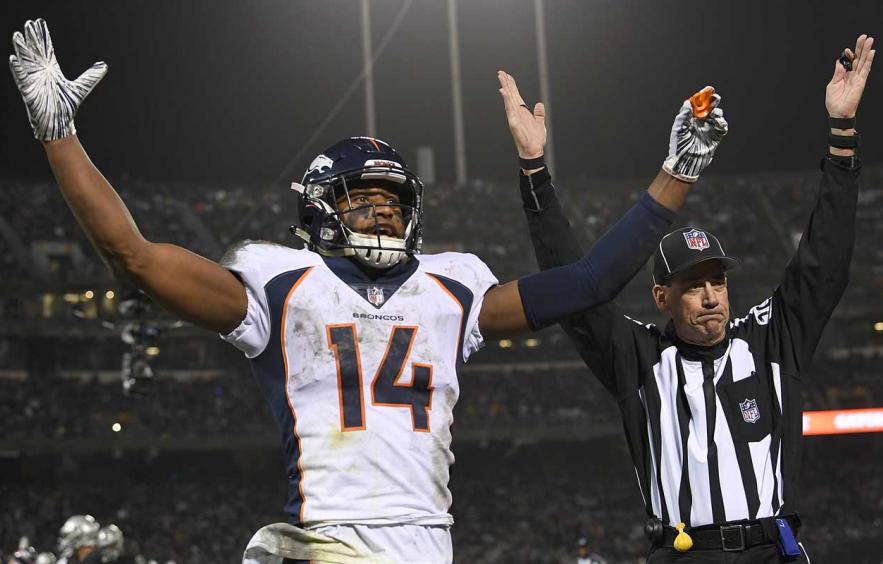 Thearon W. Henderson/Getty Images
If you followed some of my writing last year, you would know that I was very high on Courtland Sutton. I might have even said he would be the Cooper Kupp of 2022. My bad. As we all know, Sutton, along with the entire Denver Broncos offense, had a disastrous season. As a result, Sutton's fantasy value has plummeted, and he is currently being drafted as the WR48 in drafts according to Underdog ADP. Maybe I'm deluding myself, but here's a look at why I believe Sutton is the perfect post-hype sleeper at his current draft position.
---
Click here for more 2023 Player Profiles!
---
Career In Review
Taking a look at Sutton's numbers in the past few years, it's not hard to see why he's going so low in drafts. Fantasy managers are probably scarred by drafting him—in the last three seasons, Sutton has finished as the WR178 in 2020 (tore his ACL in Week 1), WR46 in 2021, and WR43 in 2022. All three finishes were well below where he was drafted in each season. He has mightily struggled to return to his pre-injury form when he was a Pro Bowler and a top-20 fantasy option.
Sutton also has limitations as a wide receiver and is somewhat one-dimensional. He is not a great route runner, ranking below the 40th percentile in success rate against both man and zone coverage according to Reception Perception. He is also not too dynamic after the catch, averaging just 2.1 YAC per reception per PFF. Standing at 6'4, 216 pounds, where Sutton excels as a receiver is on contested catches. He is one of the best jump ball winners in the NFL and has mastered some of the nuances of adjusting in the air to come down with the ball.
The
Broncos

Offense in 2023

There's no easy way of putting it—the Broncos' offense last season was a legitimate catastrophe. They ranked dead last in the NFL in points scored per game (16.9), scored a touchdown on just 14.6% of their drives, and converted only 29.1% of third downs. Mathematically, there is just no way the Broncos are that bad offensively again. They have plenty of talented players, including a potential future Hall of Famer at quarterback and an improved offensive line, so they should see some positive regression to the mean across the board.

The biggest reason why the Broncos should see a jump in production offensively is because of new head coach Sean Payton. As the head coach of the Saints for 15 years, Payton established himself as one of the most brilliant offensive minds the NFL has ever seen. The Saints ranked outside the top 10 in points scored per game just three times during Payton's tenure and produced some historic fantasy seasons. If Payton can get this Broncos offense to even be league average, Sutton would already be well on pace to outperform his ADP.

Unlike last year, it feels like Sutton is no longer the #1 receiver in this offense. In 2022, Jerry Jeudy played far better than Sutton down the stretch and is being drafted far higher than him in fantasy this year as a result (WR22). It is possible that the two can coexist—Jeudy shares basically nothing in common with Sutton as a receiver—but it's rare that we see a below-average offense support two solid fantasy receivers. This makes it all the more important that Payton works his magic and improves the Broncos' offensive production.
Assessing Sutton's Floor and Ceiling
One of the main reasons why I was so confident in Sutton last season despite his shortcomings is because of how well his playstyle matches with quarterback Russell Wilson. Contested-catch specialists like Sutton are perfect for Wilson, who is notoriously poor at throwing in the middle of the field but has one of the best deep balls in the league. Wilson remains the starting QB in Denver, so I still believe that blueprint could be achieved. If Wilson and Sutton can develop a real connection and the Broncos' offense lives up to its potential under Payton, Sutton and Jeudy could both reach their ceilings and be Denver's version of DK Metcalf and Tyler Lockett, who have each finished as top-20 fantasy receivers in three straight years.
With this being said, it is also very possible that Sutton continues to disappoint and has yet another down season. After all, even the best pure jump ball winners are volatile in fantasy as they rely on consistently making some of the most difficult plays in football. However, I feel like this risk is already factored into Sutton's ADP and that he is essentially being drafted at his floor—If you were to take him at his current ADP, he would likely be the fourth or fifth receiver on your team, meaning he would likely not even be a starter. This makes Sutton a low-risk, high-reward option late in drafts. It feels like the industry overcorrected a bit on his value, as it is certainly possible to envision scenarios where Sutton vastly outperforms his ADP.

The Bottom Line
Sutton is coming off consecutive down seasons after tearing his ACL and has limitations as a receiver.
The Broncos' offense should see a significant boost under new head coach Sean Payton after a historically terrible output in 2022.
Sutton will face target competition from Jerry Jeudy and is likely the No. 2 option heading into the season. However, his playstyle matches well with Russell Wilson and Sutton could have DK Metcalf-esque production if things work out.
There is certainly risk around Sutton as a player, but he is being drafted so low that there is almost no harm done to your team from a fantasy perspective if he doesn't pan out. He is a great post-hype sleeper target at his ADP of WR48.