Week 4 Fantasy Football Start/Sit Candidates: Running Backs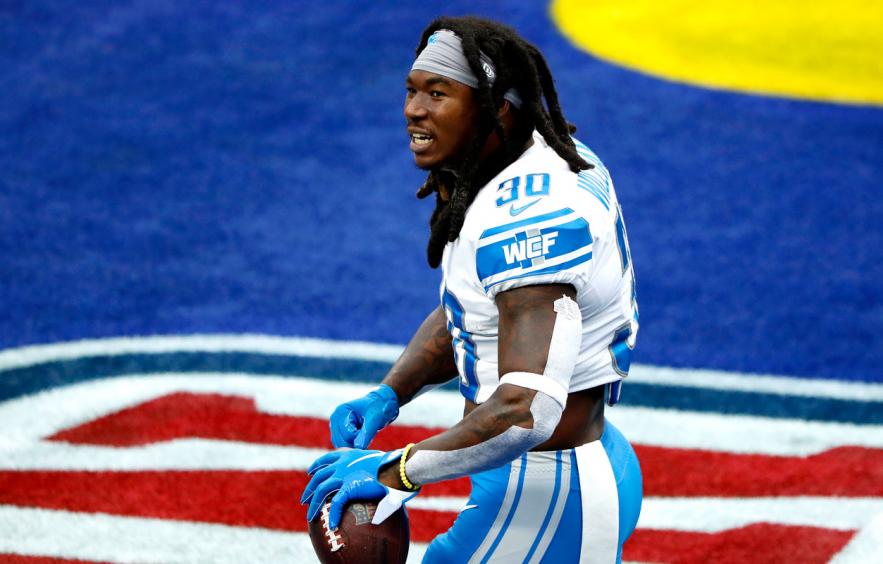 Katelyn Mulcahy/Getty Images
Wondering who to start and sit at quarterback this week? Below are two top-notch start and two sit options at the quarterback position for Week 4 of the 2022 NFL season.
---
---
Week 3 Review – Half-PPR scoring
Starts
Sits
Running Back – Starts
Jamaal Williams

(Detroit

Lions

) vs. Seattle

Seahawks

Detroit Lions lead running back D'Andre Swift (ankle/shoulder) is likely to sit through the team's Week 6 bye, which means No. 2 running back Jamaal Williams is in for serious work until then. Swift saw more carries and targets than Williams in Week 1 but after Swift suffered the ankle injury in the 2022 opener, Williams assumed the role of lead rusher in Weeks 2 and 3, taking 32 carries for 140 yards and two touchdowns.

Williams has been a proficient passing game producer since he entered the league, selected by the Green Bay Packers in the fourth round of the 2017 NFL Draft. From 2017-2021, Williams has averaged 36.6 targets, 29.6 receptions, 223.6 yards, and 1.6 touchdowns as a receiver out of the backfield.

Williams should run wild this week, playing behind one of the league's most physically imposing offensive lines, even after the unit suffered injuries on the interior. Per SportsInfoSolutions, Detroit's ballcarriers are being hit at the line at the league's second lowest rate, 31.0%. Through three games, Detroit's week 4 foe, the Seattle Seahawks are averaging 157.7 rushing yards allowed per game, second most in the NFL, per 4for4's NFL Team Stats Explorer. Williams is a fantasy football RB1 this week.
Khalil Herbert

(Chicago

Bears

) @ New York

Giants

Khalil Herbert appears to be the Chicago Bears starting running back this week (and beyond) after David Montgomery suffered was looked like a high-ankle sprain and an MCL sprain over the weekend. Multiple Doctors of Physical Therapy took to Twitter to offer diagnosis-by-video of the incident—definitively not actual diagnoses but extremely helpful nonetheless—including our own Dr. Adam Hutchison. Per Dr. Hutchison in his weekly series, The Training Room: Week 3 Injury Updates, high-ankle sprains and MCL sprains typically result in a three-to-four week absence but the high-ankle sprain brings concern to the remainder of Montgomery's 2022 campaign. Running backs typically see a 20.0% dip in fantasy point production for the rest of the season, after suffering the dreaded high-ankle sprain.

First-year head coach Matt Eberflus has been tight-lipped on the official diagnosis though.
The non-comment/IR thing just makes me think this is a first-time head coach trying to be a 3D-chess player via the media... I think we will quickly come to learn that Monty has a high-ankle sprain/MCL sprain and his 2022 season is gonna fizzle. #DaBears #FantasyFootball https://t.co/58B3C27tbx

— Nic Bodiford (@NicBodifordNFL) September 28, 2022
Herbert has an excellent matchup against the New York Giants, who are allowing 139.0 rushing yards per game. Herbert has run well this year, ranking No. 3 in the NFL, among running backs with at least 10 carries, with 4.1 yards before contact per carry, per 4for4's NFL Player Stats Explorer, which is indicative of both offensive line play, as well as Herbert's ability to make the right read when deciding which gap to shoot.
Crucial to Herbert's fantasy potential is his surprising passing game usage. After Montgomery left early in the first quarter, Herbert ran a route on 56.0% of dropbacks, 32.0% more than purported-passing-game specialist, Trestan Ebner.
Rhamondre Stevenson

(New England) @ Green Bay

Packers

Second-year running back Rhamondre Stevenson promisingly out-carried veteran running back Damien Harris 12-to-11 last week and that trend should continue moving forward. Stevenson also has access to the passing game role, running routes 47.3% of dropbacks this year. Harris' route participation rate hangs at just 26.8%, though Harris has done a good job of earning targets while doing so. On the year, Stevenson has out-targeted Harris 10-to-eight.

With quarterback Mac Jones (high-ankle sprain) unlikely to play, rather than trust journeyman backup quarterback Brian Hoyer, New England will aim to control the clock with their imposing run game, to keep the Green Bay Packers offense off the field. All signs point to Green Bay accommodating New England, as Green Bay is allowing the ninth most rushing yards per game this year, 128.0, and the eighth-highest explosive rushing play rate, 5.9%.

*4for4's full RB rankings can be found here.
Running Back – Sits
Rashaad Penny

(Seattle

Seahawks

) @ Detroit

Lions

Rashaad Penny was the Seattle Seahawks' lead rusher in Week 1, with rookie Kenneth Walker on the shelf (hernia) but the touches evened out when Walker made his debut in Week 2, as Penny lead the team with just a 42.9% share of the team's carries. Penny ended up leading the team with 14 carries in Week 3, good for a 60.9% share of the carries, and also saw a slight increase in route participation after passing game running back Travis Homer exited with a ribs injury. The increase is difficult to trust though, due to a pair of factors.

Seattle averaged just 47.5 offensive plays per game in Weeks 1 and 2 but cranked up the volume to 67 in Week 3. Head coach Pete Carroll later lamented the game's outcome, a loss, and discussed the play total in the process. Carroll is a creature of habit, so Seattle is likely to slink back to a near-league-bottom play rate, which caps the upside of Seattle's backfield leader.

Penny was also outclassed by Walker last week, as Walker averaged 6.3 yards per carry to Penny's 4.7 and 5.0 yards per carry after contact to Penny's 1.6.

Detroit's front seven is allowing 152.5 rushing yards per game, seventh most in the NFL, owns a 6.2% explosive rush rate allowed, tied for ninth most, and has allowed seven total rushing touchdowns, two more than any other team in the league. It's a tantalizing situation but the contextual facts have Penny looking more like a trap play than a potential boom.