SharpClarke's Best Week 1 NFL Bet: NYG @ TEN Matchup Spotlight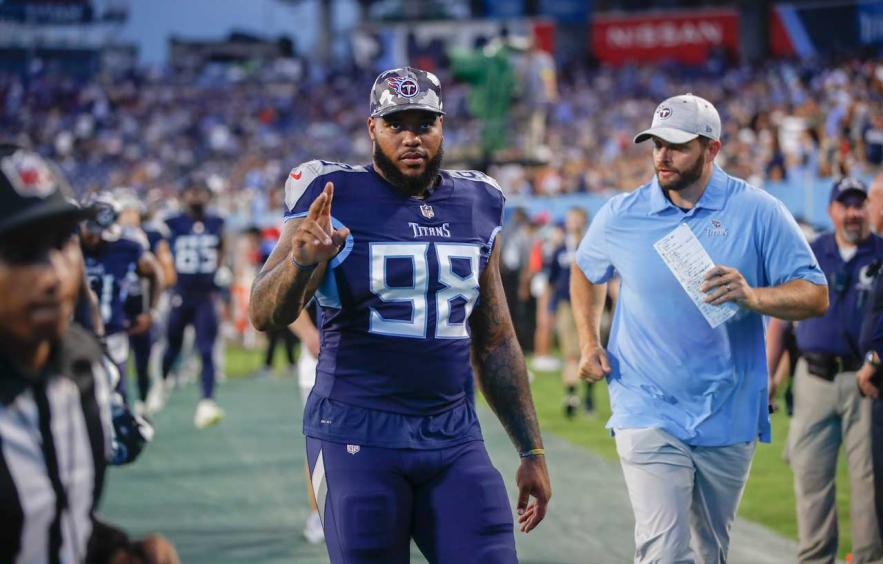 Silas Walker/Getty Images
Nobody is excited to bet on these teams in Week 1. After trading away one of their best players in A.J. Brown and drafting a quarterback, whispers of tanking haunt the streets of Nashville. Then arguably their best defensive player, Harold Landry, tore his ACL. Meanwhile, early offseason optimism on a Giants team emerging out of the shadow of poor coaching and implementing an offensive scheme that might finally help Daniel Jones reach his potential has notably soured.
---
More Betting Resources: Picks | Props | Total Odds Table | Prop Odds Table
---
Both teams have a lot to prove in this game, which is quietly an important one for both teams. Primarily based on the Titans' impressive 12-5 finish last year and the Giants' dismal 4-13 record, the betting markets opened at TEN -6.5. Excitement for the Giants and pessimism about the Titans brought the number down to TEN -5.5, where it looks like it has settled (for now).
My Numbers
Titans: 19th (Offense: 17th, Defense: 15th)
Giants: 28th (Offense: 28th, Defense: 28th)
Baseline: TEN -6.5, -262 Moneyline
Matchup Breakdown
TEN Offense vs. NYG Defense
With Derrick Henry, the Titans' offensive philosophy has been clear. They will run at you until you stack the box. Behind a questionable offensive line, Henry will have some runs that get stuffed, especially inside against Dexter Lawrence and Leonard Williams. But no running back in the NFL is harder to take down than Henry after he picks up steam. If he can break through the first layer and get up to a full gallop, he can take it to the house himself. To stop the Titans you must stop Henry by stacking the box and ensuring he can't get to the second level.
This is a major problem for the Giants. The back-end of the Giants' defense is a glaring weakness. They will need additional help from linebackers and safeties, which means single coverage on the outside. The Titans' play-action passing game with Ryan Tannehill thrives against bad cornerbacks because of the favorable coverages they face. New defensive coordinator Wink Martindale loves to blitz, which worked when he had elite cornerbacks with the Ravens. But the whole thing fell apart last year when his stud cornerbacks were injured. That's basically his starting point this year with the Giants.
There is some real concern that Robert Woods, Nick Westbrook-Ikhine, and Treylon Burks are not A.J. Brown and Julio Jones. I was hoping to see much more from Burks in the preseason and he has been a disappointment. But this is one of the most favorable matchups they'll face all year. The Giants have to commit additional resources to stop the run, and most NFL-caliber receivers can find a way to win in single coverage. With Kayvon Thibodeaux and Azeez Ojulari nursing injuries and currently questionable to play, this Giants defense that ranked 30th in pressure rate last season will have a difficult time disrupting Tannehill, who is good enough when the circumstances are favorable to build a lead.
If the Titans do build a lead, that's bad news for the Giants. Henry gets stronger as the game goes on because it takes so much strength and effort to take him down. This Giants' defense just is not equipped to make the key stops necessary to pull off a comeback if they get down early. They will need to establish a lead or at least keep the game competitive early for their defense to keep it together.
RELATED: See every Week 1 bet SharpClarke has made so far!
NYG Offense vs. TEN Defense
The Giants could struggle to move the ball in this game. The Titans' defense carried the team to a 12-5 record last season while the offense struggled, limiting some really good teams along the way. The defensive line wreaked havoc on opposing quarterbacks, with Jeffery Simmons emerging as a force up the middle and Harold Landry bringing the pressure from the edge. The linebackers consistently contained mobile quarterbacks and forced bad throws instead of scrambles. They employed deceptive coverages to trick quarterbacks into making bad throws and stymied effective pass games all season. Even in the Titans' playoff loss to the Bengals, the defense did its job. However, they'll need to keep up the pressure without stud pass-rusher Harold Landry, who suffered a torn ACL in practice last week.
Daniel Jones struggles with vision and adaptation once the ball is snapped. He throws a pretty deep ball when his receiver beats his man, but that does not happen very often against the Titans' coverages. I expect him to make several mistakes in this game as he struggles to see pressure and makes some bad reads in coverage. If Saquon Barkley can consistently pick up chunks of yards on the ground, they can certainly make it easier on Jones. But the Titans' run defense is stout and the Giants' already-mediocre offensive line has been recovering from injuries in training camp. That means Jones will need to make big plays, which is tough to do. If the Giants get behind and cannot run the ball, this problem leads to more problems and could snowball into turnovers.
Brian Daboll and Mike Kafka will improve this offense. Undoubtedly, they will implement a better offensive system than Joe Judge and Jason Garrett did last year. But I see three reasons it won't make a big enough difference in Week 1:
First, and primarily, Daniel Jones simply is not Josh Allen or Patrick Mahomes. He lacks the vision and mobility that enable Allen and Mahomes to run the complex and varied offenses that Daboll and Kafka have grown used to.
Second, new offenses take time to gel.
And third, even with Josh Allen, the Titans have had the Bills' number these last few years. The Titans' defense specifically excels against mobile quarterbacks because they stay disciplined and create illusions of space.
The Giants will improve on offense, but I don't think we see it in Week 1.

Prediction
The Titans build a lead and protect it. Henry wears down the defensive line while Tannehill makes some clutch completions on third down. The Titans convert red-zone opportunities into touchdowns whereas the Giants stall. Mike Vrabel out-coaches Brian Daboll in his first game. Playing from behind, the Giants are forced to be aggressive but a key turnover or turnover on downs prevents a backdoor cover.
Final Score Prediction: TEN 24, NYG 16
Market Evaluation
The final step between having a handicap and placing a bet must be reconciling the market price. Theoretically, the market is efficient. I can't play it if I cannot articulate what is shifting the market away from my fair price. The market movement here is concerning for my side, as it appears high-volume bettors (typically, but not always indicating sharp action) like the Giants. But I think these market forces are flawed.
Bettors have liked the Giants on season-long bets because of the projected coaching upgrade in Daboll and a nice early haul in the draft. They have a laughably easy projected schedule and play in the weak NFC. This optimism translates to season-long bets on the Giants. But those bets then inflate a bettor's week-to-week outlook on the Giants. Confirmation bias skews thinking by targeting reasons for backing the Giants instead of evaluating how bad this team currently is. We don't even know that Daboll is a good head coach and most new schemes take time to gel.
Meanwhile, nobody wants to touch the Titans because they are apparently going to fall off a cliff. Bettors have faded them in the futures market. They want to see this team fail. But this is a proud, well-coached team that went 12-5 last year despite suffering myriad injuries. They beat the Rams, Chiefs, Bills, and 49ers. Like most people who were paying attention, I know that they weren't a 12-win team by quality of play. But my effectiveness ratings indicated they were a 10.39-win team adjusted for schedule, good for ninth-best in the NFL. Even after adjusting for the loss of A.J. Brown, they are in a different class than the Giants. I think the market has leaned too far in both directions and created some small value on Tennessee.
Best Bets
TEN -5.5 (-110) - Widely available.
NYG Team Total Under 19.5 (-110) - Available on FanDuel.
Survivor: No play due to Harold Landry's injury.
TEN -12.5 (+235) - Available on DraftKings.
If you enjoyed this matchup breakdown, you can access all my picks with detailed write-ups for every play with a 4for4.com Betting Subscription. Sign up using the Promo Code SharpClarke for 10% off and get every bet I make in real-time. For the most up-to-date picks check out my Twitter and subscribe to our Discord. This sheet from Dan Rivera tracks all my betting picks (and those from the rest of the betting staff) on the year. Just click on the tab with my name on it for the results.
---
This article is intended for entertainment purposes and adult users only. Call 1-800-GAMBLER if you have a gambling problem.