Four Running Backs to Fade in FFPC High Stakes Fantasy Football Drafts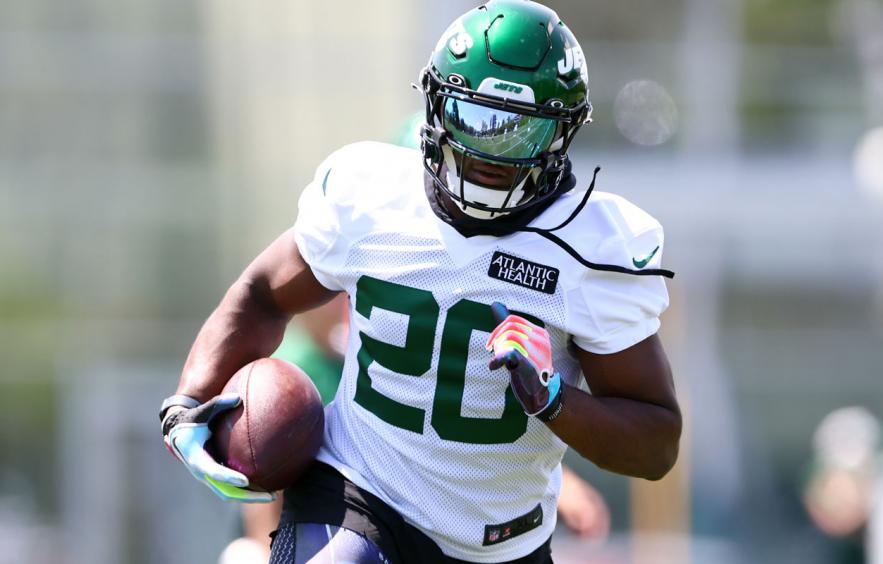 Rich Schultz/Getty Images
FFPC High-stakes drafts are slightly different than regular leagues. While they are 12 teams with TE Premium scoring, that's not the biggest difference. The prize pool is set up to reward $1,000,000 to the top overall team in the entire contest! There are three parts to the season, each with different prizes:
Part 1 – Regular season Weeks 1-12
Part 2 – League Playoffs Weeks 13 & 14
Part 3 – Championship Round and Consolation Round Weeks 15-17
While you get rewarded for scoring the most points in the regular season and winning your league championship, the majority of the prizes are during the "championship rounds." That's why people in these drafts often aim for upside rather than floors because in this format in particular it is more important than ever.
If you are interested in seeing the live results of a current $2,000 fantasy draft with me, Ryan Noonan, and John Daigle.
There are four running backs I'm fading in this format because of their capped ceilings and deceptively low floors.
Breece Hall

,

Jets
ADP: 38.05
While Hall is undoubtedly a solid prospect there are reasons for concern about his fantasy output. The offense has been getting a lot of hype but I'm not sold they will be significantly better. Starting QB Zach Wilson suffered a torn MCL in the first preseason game, leaving his availability for Week 1 in question. Now OT Mekhi Becton is out for the entire season as well. They signed Duane Brown shortly thereafter to fill in but this unit badly needed continuity to reach its ceiling. Not to mention Brown is 37 years old and is coming off his worst season as a pro.
There are other questions surrounding Hall's workload. The pro-Breece mob believes his talent will force the coaching staff to give him a 65%+ touch share in the backfield. I'm not so sure. Michael Carter provides formidable competition and multiple people in the know have said they will both rotate. Not to mention, Michael Carter actually started the first preseason game.
Starting with RB, Breece Hall saw some work with the starters, but Michael Carter was the starter. No surprise here. Would have been nice if Hall started for his fantasy value, but he's not there yet.

— Nathan Jahnke (@PFF_NateJahnke) August 14, 2022
So you have a player on a middling-to-poor offense that is utilizing a running back by committee. His ADP is 38 but he routinely goes in the third round. At that price, the opportunity cost is far too high. For Breece to hit his ceiling he needs for Michael Carter to get injured or be a non-factor and for the offense to take a significant jump. At his current price, I like too many options in the same range to take a player with middling floor-low ceiling player like Breece.
David Montgomery

,

Bears
ADP: 48.05
I'm really surprised he is still going in the first five rounds. Montgomery has been the team's workhorse for the past few seasons but with a change in the front office and coaching staff, they have absolutely no ties to him anymore. Training camp reports have already mentioned that both Khalil Herbert and Tristan Ebner are likely to play a role on the offense as well. Recent reports about him playing special teams might be slightly overblown but the real story was that he volunteered to get more reps. If he was going to remain the workhorse it seems unlikely he would want more reps with special teams.
His situation is also borderline abysmal. It's really hard to imagine a scenario where the Bears' offense is efficient with the offensive line projecting to be in the bottom-3 and the pass-catching group has no one outside of Darnell Mooney.
Even with a big workload, he would likely be a pass for me at his current ADP.
Josh Jacobs

,

Raiders
ADP: 67.23
Like Montgomery, Jacobs is accustomed to receiving a big workload but now has plenty of circumstances around him changing. The Raiders have a new coaching staff, drafted Zamir White in the third round, still have Kenyan Drake, and recently-signed Ameer Abdullah has gotten a lot of hype as the pass-catching back. I don't put too much stock in Jacobs playing a bunch in the first preseason game considering all the other running backs saw time but it certainly isn't a good thing. He'll likely still see the majority of carries on early downs but if Zamir White or Kenyan Drake starts to outplay him his floor is incredibly low. With Drake or Abdullah likely to soak up the majority of passing downs it's tough to envision Jacobs truly ever being an RB1 without severe positive touchdown variance.
Antonio Gibson

,

Commanders
ADP: 68.53
Gibson is entering the danger zone. The Commanders drafted Brian Robinson in the third round and JD Mckissic opted to return after nearly landing in Buffalo. McKissic figures to take the vast majority of passing work and Robinson should threaten Gibson's role at the goal line. That leaves Gibson with the low-value, early-down carries outside of the red zone.
I was already avoiding him prior to this in the fourth or fifth round, but now things are getting worse. He fumbled in the first preseason game and was subsequently punished in practice the following week, blocking on special teams, playing kick returner, and running with both the first, second, and third teams. I'm starting to think there's a legitimate chance Ron Rivera and the coaching staff doesn't trust him. If that's the case he'll be extremely hard to pay off in fantasy football. I probably wouldn't draft Gibson until the ninth round and after a guy like Chase Edmonds at this point.