Fantasy Football Debate: Davante Adams vs CeeDee Lamb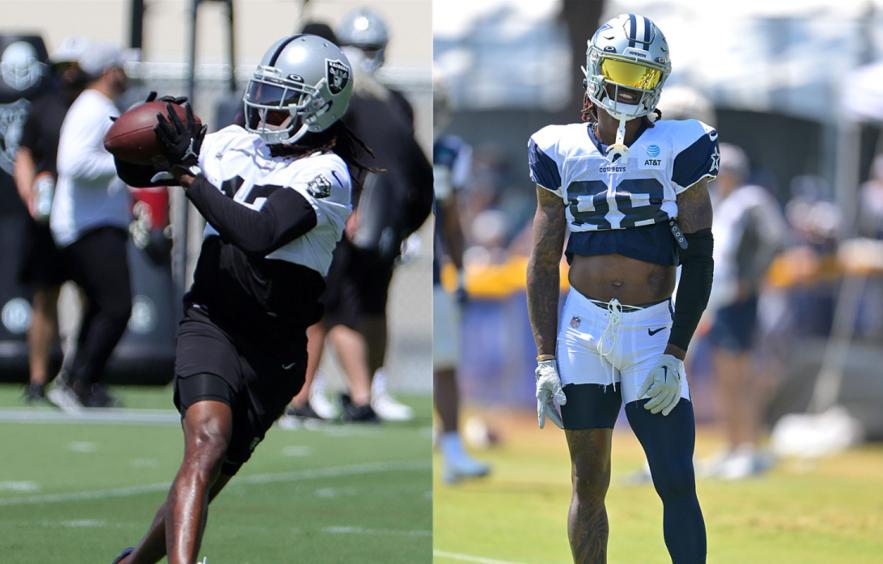 Ethan Miller/Jayne Kamin-Oncea/Getty Images
Davante Adams and CeeDee Lamb are both being drafted as top-six fantasy wide receivers, going off the board around the 1-2 turn in Underdog drafts. In this debate, 4for4's Bobby LaMarco explains why he prefers to draft the Raiders' new WR1 while Dave Stewart argues for the top target in Dallas.
---
Click here for more 2022 Player Profiles!
---
The Case for
Davante Adams
Bobby: It is easy for us to forget how much better Davante Adams has been for fantasy football than his peers over the past half-decade. Since 2017, Adams has averaged 17 half-PPR points per game (PPG). That mark is 1.4 PPG higher than the number two wide receiver on this list, Tyreek Hill, and 3.5 PPG higher than the number 10 wide receiver, Keenan Allen.
Many people will point out most of this production was done with an MVP-level talent at QB, and with minimal changes in Green Bay since he joined the team back in 2014. Unfortunately, for this side of the argument, those points are valid. The dropoff from Aaron Rodgers to Derek Carr is notable and learning a new system under new Raiders head coach Josh McDaniels will impact Adams. However, it's not like we don't have samples of what Adams looks like in a new system, and with a different QB.
Back in 2017, Adams played eight games with backup QB Brett Hundley. In those contests, Adams averaged 13.4-half PPR PPG including five games where he had 13.9 points or better. That production made him the WR6 in 2017. Flash forward to 2019 where we catch a glimpse of what Adams looks like when learning a new system in his first season under new head coach Matt Lafleur. It was clear in his production Adams hit the ground running averaging 14.3-half PPR PPG in 2019. This resulted in Adams finishing as the WR5.
Now in Las Vegas, Adams will not be starting from scratch as he played with new QB Carr back in college and Carr does have a history of producing WR1s. Last season, Hunter Renfrow finished as the WR10, and Michael Crabtree produced as the WR12 season back in 2016. A better argument for Adams is what his new head coach has done with his WR1s. During the Brady/McDaniels era in New England, the WR1s averaged 13.4 half-PPR PPG with five top-12 finishes. The crazy part about that stat is only eight WR1s played 16 games. That means 62% of those WR1s finished in the top 12, and that includes a season where Reche Caldwell was the WR1.
This brings us to CeeDee Lamb who should be in for a breakout season of his own. The loss of Amari Cooper and the injury to Michael Gallup should help funnel targets to Lamb early and often in 2022. However, can we say Lamb's situation is better than the situation Adams is in? Prior to Lamb's arrival, Cooper was the featured number one with Dak Prescott. In his lone full season without Lamb, Cooper was the WR9 averaging 12.9 half-PPR PPG. As solid as that production was it was still lower than what Adams had with Huntley at QB. Next, we have seen what Lamb can do without Cooper/Gallup in the past, and his splits are nearly identical to when he plays with both.
CeeDee Lamb

Splits

| | Games Played | Targets | Receptions | Yards | Touchdowns | Half PPR PPG |
| --- | --- | --- | --- | --- | --- | --- |
| With Gallup/Cooper | 22 | 7.3 | 4.9 | 61.9 | 0.4 | 11.3 |
| Without Gallup and/or Cooper | 7 | 7.0 | 4.6 | 67.6 | 0.3 | 11.4 |
We need to ask ourselves if we know Adams is not only QB-proof, but scheme-proof, does it make sense to pass on him for Lamb in drafts? Lamb will take a leap in 2022, but with Prescott's tendency to spread the ball around, can he surpass a proven target vacuum in Adams? Finally, Adams' low-end WR1 floor coupled with the ceiling he has already shown in his career makes him the safer pick this season.

The Case for CeDee Lamb
Dave: CeeDee Lamb is walking into an amazing opportunity in 2022. After finishing top-20 in half-PPR scoring in each of his first two seasons, he finds himself the focal point of a rebuilt wide receiver room in Dallas. Amari Cooper and Cedrick Wilson, the Cowboys' third and fifth leading receivers in 2021, are gone. Returning is Michael Gallup, though he is recovering from a January ACL tear and is not expected to be ready at the start of the season. He starts training camp on the physically unable to perform list (PUP.) With James Washington injured, rookie Jalen Tolbert, a third-round draft pick, should see significant playing time. Lamb is positioned to see a significant increase in targets.
In 2021, Lamb led Dallas with a 20.4% target share, even with Cooper seeing 18.7% and a 10.2% share going to Wilson. It follows logically that we will see Lamb's target share rise in 2022 as Dak Prescott's featured wide receiver. The Cowboys had 647 passing attempts in 2021 and, as long as Prescott is healthy, we should expect similar totals this year. If you are one to believe the off-season narratives, he claims to be "in the best shape he's ever been in." I do love off-season tropes, but take it with a grain of salt. Still, should Lamb, who had 9.2 yards per target last year, see an increase from his 121 targets in 2021 to something closer to 140 targets, his fantasy output will be significantly higher.
Lamb is coming off a season where he posted an impressive 70% contested catch rate, per PFF, ranking him 11th in that category among receivers with 50+ targets. That skill will serve him well in matching up against top cornerbacks. He also led the Cowboys with 1,233 air yards and 1.86 yards per team pass attempt. Both numbers are likely to increase following the departure of Cooper. His 42.4% slot rate showed that he is adept at working all parts of the field. Lamb does need to improve upon his touchdown totals to take the next leap in his development. Of course, Cooper and Wilson combined for 14 touchdowns in 2021 and the scoring production will need to be replaced by someone.
A stout offensive line and a productive running game featuring Ezekiel Elliott and Tony Pollard will only bolster Lamb's ceiling and his expanded role in the Cowboys' offense significantly raises his floor. While his profile is certainly on the rise, Davante Adams' profile is far less certain. Questions abound with his departure from Green Bay, leaving behind a future Hall of Fame quarterback and one of the league's best in Aaron Rodgers for a quarterback who is the living embodiment of league average in Derek Carr. Whereas Rodgers is a perennial top-10 fantasy quarterback, Carr has no top-10 finishes in the last five seasons and only one such finish in his career, in 2016. Not to mention, Adams was force-fed targets in Green Bay in the absence of established talent around him. In Las Vegas, he will be joined by established producers in Darren Waller and Hunter Renfrow.
Lamb has the better quarterback, offensive line, running game, and less competition for targets. Clearly, he is in a better situation and more likely to return value at his current ADP.