Does Matt Ryan Have a New Kyle Pitts in Jelani Woods?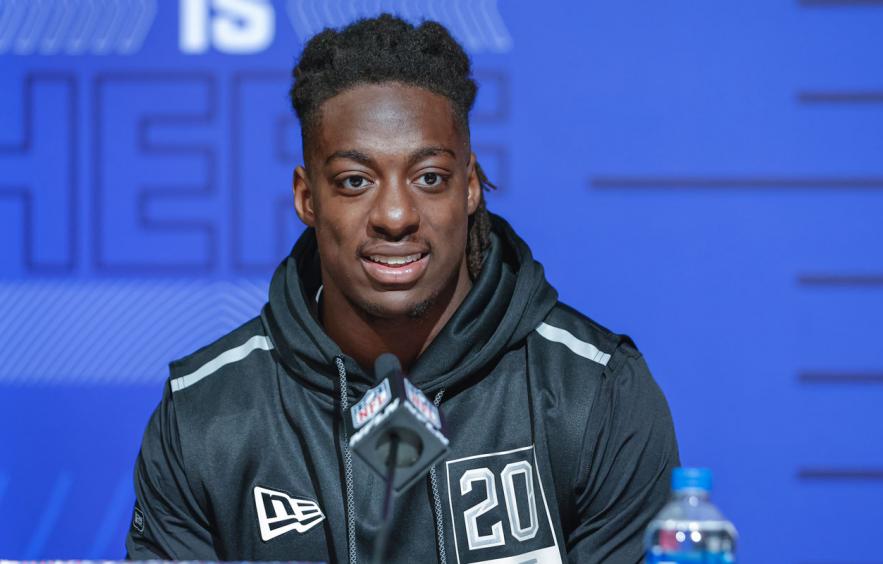 Michael Hickey/Getty Images
With the 73rd pick (3.09) of the 2022 NFL Draft, the Indianapolis Colts selected 6'7", 253-pound Jelani Woods from the University of Virginia. Woods has a wide range of outcomes based on his size, raw tools, landing spot, and unique path through his college playing career.
---
Click here for more 2022 Player Profiles!
---
The rookie finds himself in a crowded yet easily climbable tight end depth chart with Mo Alie-Cox, Kylen Granson, and sixth-round pick Andrew Ogletree. The Colts have historically featured multiple tight ends for as long as I can remember, and it took Alie-Cox until his fifth season with the team to reach a career-high 45 targets in 2021, so all signs point towards Jelani Woods getting involved early this season. Let's take a look back at his college journey before we examine exactly what he could produce fantasy-wise in his rookie season.
A Winding Road to the NFL Draft
Jelani Woods began his college career with Oklahoma State as a quarterback in 2017 before making the transition to tight end by the end of that first season. He wouldn't log his first in-game snap until the following season and was used almost exclusively as an in-line blocker, accumulating 46 targets over the next three years with OSU before transferring to Virginia for his final collegiate season. The move would pay off, as his 44-598-8 line would blow his old career highs out of the water and enable him to become a First-Team All-ACC selection.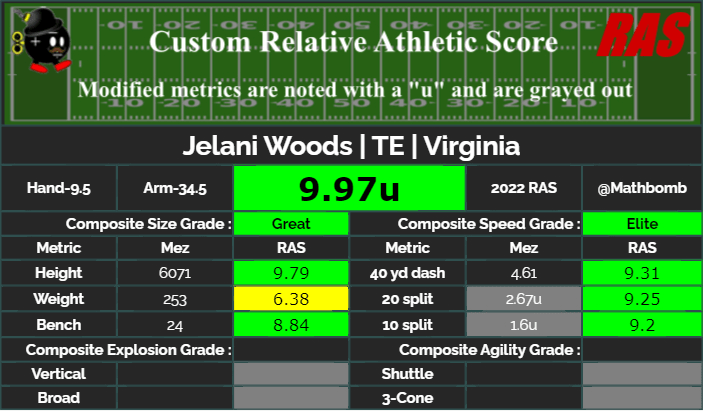 Woods was a nightmare to defend at the catch point —whether down the seam or in the end zone— due to his exceptional size and a wingspan (34.5" arms) that some offensive tackles in this class would kill to have. His athletic testing was fantastic, but that didn't necessarily show up on the stat sheet, as his yards after reception and yards after contact are both middle-of-the-pack or worse amongst 2022's draft-eligible TEs. Woods accounted for eight of Virginia's 31 passing touchdowns (26%) and sported an 11.1 average depth of target in his single season there, so it's encouraging that they trusted him in two of the most important areas for fantasy success.
Jelani Woods' complete college production profile honestly leaves a lot to be desired, which is reflected in his seventh-percentile breakout age (22.9), but he couldn't have made a more wise business decision by leaving Oklahoma State for his final season to show what he can do if a team gives him ample playing time. Another wise move? Heading to the East/West Shrine Bowl.
During January's Shrine Bowl, Indianapolis Colts offensive coordinator Marcus Brady served as Woods' head coach while Indy's tight ends coach Klayton Adams operated as his offensive coordinator. This assuredly set into motion which direction the team went with their upcoming third-round pick.
Looking For More
Matt Ryan

Rookie TE Magic

The Indianapolis Colts had one of the most uninspiring passing attacks in football last year, and to their credit, they made a handful of moves to improve upon it ahead of the 2022 season. On top of our subject today, they also made an immediate upgrade at quarterback with Matt Ryan, they shored up their tackle depth with third-rounder Bernhard Raimann, and they added a speedy complement to Michael Pittman in Alec Pierce from the University of Cincinnati.
Frank Reich

Colts

/

Matt Ryan

TE Usage

| Team | 2018 TE Targ% (Rank) | 2019 TE Targ% (Rank) | 2020 TE Targ% (Rank) | 2021 TE Targ% (Rank) |
| --- | --- | --- | --- | --- |
| Frank Reich's Colts | 26.7% (4th) | 28.5% (4th) | 22.3% (14th) | 20.3% (19th) |
| Matt Ryan's Falcons | 17.5% (23rd) | 18.5% (21st) | 16.9% (26th) | 28.1% (4th) |
When looking at historical tight end usage over the preceding four seasons, we see some encouraging numbers on the Colts side of things, where they ranked fourth in tight end target share in back-to-back years before declining over the previous two. While the boosted years were Nick Sirianni-led offenses and not current coordinator Marcus Brady's offense, it is worth pointing out that the 2019 season was manned by Jack Doyle (since released) and Mo Alie-Cox. Also, you'll remember that Brady was Jelani Woods' coach during the Shrine Bowl earlier this year and was the quarterback's coach for the Colts in '19, so maybe he would like to recreate some of that TE-heavy gameplan with Woods filling Jack Doyle's shoes this fall.
As for Ryan's tight end usage, it actually gets much worse the further back we go, but that's also what happens when you have receiving juggernauts Julio Jones, Roddy White, etc., on your team for so many years. Although I would love to claim that Jelani Woods will step into a Kyle Pitts-type role for Matt Ryan as a rookie, it's readily apparent that Pitts was an outlier on a team that lost their alpha wide receiver for the season before he even stepped on to the field.
The Colts attempted the sixth-fewest passes last season, a number that is sure to be boosted by the presence of Matt Ryan, but it's debatable by exactly how much. Since the sudden retirement of Andrew Luck following the 2018 season, Indianapolis has finished 31st (53.4%), 19th (57.2%), and 19th (55.9%) in neutral pass rate while adding insult to injury with the second-slowest pace of play in the NFL during this past season. With the structure of the roster and how efficient Jonathan Taylor is with the ball in his hands, I don't see a scenario in which the team flips the script and becomes predominately pass-first.
With no sort of target ceiling and the fact that he shares a similar skill set with Alie-Cox, I sadly don't believe Jelani Woods will be prolific in his rookie season. If size/speed freak Donald Parham can get run in fantasy circles, there's certainly no reason Woods can't, but in the same vein, he's probably playable in pre-season or desperation plug-ins in two-TE leagues only. If Alie-Cox moves on in 2023, we can reassess the situation then.

Bottom Line
Jelani Woods persevered through a unique college career to be taken in the early third round of the NFL Draft, but he is still raw enough to only see partial playing time out of the gate.
Regardless of where his Underdog ADP is or will end up, he is not worth a flier in year one, even with the possibility of end zone looks.
I will 100% be playing Jelani Woods in pre-season DFS; I will show receipts.
At the very least, Woods should provide a large body in the red zone to increase the team's RZ efficiency.