Chase Edmonds is a Massive Value in Fantasy Football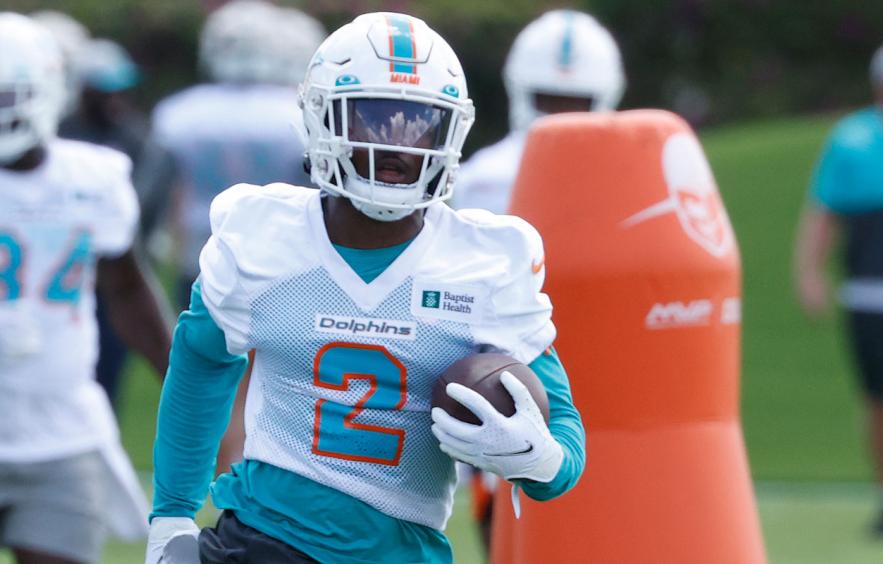 Joel Auerbach/Getty Images
Chase Edmonds has been a pass-catching specialist with the Cardinals, racking up 53 and 43 receptions each of the past two seasons. He was in a timeshare with James Conner who soaked up most of the early-down work which led to Edmonds rushing for only 1,040 yards on 213 carries. Despite his limited usage, he finished as the RB34 in PPR leagues and averaged 11.9 PPR points per game (27th). If we exclude the game he was injured after one carry, Edmonds' points per game average shot up to 13 PPG (RB22 in PPG).
Edmonds has since signed with the revamped Miami Dolphins where he is expected to play a bigger role in an improved offense. The Dolphins also signed a few other running backs, but the amount of money each player received is fairly telling in regards to their role.
---
Click here for more 2022 Player Profiles!
---
Money Talks
Rather than trying to sift through coach-speak and ambiguous comments, it's oftentimes easiest to see how much teams paid players at the same position. It isn't an "end all be all" but actions tend to speak louder than words. Looking at the amount of money each player was guaranteed for 2022 you can see a sizable discrepancy between Edmonds and the other three running backs.
The Dolphins made Chase Edmonds the 12th highest-paid running back in the league this offseason. He's also guaranteed six times the amount of money as Raheem Mostert, the next highest-paid running back. Barring an insane training camp from Myles Gaskin, it looks like he is a near-certainty to be cut. The Dolphins would pay him 2.54M if he is on the roster this season, more than both Mostert and Michel combined but can cut him for just $21K in dead cap. With Gaskin likely out of the way we are looking at a three-headed backfield of Edmonds, Mostert, and Michel.
Miami Backfield Roles
Neither Michel nor Mostert are known for their pass-catching chops. Mostert averaged 1.25 receptions per game in 2019 and 2020 while Michel has only 47 career receptions in 55 games (.85 receptions per game). It would be extremely surprising to see either of them receive much pass-catching work. Raheem Mostert is also coming off two injury-riddled seasons where he played in just a combined nine games. HC Mike McDaniel also mentioned that they won't rush him back. So while there is some familiarity between Mostert and McDaniel, he also knows how fragile Mostert is.
Based on what we know about each player's strengths and the money the Dolphins invested in them, I'm fairly confident that we see Chase Edmonds get nearly all of the pass-catching role plus some of the early-down work while Michel and Mostert rotate in on early downs.
The biggest question about the backfield split is how much Edmonds takes on early downs. Even though Mostert and Michel profile as the "early-down backs," there's a reasonable chance that Edmonds still takes a good chunk of the work. Last season Edmonds ranked eighth in NFL.com's rushing yard over expectation metric and averaged 5.1 yards per carry.
The
Dolphins

Made a Splash in Free Agency

Playing on an efficient offense should help raise both Edmonds' floor and ceiling this season. After ranking 29th in yards per play in 2021, the Dolphins' offense should be much more lethal. They traded for Tyreek Hill, added Terron Armstead and Connor Williams on the offensive line, and hired the 49ers' offensive coordinator, Mike McDaniel, to be their head coach.

I expect the Dolphins' offense to look very similar to what we saw in San Francisco with a lot of crossing routes, play-action, and a zone running scheme. According to Sports Info Solutions, last season the 49ers ran a zone blocking scheme on a run play 282 times, the sixth-most in the league. Chase Edmonds led the league in yards per attempt (5.8) and was second in EPA per play on his 68 carries with zone blocking.

I tweeted that out and Chase Edmonds himself agreed! I didn't tag him and don't know how he saw it but I will gladly take the pat on the back from a professional athlete. Here's to hoping you make us both look good, Chase *cheers*.
I like you Connor. You're one of the smart ones🤓
ADP and Projections
We have Edmonds projected for 860 yards from scrimmage, 47 receptions, and 3.8 total touchdowns. That's good for RB32 in PPR and RB34 in half-point PPR. He is currently being drafted as the RB36 at pick No. 112.1 on Underdog. While that isn't a massive discrepancy, our projections are much closer to Edmonds' floor rather than his ceiling. His pass-catching usage sets a strong low-end RB3 baseline. If they decide to use him more on early downs and sprinkle him in closer to the goal line, his ceiling is significant. If either or both Michel and Mostert were to suffer an injury, Edmonds could be a league-winner if he soaks up the majority of work.

Bottom Line
Chase Edmonds was paid six times more than any other running back Miami signed this offseason making him the clear lead back in the passing game with some rushing upside.
Edmonds was super-efficient on running plays with zone blocking (5.8 yards per carry) making him a fantastic fit for Mike McDaniels' offense which is expected to utilize zone-blocking at one of the highest rates in the league.
The Dolphins' offense is expected to be vastly improved with a better offensive line, an elite pass-catcher in Tyreek Hill, and an offensive-minded coaching staff. This means Edmonds should be able to be efficient and have more potential scoring opportunities.
As the RB36 on Underdog, Edmonds has next to no downside at that price and a ton of upside depending on how his role shakes out.