Can Malik Willis Start for the Titans as a Rookie?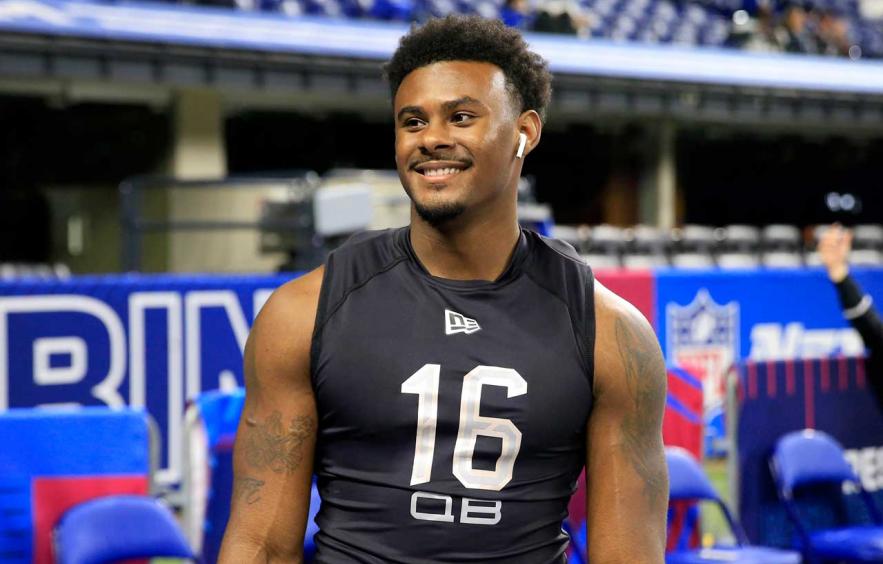 Justin Casterline/Getty Images
It has often been said that the NFL quarterback is the single most important position in all of team sports. They touch the ball on almost every offensive play, and it is mainly a quarterback's success (or lack thereof) through the air that determines whether a football team can keep up with the ever-accelerating prominence of the passing game on football success.
---
Click here for more 2022 Player Profiles!
---
Getting a franchise quarterback is the lottery ticket that turns a sorry offense into an average one, an average offense into a great one, and a great offense into something historic. Due to that, NFL teams tend to prize rookie quarterbacks highly in the NFL Draft and try to lock in a potential jackpot at a low cost.
That's why it's so surprising that a hybrid passer/runner like former Liberty quarterback Malik Willis – once regarded as the top quarterback in this NFL Draft class – fell all the way through two rounds this year, landing with the Tennessee Titans in the third (86th overall). As of now, the consensus opinion seems to be that he will sit and learn behind veteran signal-caller Ryan Tannehill, but Willis does have enough star potential to dazzle in Nashville if given the chance.
Will new Tennessee Titans quarterback Malik Willis get playing time as a rookie?
Playmaker's Profile
After transferring to Liberty from Auburn, Willis redshirted in 2019 but started the most recent two seasons. Across 23 games as a starter, he assembled a 153.2 college passer rating – a top-50 mark among 319 quarterbacks to attempt at least 600 passes over the last decade of NCAA football. His final stat line as the Flames' signal-caller included 5,176 passing yards, 47 touchdowns, and 18 interceptions on 604 aerial attempts (62.4% completion rate, 8.7 adjusted yards per attempt), and 1,835 rushing yards and 27 touchdowns on 339 ground attempts.
That said, Willis played a fairly weak schedule, including a quarter of those contests coming against Western Carolina, Campbell, Troy, Old Dominion, Middle Tennessee State, and North Texas. Against top-50 ranked defenses, on the other hand, Willis assembled just a 5.9 adjusted yards per attempt – a lower mark than Jordan Love or Paxton Lynch coming out, and the worst among the top-six quarterbacks in this class.
Making matters uglier, Willis suffered the highest sack rate in the class (13.1%) with quarterback-responsible pressure at the 13th and fifth-highest rates among NCAA passers over the last two seasons, respectively. Part of that is due to an average time to throw (TTT) of 3.22 seconds – a function of him searching constantly for the big play and extending the length of plays with his pocket elusiveness and rollout mobility. Still, this timing makes him one of just three college quarterbacks to have an average TTT of more than 3.0 seconds each of the last two years, and that's a quality that will be punished by NFL-caliber pass-rushers. But when he does hit one of those plays…
Dime from Malik Willis on the run. pic.twitter.com/sGel30yxXP

— Derrick (@Steelers_DB) February 20, 2022
The data shows us a player with immense upside but very glaring flaws. The eye test confirms this pretty heartily. One of the events that shot Willis up draft boards was a phenomenal showing at the Senior Bowl in Mobile, Alabama, where he dazzled in practices and somehow still left something for game day too.
Malik Willis showing off unreal athleticism in Senior Bowl #NFL #NFLDraft 🔥🔥 pic.twitter.com/OT7ZCwVUIl

— Alex Leak (@freakaleak1209) February 13, 2022
It's clear that Willis has major on-field athleticism and will enter the NFL with a Lamar Jackson/Jalen Hurts Lite profile on the ground, but he adds a cannon arm and passing stubbornness on the spectrum of Matthew Stafford/Jay Cutler: always big-play hunting. At times, that can look like this:
At others, it can look like this:
Malik Willis as a prospect was a Rorschach test: whatever you believe and value about quarterbacks, he was either the archetype of it or its antithesis. Do the proven results of his ability to take coaching and improve his footwork – a notably hard trait to "fix" – indicate his potential to grow in his processing and eye work as a passer? Or will he lean on his crutches of athleticism and arm talent until he flames out?
Is he more Josh Allen or Johnny Manziel? – that is the question.

Acing the Test
We now have even more pieces to the puzzle since the NFL Combine and Draft are complete. What do Willis' testing, draft slotting, and team context indicate for his fantasy potential in 2022 and beyond?
Unfortunately, we weren't able to get exact numbers on Willis' athleticism, as he opted to not do any drills at either the NFL Combine or Liberty's Pro Day. That said, NFL Network apparently clocked his top speed at 20-plus miles per hour at points during the Senior Bowl (including the above clip); that flying speed would have resulted in a 4.09-second 40-yard dash if he had a running start to it, but it also lends some credence to the claims that he tested in the 4.3s at Auburn and would've run in that range or the mid-to-low 4.4s if he did test at the Combine. All we know outside of that is that Willis is half-an-inch over six-foot-nothing and just under 220 pounds, making him a quite small prospect at the position.
When inputting these speed numbers, Relative Athletic Score (RAS) spits out a few of Willis' best comparable players as Jalen Hurts, Tyrod Taylor, and Taylor Heinicke – all of whom are undersized but highly mobile players with both the upside to start and some major question marks in their profiles. Hurts also coincidentally ends up the best comp from a draft position standpoint; he went in the middle of Day Two just like Willis and ended up on a forward-thinking offense with an infrastructure in place to help him flourish – just like Willis.
The Tennessee Titans have an offensive game plan that goes through halfback/Sherman tank Derrick Henry, focusing on running overall but also using the threat of devastation at Henry's hands to give weight to play-action fakes by the quarterback. Tennessee is notorious at this point for unlocking former bust quarterback Ryan Tannehill's potential by utilizing play-action.
Over the last three years, the Titans have run play-action on 32.2% of Tannehill's drop backs, leading him to rank sixth, first, and seventh among qualifying quarterbacks in play-action rate since he arrived in Nashville. It's no small wonder, then, that Tennessee Tannehill has produced 19.0 fantasy points per game, while Miami Dolphins Tannehill the three years prior produced a paltry 13.8 considering how much more efficient play-action passing is than all other pass plays. This is one significant way Tennessee could help the raw-but-über-talented Willis get accustomed to the NFL and trick defenses while he works his magic.
Tennessee should change their scheme to properly utilize Willis' skill set, if and when they end up starting him, however.
One way they could do so is with more deep passing. Due to Tannehill's below-average arm strength, the Titans have thrown deep (15-plus yards downfield) on just 10.3% of their attempts over the last three years and have an adjusted completion rate of just 40.7% on them. As a starter at Liberty, Willis attempted a deep pass on 20.3% of his tosses and had an adjusted completion rate of 49.2%.
Another way would be to work in more designed runs. Tannehill has had just 91 of those over the three years he has started for the Titans, accruing just 153 yards (1.7 yards per attempt) as he is clearly athletic enough to capitalize on a scramble but not as a true ground threat on his own. Willis, on the other hand, had 164 designed runs resulting in 1,062 yards dialed up for him over the last two seasons alone.
Final Grade
The book on Willis for fantasy football is a sky-high ceiling thanks to his elite tools, but a non-existent floor due to his lack of polish. If he can get on the field in his rookie season, it's not impossible to imagine a Hurts-type of debut – where he does a lot more with his legs than his arm but still wins some fantasy weeks. It's important to remember, however, that just over half of the 19 quarterbacks drafted in the pick 51-100 range of the draft since 2010 have even started one game in their rookie season, and most of those were due to a fluke injury to an incumbent starter.
Willis is currently being drafted as the 37th quarterback off the board in Underdog best ball drafts, with an ADP of 215.6 – essentially the last pick in drafts, when he's drafted. This is where he should remain on the UD platform, though he could be worth a late-round snag in your superflex redraft leagues as a Jalen Hurts-esque lottery ticket in case of Tannehill cratering or getting hurt.
Willis landed in the perfect spot for his long-term development as a dynasty option, especially if Tannehill can hold off the aging curve for one more year and give him a buffer before he's thrown into the fire. That said, redraft managers also won't complain if the former Liberty Flame lights up the NFL for a stretch this year – and he does have the potential to do just that. Just remember that it takes a while to turn a spark into a bonfire, and the same will likely go for Willis in his rookie season.