Can Jalen Tolbert Be A Fantasy Football Star in Dallas?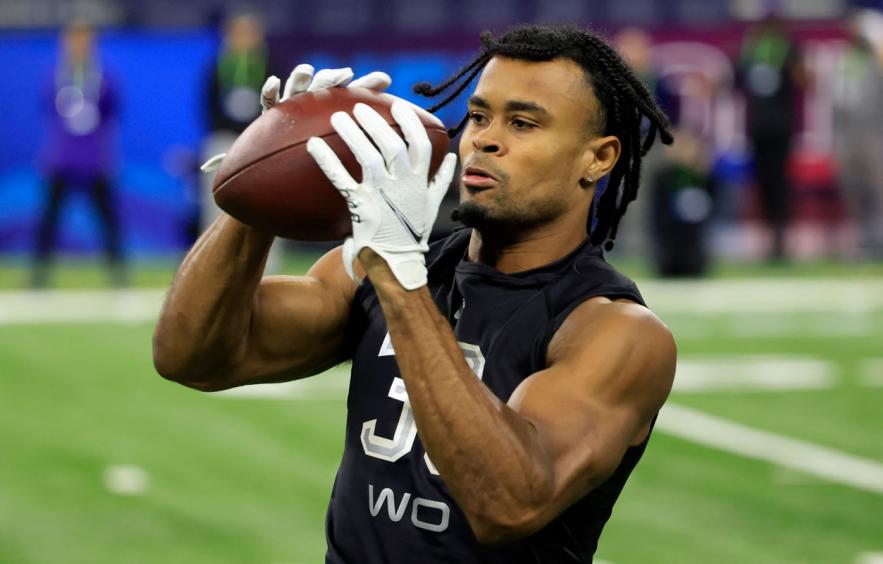 Justin Casterline/Getty Images
The Dallas Cowboys made Jalen Tolbert the 88th pick in this year's NFL Draft. It was as good a landing spot as any really. The Cowboys saw Cedrick Wilson leave in free agency and Amari Cooper was traded to the Cleveland Browns. While they did decide to extend Michael Gallup, his Week 17 torn ACL injury leaves his status for the earlier part of the season very much in doubt. If Gallup is not ready to go, Tolbert will be competing with Noah Brown and James Washington for the starter role opposite CeeDee Lamb.
In a pass-heavy offense and with Dak Prescott under center, Tolbert finds himself in a very fantasy-friendly place. Gallup's early injury presents Tolbert with the chance to immediately step into a starting role and that could mean he could become an early fantasy surprise. That's a big ask for a third-rounder out of South Alabama, will he be up to the task?
---
Click here for more 2022 Player Profiles!
---
Who Is
Jalen Tolbert

, the Player?

Tolbert enrolled at South Alabama in 2017, but suffered an injury during a preseason scrimmage and was forced to redshirt. His playing time during his redshirt freshman year was minimal. He appeared in 12 games and finished with just 11 targets, 5 receptions, and 60 yards.

In his third season with the program, he finally received more playing time and was able to increase his stat line, albeit still somewhat lacking. He earned 61 targets as a redshirt sophomore and caught just 27 of them—a 44.3% catch percentage. He finished with 520 yards and 6 touchdowns. He posted a 21.6% target share and a 27.3% share of the team's receiving yards. It was a solid step forward, but it wasn't until his fourth and fifth seasons at South Alabama that he started to make a name for himself.
| Year | Targets | Target Share | Receptions | Yards | Yard Share | TDs | Yards Per Route Run |
| --- | --- | --- | --- | --- | --- | --- | --- |
| 2020 | 105 | 30.0% | 64 | 1,085 | 40.0% | 8 | 2.58 |
| 2021 | 129 | 31.7% | 82 | 1,474 | 48.0% | 8 | 3.16 |
From the table above, you can see just how dominant Tolbert was during his last two seasons at South Alabama. While the competition at South Alabama wasn't what it is at Ohio State or Alabama, it's encouraging to see Tolbert flat-out dominant at the level he was at.
His catch percentage was at 44.4% in his first two years but jumped all the way up to 62.3% in his final two seasons. That's a substantial improvement. His yards per route also spiked during his last two seasons—it was at 1.69 his first two seasons and at 2.88 during his final two campaigns. The improvement and growth he made over four prior years at South Alabama were put on full display in his final collegiate season.
| Statistic | Total | National Rank Among WRs w/75+ Targets |
| --- | --- | --- |
| Targets | 129 | 11th |
| Receptions | 82 | 21st |
| Receiving Yards | 1,474 | 6th |
| Yards Per Reception | 18.0 | 12th |
| Yards After Contact | 581 | 12th |
| Yards per Route Run | 3.16 | 11tg |
| Average Depth of Target | 14.2 | 22nd |
He turned in one of the better statistical seasons from this year's receiver class and while the competition concerns are legit, there are no questions in regards to his production. He finished his college career with a 51.2% college dominator (96th-percentile) and a 95th-percentile target share. His reception perception showcases a receiver who won at all levels off the field last season, as evidenced below.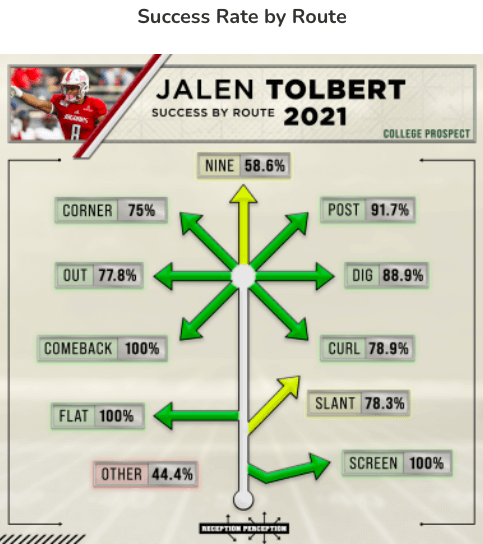 Matt Harmon of Reception Perception had this to say about Jalen Tolbert,
"The most impressive part about Tolbert's profile was his route success rate chart: He finished at or above the prospect average on every route on the tree. Tolbert is able to win the short, intermediate, and deep levels of the field. He sinks in and out of his breaks well and shakes from defenders with speed deep down the field. He can operate as both a big-play specialist and a possession player in the NFL."
He definitely sounds like someone fantasy managers should be paying attention to, especially considering the positive landing spot. Gallup's pending health status does create an opportunity for Tolbert, but also one that may not last all season. How should fantasy managers be valuing Jalen Tolbert entering the 2022 fantasy football season?
Will
Jalen Tolbert

's Success at South Alabama Transfer to Dallas?

Since Mike McCarthy's arrival as head coach of the Cowboys in 2020, Dallas has operated as one of the most pass-heavy teams in the NFL. In 2020 they ranked second with 638 attempts and they were fifth in 2021 with 653. With the losses of Amari Cooper and Cedrick Wilson, the Cowboys' have ample opportunity available behind Lamb and Dalton Schultz. The Cowboys have the ninth-most air yards available with 1,898 and the 10th-most targets with 205. Out of their total team targets vacated, 181 of them were directed to receivers, which is the seventh-most. It's not just the quantity of targets available either, but the quality —they have the sixth-most targets available inside the 10-yard line with 16.

Michael Gallup was only able to appear in nine games last season and finished with 62 targets for 35 receptions, 445 yards, and 2 touchdowns. He ended up tearing his ACL in Week 17 and there are legitimate concerns as to whether or not he'll be ready for Week 1. As of right now, the reports out of Dallas are not optimistic. Fantasy managers don't have a return date available for Gallup, but it seems likely he'll miss a few games to start the season. How many at this point is unknown. However, when Gallup is healthy, he's been an effective receiver.

Following his rookie season, Gallup ascended into the No. 2 receiver spot opposite Amari Cooper and delivered with 66 receptions, 1,107 yards, and 6 touchdowns on 113 targets. In half-PPR PPG, Gallup finished as the WR15 in 2019. Following that season, the Cowboys drafted Lamb and Gallup fell to a distant No. 3 on the target chain hierarchy. He still was able to deliver 843 yards and 5 touchdowns. Expecting a rookie making the jump from South Alabama competition to the NFL to beat out Michael Gallup, if he's healthy, is probably a bad bet, but right now Gallup is not healthy.

This leaves Tolbert fighting with Noah Brown and James Washington for snaps. Brown is a fourth-year player who has never had more than 20 receptions or 200 yards in a single season. In fact, through four seasons Brown has yet to pass 500 total receiving yards. James Washington was drafted in the second round by the Pittsburgh Steelers and popped a bit as a sophomore. As a rookie, he was stuck behind JuJu Smith-Schuster and Antonio Brown. He finished with just 16 receptions for 217 yards. The following year, Brown was traded and Smith-Schuster missed four games which gave Washington more playing time. He finished with 44 receptions and 735 yards. In his third season, Washington fell on the depth chart, being passed up by second-year player, Diontae Johnson, and rookie, Chase Claypool.

It was the same story in 2021 as Washington was nothing more than a depth piece for the Steelers receivers. Washington and Brown are both more experienced than Tolbert, but both have left a lot to be desired through their four years in the league. It shouldn't come as a surprise if Tolbert is able to beat both of these players out for the right to start in Gallup's place at the beginning of the 2022 season.

The question marks surrounding Gallup's injury make it difficult to appropriately evaluate Tolbert's value because we don't know how long Gallup is going to be out or what he'll look like upon his return. Fantasy managers can bank on Tolbert starting across from Lamb for as long as Gallup is out. This position provides some fantasy value in a pass-heavy system.

Lamb and Schultz will still continue to operate as the No. 1 and No. 2 targets for Dak and fantasy managers should expect Ezekiel Elliott and Tony Pollard to be heavily involved in the passing game – combined for 111 targets last season. Still, this opportunity will present Tolbert with the chance to provide WR4 value with the possibility for more for as long as Gallup is out.

Once Gallup is healthy, however, the most likely scenario is him being the No. 2 receiver. Despite the torn ACL injury, the Cowboys still decided to extend Gallup to a five-year deal worth $62.5 million. That investment likely gives him the inside track to the starting role when he's healthy.

Tolbert currently is being drafted as the WR76 on Underdog with an ADP of 174, which puts him in the middle of round 14. With an ADP that late, fantasy managers need to expect most selections are going to fail or provide little value. Tolbert has the chance of playing starter's minutes right away for Dallas and barring Gallup's health, could stay there all season. At his current ADP, it's more than a worthwhile dart throw for fantasy managers to make – in fact, fantasy managers shouldn't be afraid to swing a bit earlier if need be for Tolbert considering his early opportunity.

The Bottom Line
Tolbert is a fifth-year player out of South Alabama who did not produce until his redshirt junior season.
His last two seasons at South Alabama were incredibly productive and he was one of the most efficient receivers in the country in 2021.
The competition jump from South Alabama to the NFL will be substantial and it could result in a lot of growing pains in Year One
Dallas presents Tolbert with the chance to start right away in what should be an above-average offense with excellent quarterback play.
Based on his Underdog ADP and the opportunity he has in front of him, fantasy managers shouldn't be afraid to select him slightly ahead of his current ADP, although it's best not to get carried away.
He's best viewed in that WR5/6 range with some upside if Gallup's return takes longer than expected and he's able to acclimate to the pro game quickly.