Can Garrett Wilson Take Off in Year 1 for Fantasy Managers?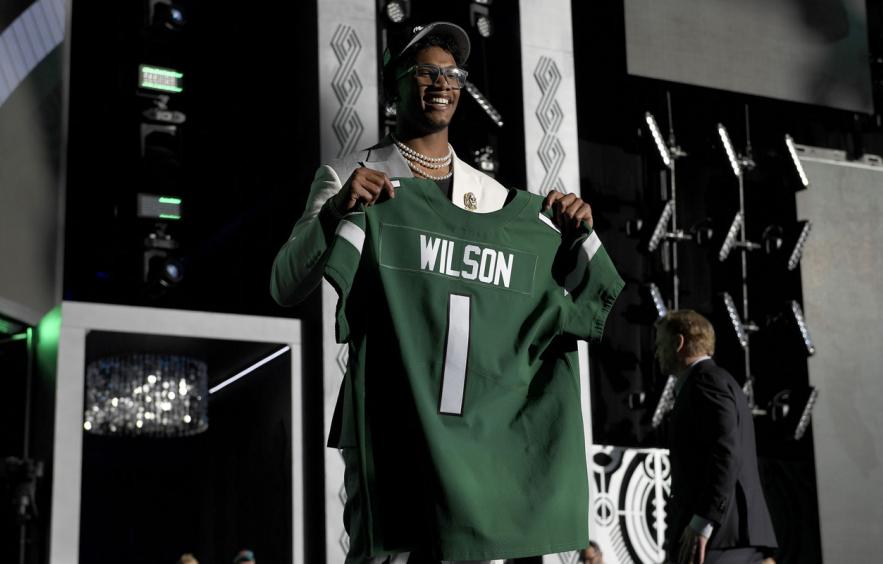 David Becker/Getty Images
Throughout the offseason, the Jets showed considerable interest in adding another receiver to their roster. They were on the hunt for a true No. 1 receiver. They were involved in the Tyreek Hill trade discussions with the Chiefs and are said to have made an offer to the 49ers for Deebo Samuel. When they weren't able to strike a deal with either team it became a foregone conclusion they were going to be looking at receiver with either pick No. 4 or No. 10.
The predraft process often tied Garrett Wilson of Ohio State to the Jets. While general manager Joe Douglas may not have been able to trade for his guaranteed alpha receiver in Hill or Samuel, they were able to select someone they believe can turn into a true No. 1 receiver.
The addition of Wilson not only speaks to the organization's belief in his talent but also to the notion of ensuring second-year quarterback, Zach Wilson has everything he needs to be successful. Over the last two seasons, the Jets have completely remade their offense—they signed Corey Davis last year and drafted second-round prospect, Elijah Moore. They also found a solid pass-catching back in the fourth round, Michael Carter. This year they brought in tight ends, C.J. Uzomah and Tyler Conklin.
In the draft, not only did they add Wilson, but they also took the consensus No. 1 running back in the second round, Breece Hall out of Iowa State. Zach Wilson is surrounded by a ton of weapons and it'll be up to him to make everything click and Garrett Wilson figures to be a big part of that.
---
Click here for more 2022 Player Profiles!
---
What Made
Garrett Wilson

Worthy of the No. 10 Pick?

In three seasons at Ohio State, Wilson has always had to compete with an absolutely stacked receiver room. In his first year on campus, he was competing against sophomore and future first-round pick, Chris Olave and fifth-year super-senior, K.J. Hill. Not only that, but Wilson also had to beat out fellow recruit and future first-round pick, Jameson Williams. Talk about iron sharpening iron. Despite the ample competition, Wilson made his presence known as just a true freshman finishing with 30 receptions for 432 yards and 5 touchdowns on 42 targets. These numbers aren't mind-blowing by any means, but considering the context of his situation, they're certainly impressive in their own right.

He took a big step forward in his sophomore season, a year shortened by Covid-19, which left the Buckeyes with just eight games. With Hill graduated, Wilson moved into the No. 2 role behind Olave, fending off Williams and true freshman and future sophomore sensation, Jaxon Smith-Njigba. Despite playing in six fewer games than the previous season, Wilson still managed to increase his entire production across the board. He finished with 58 targets, 43 receptions, 723 yards, and 6 touchdowns. His target share jumped from 10.4% as a freshman up to 25.8% in his second season. His efficiency also sky-rocketed. His 3.04 yard per route run in 2020 ranked 18th in the country among receivers with at least 50 targets. This set the stage for what would be his best season at Ohio State.
New Jets WR Garrett Wilson in #ReceptionPerception:



- Separation at every level of the field

- Ranked 2nd in success rate vs. zone coverage

- Had more plays "in space" where he broke 2+ tackles than any other WR chartedhttps://t.co/yKeeDCnc5T pic.twitter.com/oP4z0WYtph

— Matt Harmon (@MattHarmon_BYB) April 29, 2022
The target competition in year three did not get any easier. Olave decided to return to school for his senior season and Smith-Njigba was ready to contribute in his sophomore season. If there's a red flag to Wilson's draft profile it's that he never led the Buckeyes in receiving in a season. Olave bested him in years one and two. Then in year three, Smith-Njigba officially announced himself to the world of college football by producing one of the best stat lines in the country. Wilson was no slouch though and in 2021, he finally leapfrogged Olave.
Wilson racked up 102 targets in 13 games and finished with 70 receptions for 1,058 yards and 12 touchdowns. His target share fell to 20.6% as Smith-Njigba became the No. 1 receiver to new quarterback, C.J. Stroud. While the decrease in target share was not ideal, it didn't stop Wilson from being one of the most efficient and electric receivers in the country.
He averaged 15.1 yards per reception and was tied for seventh for the most touchdowns. His 3.0 yards per route run average ranked 15th among receivers with at least 75 targets in 2021, another elite metric. While some may look at his smaller frame of 183 pounds as a negative and assume he cannot become a true No. 1 receiver at the next level, it certainly didn't stop Wilson from playing through contact at Ohio State.
He finished his junior season with a 61.5% contested catch rate, which tied for 10th. He also averaged six yards after the catch (YAC) per reception displaying the ability to make something happen once he had the ball in his hands. Matt Harmon of Reception Perception had this to say about Wilson,
"Wilson broke multiple tackles on 20% of his "in space" attempts. Not only was that the highest among 2022 prospects, it bests last year's class too. There were a ton of hyped-up open-field players in that crop... Wilson's ability to quickly get off press at the line of scrimmage, beat man coverage as a pure outside receiver and win at all levels of the route tree gives plenty of credence to the idea he could develop into a No. 1 receiver at the NFL level. The sprinkle of spice he adds as a YAC threat really takes things to the next level."
Garrett Wilson

's Fantasy Prospects as a New York Jet

Fantasy managers will often hear the saying, "targets are earned" and the majority of the time, this notion holds true. The quarterback, the offensive scheme, and the football generally find its way to the best players on any given team. However, the situation does become a bit murkier when there are so many mouths to feed. In our updated tracker of vacated targets, the Jets have the ninth-most in the league with 209 vacated targets. While that may seem like a lot, they are adding Uzomah, Conklin, Wilson, and Hall. It should also be noted Corey Davis missed eight games last season, so he's going to command more targets than he did last year on playing time alone. It certainly begs the question, can Zach Wilson keep all of these pass-catchers involved? And to what extent?

Fantasy managers should expect Davis, Moore, and Wilson to lead the way here, but just exactly how these targets are distributed will be extremely important. As a rookie, it took Moore a little bit of time to settle in, but when he did, things really started to click. From Weeks 8–13, he was the overall WR2. Unfortunately, he suffered an injury in Week 13 and missed the rest of the season. He averaged 16.1 half-PPR points and 8.5 targets per game during that stretch. During that six-week period, Davis did miss three games, which significantly lowered his target competition.

Davis on the other hand started the season off hot, averaging 11.8 PPG through the first seven weeks, which ranked as the WR24. He finished the 2021 campaign with 6.56 targets per game, which falls mostly in line with his career average of 6.11. The third receiver for the Jets, Jamison Crowder averaged 5.96 targets per game while Moore finished with 7.00 targets per game.

Considering the draft capital the Jets used to get Wilson on their team, fantasy managers should assume they have a plan for him in year one. Davis is a five-year veteran who does not have a single 1,000-yard season to his name and has averaged 51.4 yards per game, which over a 17-game schedule amounts to 874 yards. It shouldn't be a surprise if Wilson passes Davis on the target hierarchy rather quickly. Davis is a nice player, but he's never been a big target earner.

While there are a lot of names on the Jets' roster, outside of Moore they lack elite talent, which is something Wilson possesses. Wilson and Moore are the future of this passing offense and they should be No. 1 and 2 in targets this season. A lot of the fantasy value of Wilson and Moore is directly tied to Zach Wilson taking a substantial step forward in year two. That will be necessary if fantasy managers are able to trust these two young receivers in their lineups in 2022.

Moore should be expected to see 7–8 targets this season, while Wilson will likely be in that 6–7 range, which at season's end amounts to a seasonal total of around 110 targets. A 60% catch rate would yield about 66 catches for between 825–875 yards. This type of stat line would leave Wilson being more of a high-end WR4, but also a player with WR3 potential. This is how fantasy managers should be valuing Wilson this season.

The Bottom Line
Wilson was an elite prospect entering the 2022 NFL Draft and was more than worthy of being a top-10 selection.
He put up back-to-back seasons at Ohio State of averaging at least three yards per route run.
There's a lot of pressure on Zach Wilson to make the most of his significantly improved offensive weapons.
Garrett Wilson is likely to settle in as the No. 2 target for the Jets this season behind Elijah Moore.
Because of the presence of Elijah Moore and Corey Davis, Wilson is best viewed as a WR4 with WR3 upside.