Myles Gaskins has the Potential to be an RB1 in 2021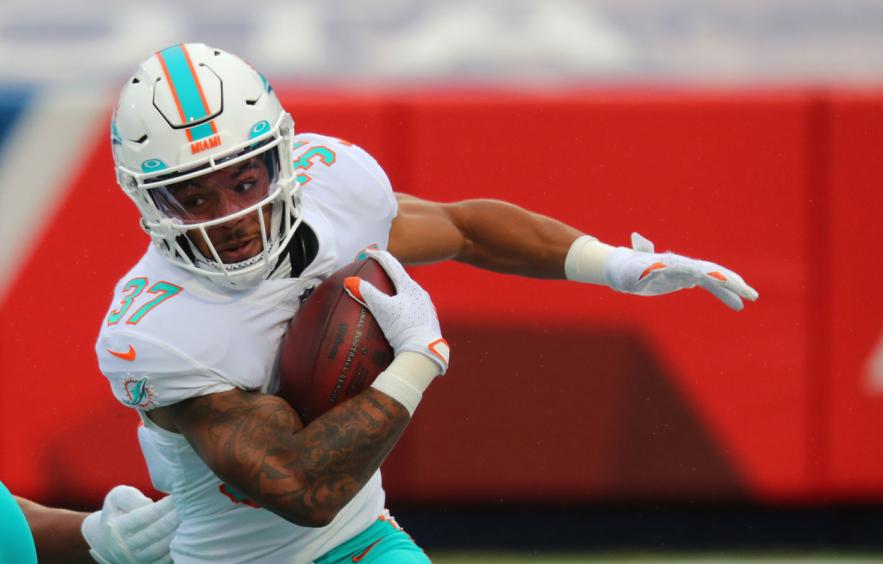 Timothy T Ludwig/Getty Images
Regardless of which draft strategy you utilize to assemble a winning fantasy football roster in 2021, hitting on potential every-week running backs is integral. Even successful ZeroRB drafters know that those mid-round rushers can make or break a championship-caliber roster.
Sometimes these backs go undrafted and manage to be thrust into the spotlight. Last season, players like J.D McKissic, Mike Davis and Myles Gaskin were almost entirely ignored in August drafts but managed to post RB2 numbers.
---
Editor's Note: Read more player profiles from the rest of the 4for4 staff!
---
While Gaskin isn't going to sneak up on anyone in 2021, he still looks like an outstanding value and proved that he is more than capable of taking on a three-down workload for a rising young offense.
With the additions that the Dolphins acquired this offseason and the fact they didn't add any potential competition until the seventh round of the 2021 NFL Draft, Gaskin is in an excellent position to resume the heavy workload he earned in his sophomore season and be a must-have fantasy football target.
Gaskin's 2020 Emergence
Gaskin is no stranger to overcoming long odds. After setting touchdown and all-time rushing records at Washington, Gaskin slid to the 234th pick of the 2019 NFL Draft due to concerns over his size (5-foot-9, 200 pounds) and relatively unimpressive 4.58 speed.
Coming off of the uninspiring Adam Gase era, Miami was in a full rebuild with a new regime and Gaskin, as a seventh-round rookie, had long odds to make the roster behind Kenyan Drake, Samaje Perine, Kalen Ballage and Mark Walton.
But after Drake was traded to Arizona and the Dolphins released Ballage and Walton, Gaskin got some playing time in December and showcased in Week 16. Still, expectations weren't high for Miami in 2021 and Gaskin's ADP was almost non-existent.
Still, Gaskin led the team in rushing right out of the gate and took the lion's share of snaps. All together, Gaskin averaged over 18 touches per game and put up a nifty 14.4 half-PPR points weekly, which ranked 11th among all NFL running backs.
First a shoulder ailment, then a stint on the COVID-19 list cost Gaskin six games but even after he returned, he was given feature back touches when active. In all, Gaskin averaged 58.4 rushing yards per week, with an additional 4.1 receptions and 38.8 receiving yards.
With only committee back Malcolm Brown added via free agency and 2021 seventh-rounder Gerrid Doaks added to the fold, Gaskin enters 2021 as the clear-cut starter for the Dolphins and should be on track for a big workload.
Miami's 2021 Outlook
Chan Gailey resigned following Miami's season-ending loss at Buffalo. In his place, Brian Flores will go the unconventional route of having co-offensive coordinators in George Godsey and Eric Studesville. Both coaches were involved in last year's offense and are familiar with personnel and concepts.
Expectations are that Godsey and Studesville will incorporate some of the plays from Miami's 2020 playbook but the team wants to be more aggressive and challenge defenders vertically downfield. With Will Fuller and No. 6 overall pick Jaylen Waddle combining with DeVante Parker, lanes should open up nicely for QB Tua Tagovailoa and the running game.
Flores prefers to feed his starting running back early and often, which bodes well for Gaskin. Even after Salvon Ahmed filled in admirably in the offense last season, Flores immediately reinserted Gaskin back into his featured role in Weeks 13 and 16.
Malcolm Brown was added to the backfield mix but early indications are that he may be featured in short-yardage situations or simply in a change-of-pace role. Brown was never able to take hold of a bigger role with the Rams and is unlikely to take many touches away from Gaskin.
And while Brown was talked up as a potential option on the goal line, Gaskin was actually a more effective red-zone runner. Despite only playing 10 games, Gaskin tied for 12th among all running backs with 21 carries inside the opponent's 10-yard line. In all, Gaskin accumulated 40 red zone touches in 2020.
Salvon Ahmed is also in the mix but was a complete non-factor when Gaskin was active. Ahmed didn't even touch the ball in 2020 until Week 9 when Gaskin was injured and after Gaskin returned, Ahmed only mustered 12 carries for 31 rushing yards in Miami's final two contests.
Miami was rumored to be a potential landing spot for Najee Harris or Travis Etienne, but when the Dolphins entered the final day of the draft without any real added competition, Gaskins' status as a top-20 fantasy option in 2021 was sealed.
Bottom Line
With an Underdog ADP in the top half of Round 5, Gaskin is an excellent mid-round target, particularly for ZeroRB drafters looking for high-volume RB2 options who can also excel in the passing game.
Gaskin produced top-12 fantasy numbers (half-PPR) on a per-game basis last season and was in on 69.4% of Miami's snaps in his 10 games.
An excellent receiver, Gaskin reeled in a nifty 41-of-47 (87.2%) targets last season. Extrapolated out to 16 games, that's a pace of 75 targets and 66 receptions, which both would have been top-5 RB numbers last season.
With a more aggressive scheme and the presence of field-stretchers in Will Fuller, DeVante Parker, Jaylen Waddle and Mike Gesicki, Miami has the potential to be a top-10 offense in 2021 and Gaskin could approach RB1 status if his usage and effectiveness carries over.