It's Time to Fly Solo for Mike Davis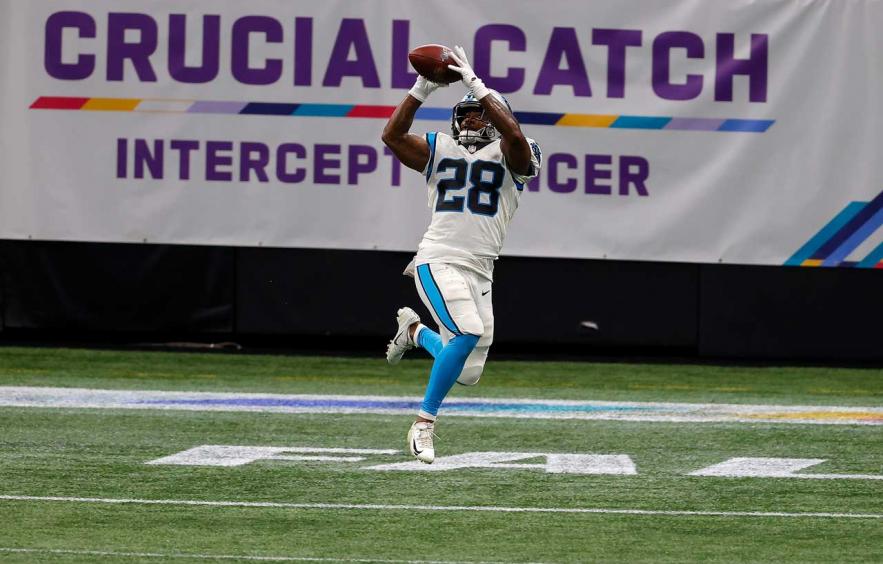 Kevin C. Cox/Getty Images
It's hard to argue against Mike Davis as being one of the biggest post-draft fantasy winners, if not the biggest winner following the conclusion of the three-day event. Heading into the draft, many assumptions were made about the Atlanta Falcons drafting a running back and taking one early, most likely with their second-round pick (35th overall). The draft came and went, though, and not only did the Falcons not use an early-round pick on the running back position, they didn't draft a single ball carrier through seven rounds. Myles Gaskin, a fellow draft winner, was almost just as lucky, as the Dolphins only used a measly seventh-round pick on a back.
I already wrote about the Dolphins' backfield earlier this offseason, and the potential fantasy value Gaskin would bring if the team didn't pair him with an early-round back. Now it's time to focus our attention on Mike Davis's fantasy value.
---
Editor's Note: Read more player profiles from the rest of the 4for4 staff!
---
A Massive Opportunity
The Falcons cleaned house in the running back department, jettisoning their top three backs from a season ago—Todd Gurley, Brian Hill and Ito Smith. It feels like only yesterday Smith was dubbed the team's No. 1 running back. How quickly things change.
The law firm of Gurley, Hill and Smith combined for 358 of Atlanta's 366 rushing attempts from the running back position in 2020. Here's a breakdown of their per-game touches from last season:
Falcons

RB Usage, 2020

| Player | Rush Att/Game | Recep/Game | Total Touches/Game |
| --- | --- | --- | --- |
| Todd Gurley | 13.00 | 1.67 | 14.67 |
| Brian Hill | 6.25 | 1.56 | 7.81 |
| Ito Smith | 4.57 | 1.21 | 5.78 |
| Total | 23.82 | 4.44 | 28.26 |
With the three of them now gone, 28.3 touches per game are available in Atlanta's run game, with Mike Davis the likely top beneficiary. Outside of Davis, the Falcons' 2021 RB depth chart consists of a converted receiver/gadget player in Cordarrelle Patterson, a couple of bodies in Qadree Ollison and Tony Brooks-James, who have a combined 25 career touches, and 2021 undrafted free-agent rookie Javian Hawkins.
The Falcons invested very little in the running back position, signing Davis to a two-year deal worth $5.5 million and agreeing to terms with Patterson on a one-year, $3 million deal. Getting rid of nearly all their running backs, and spending next-to-nothing in terms of draft capital and free-agent money makes it seem like the Falcons are either part of "Running Backs Don't Matter" Twitter, or they saw enough of Davis up-close and personal last season as Christian McCaffrey's replacement to warrant permanent starter consideration. In two games versus the Falcons last season, Davis combined for 226 total yards on 39 touches for a 5.8 yards-per-touch average.

Target Acquired
Julio Jones and Calvin Ridley get all the recognition, and rightfully so when it comes to the passing game in Atlanta, but the running backs were somewhat involved last season—an area Davis can also contribute. The "dynamic" trio of Todd Gurley, Brian Hill and Ito Smith combined for 90 targets last season. Even fullback Keith Smart saw 15 targets. Davis, in a prominent playing role, recorded a career-high 70 targets last season. He also set career-highs in receptions (59) and receiving yards (373). That was all in just 12 starts. Running backs who catch passes are extremely valuable in fantasy, and Davis, who saw 5+ targets in nine games last season, is in a prime spot to produce fantasy points via the air, in addition to on the ground. Atlanta's running backs coach also highlighted the fact Davis is a "natural pass-catcher."
Desmond Kitchings said he believes Mike Davis is a "natural pass catcher," that is another piece besides him as a runner that he can fit well in what they are trying to do offensively this year.

— Michael Rothstein (@mikerothstein) May 10, 2021
Arthur Smith RB Usage History
It's difficult to predict what the Falcons' running game will look like under new head coach Arthur Smith because he had the fortune of being the Titans' offensive coordinator the last two seasons while rostering one of the best running backs in the NFL in Derrick Henry. Over the last two seasons, Henry combined for 718 touches, compared to 189 touches for all other Titan backs, and he also had an RB snap share of 66% last season. Henry's passing-game usage is where things might look different in Atlanta, though, as he saw only a total of 56 targets the last two seasons. We've already gone over Davis' pass-catching abilities earlier and highlighted how that might be an area of strength for him.
Potential Ball-Hawkins
It was mentioned earlier how uninspiring Atlanta's running backs are behind Davis, and even Davis himself is underwhelming, but there are still some people clamoring for hope when it comes to pre-draft Twitter darling, Javian Hawkins. A lot of rose-colored glasses were thrown in the trash once Hawkins went undrafted, however, not all hope was lost when news broke he had signed with the Falcons as an undrafted free agent. As rookie evaluation is not a strong suit of mine, I turned to one of my trusted film evaluator sources in the fantasy football community in Zac Reed of the Dynasty Dummies podcast. Don't let the name fool you, Reed is anything but a dummy when it comes to prospecting rookies. Here's what he had to say about Hawkins prior to the NFL Draft:
"Javian Hawkins feels like a man without a true position— he's too small to be a traditional feature back, and he doesn't have the pedigree to claim a pass-catching role. He will probably generate micro-burst of excitement centered around splash plays, but it's hard to see a way that he produces consistently for your fantasy team."
This was Zac's pre-draft report on Hawkins. Knowing how the draft unfolded, it's hard to get all that worked about Hawkins having a potential role in Atlanta's offense. Even if you think he might be involved in the passing game and take targets away from Davis, Reed noted Hawkins recorded a total of just 21 passes in college.
Where to Draft
Mike Davis
In an expert mock draft held immediately after the NFL Draft concluded, Davis went 55th overall with the 5.07 pick to fellow 4for4 scribe, Jeff Hicks. Which is pretty close to his current Underdog ADP of 50.7. He was the 24th running back off the board in our expert draft and is the RB24 on Underdog as well. Our own John Paulsen also has him ranked as his RB24 in his Never-Too-Early rankings.
Looking at the backs currently ahead of him on Underdog, Davis could leapfrog Travis Etienne (47.4 ADP/RB23) and Myles Gaskin (45.8 ADP/RB22) and find himself drafted alongside Josh Jacobs (42.3 ADP/RB21). The later we get into the offseason, the more steam will be behind Davis as drafters will come around to the thought of him as Atlanta's top back who finds himself in an opportunity for a heavy workload. How many running backs who could see 15-20+ touches per game are available in the fourth or fifth-round of fantasy drafts? Davis presents the possibility of being the last of the running backs who aren't involved in some sort of timeshare—a valuable commodity in fantasy football these days.
Bottom Line
The opportunity is there for Davis to become a true workhorse running back, it's now up to him to seize it. It's difficult to envision anyone outside of Davis leading this team in running back touches next season—unless the Falcons do something crazy and trade Julio Jones for James Robinson. Please, Atlanta, don't do that. Davis provides fantasy drafters a unique situation—a running back who could see plenty of his team's running back opportunities (touches plus targets) mainly due to a lack of competition but who doesn't cost a first- or second-round pick normally attached to true No. 1 running backs.
Having no "brand name" pedigree and seen mainly as a complementary back, Davis finds himself in the fifth round of fantasy drafts. Even if he moves into the fourth round by the time August rolls around and nothing changes in Atlanta's backfield, the price will be right. You can target Davis either as a high-end RB2 in RB-heavy builds or as the first piece of a running back stable if you prefer to bypass the position in the first three rounds.