How to Approach the Broncos' Backfield in 2021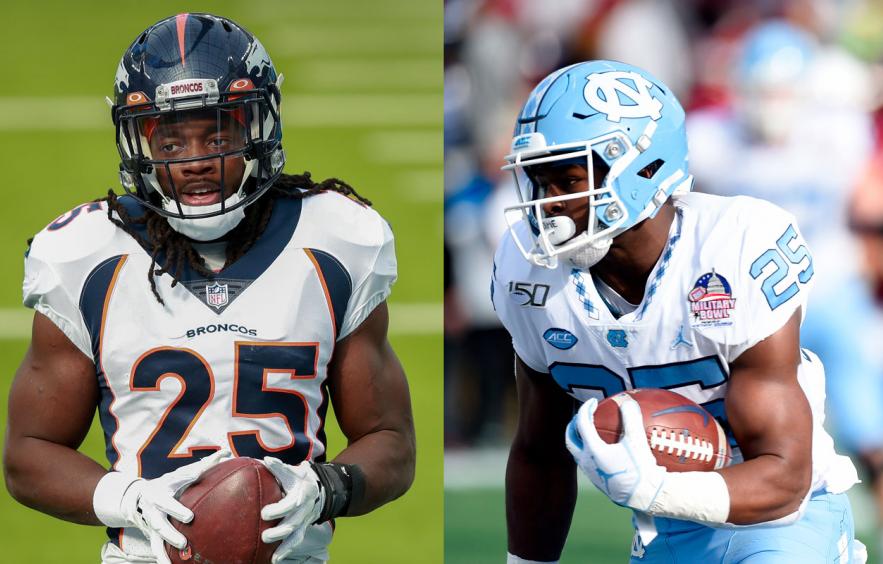 Joe Scarnici & G Fiume/Getty Images
On Day 2 of the 2021 NFL Draft, the Broncos traded up to the 35th spot to take Javonte Williams in the second round, joining Melvin Gordon, Mike Boone, and Royce Freeman in the Denver backfield at the start of training camp.
What does Williams heading to the Mile High City do for the fantasy value of both he and Gordon in 2021? Let's get into it.
---
Editor's Note: Read more player profiles from the rest of the 4for4 staff!
---
Sharing is Nothing New for Williams
While in the backfield at the University of North Carolina, Williams split duties with fellow NFL rookie Michael Carter for two seasons, posting an impressive 157-1140-19 rushing line (7.3 YPC) with an additional 25-305-3 through the air in 2020 in just 11 contests.
Despite sharing the load with another NFL-caliber back, Williams still experienced a breakout in his final year and was regarded by some as the premier RB in this year's draft class.
The 21-year old has proven to be durable, as he never missed a contest in college due to injury. He enters the NFL known for breaking tackles - 76 on 157 carries in 2020 - which should translate nicely to the professional level at his size.
While some may think this isn't a great spot for both Williams and Gordon to produce fantasy numbers in 2021, there could be room for both in this Denver offense.
Vic Fangio Has No Problem with an RBBC (at least to start)
Williams profiles as a three-down back and the Broncos didn't trade up to early Round 2 to have him sit around and wait for his turn. But, they already have a running back on their roster who was RB7 in rushing yards last season and has one year left on his contract.
While I can't get inside Fangio's head or even chat with him about his plans, considering his history of divvying up the workload during his first two seasons in Denver, both Williams and Gordon have the potential to get enough work to make fantasy managers happy this season.
At least to start the season, we should see Williams slide into the role vacated by Lindsay, which was around 11 carries per game in 2020 with Gordon in Denver. So even if he remains in that complementary situation, there's still fantasy relevancy there from the start.

Where Should You Draft the Duo?
Gordon averaged 12.2 half-PPR points per game last year, ending the season as the RB22 in that category. His ADP in Underdog leagues was 35.4 as the 19th back off draft boards. Just a handful of days post NFL Draft, Williams boasts an ADP of 64.4 (early-sixth round) as RB27, with Gordon not too far behind as RB29 in the seventh round at spot 76.0.
If this season plays out similarly to last year's crop of rookies like Jonathan Taylor, J.K. Dobbins and Cam Akers, with Williams taking some time to emerge as a fantasy starter, that would put him somewhere in the flex zone to start out the season. There's a scenario where Williams could straight-up beat out Gordon for the starting role right away, as he is a younger version of the veteran, which would make him a great value as a sixth-round pick.
Either way, he'll find a path to production, as his draft capital and skill set are not to be ignored. In redraft leagues, Williams will be a great target for Zero RB drafters with league-winning upside. In best-ball formats, his upside as the seasons progresses is very appealing, but if the rookie's ADP continues to climb much higher than the sixth-round, he could become too expensive based on the real potential of an RBBC in the Broncos' backfield.
Before the NFL Draft, Gordon was a solid value in Underdog drafts as a fifth-rounder. Now that he's joined by an RB in a linebacker's body, his ADP has begun to fall, and for good reason. It's tough to count on the 28-year old as a fantasy starter with someone like Williams nipping at his heels. I'd consider Gordon an RB3 at this point with the potential to put up decent numbers to start out the season. If he falls a round or two with the likes of Leonard Fournette or Damien Harris then he makes sense, but for now, while Gordon is still leaving boards near players with clear starting roles in their respective offenses, he's a pass at that ADP.
Bottom Line
Denver traded up to land Javonte Williams and got a three-down playmaker who's adept at breaking tackles.
Head Coach Vic Fangio has instilled a committee approach to the backfield in his two seasons in Denver and 2021 should start out no differently barring injury.
Williams has the skills to be the lead back and could usurp Melvin Gordon at any point in the NFL season, making him the more desirable pick for any fantasy format.
In redraft leagues, Williams should be considered a late single-digit round target, and in best-ball formats, his current Underdog ADP of 64.4 is accurate but it could shoot up as training camps ramp up this summer.
Melvin Gordon should be fine to draft in redraft formats as a flex player in the range with other committee backs since he'll most likely begin the year as the starter, but in best-ball formats like Underdog he's not as desirable, especially at his current 76.0 ADP.