Don't Sleep On JuJu Smith-Schuster in 2021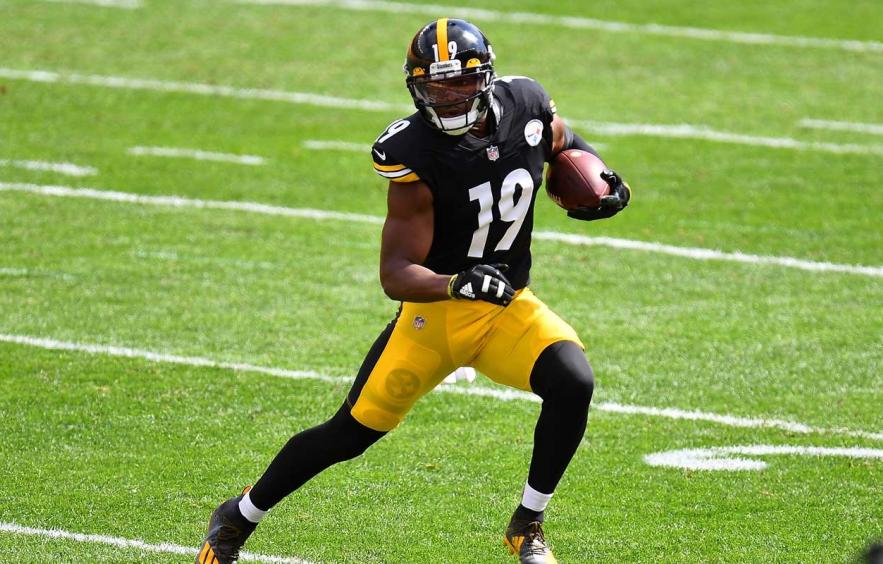 Joe Sargent/Getty Images
The shine has worn off JuJu Smith-Schuster. After a promising start to his career, JuJu has become viewed as a "boring veteran," despite the fact that he's still only entering his age-25 season. He's become a slot receiver with a low average target depth (aDOT), causing fantasy players to search elsewhere for upside. Diontae Johnson has supplanted JuJu as the WR1 in Pittsburgh and Chase Claypool is waiting in the wings.
This has caused JuJu's draft cost to plummet, as he's currently being selected as WR38 (79.1 ADP) in Underdog fantasy leagues. We are now presented with a buying opportunity. Despite his shortcomings, JuJu is still a dependable receiver who can stabilize your roster with his high floor. JuJu re-signed in Pittsburgh on a one-year deal in an effort to increase his market value. He's got a chip on his shoulder heading into the 2021 season.
---
Editor's Note: Read more player profiles from the 4for4 staff!
---
JuJu finished as the WR25 in half-PPR points per game (PPG) last season among wide receivers with at least 10 games. Quarterback Ben Roethlisberger is back for another season, so you can be assured that JuJu will remain one of his safety valves in short and intermediate targets. We could see some improvement with new offensive coordinator Matt Canada taking over play-calling duties. While some fantasy players are concerned about the selections of running back Najee Harris (first round) and tight end Pat Freiermuth (second round), these risks are already baked into JuJu's current draft cost. Let's take a deeper look at why JuJu should remain a high-floor player on the WR2/3 fringe in fantasy leagues this season.
Early-Career Production
Before we get into this year's team context, we need to acknowledge JuJu's impressive early-career production. According to Stathead, JuJu's 1,426 receiving yards (2018) were the second-highest total by a 22-year old wide receiver in NFL history, behind only Josh Gordon. JuJu's career totals of 3,726 receiving yards are the 10th-most ever for wide receivers aged 20-24. Only Randy Moss, Mike Evans, Larry Fitzgerald, Odell Beckham, Brandin Cooks, Amari Cooper, David Boston, and Hakeem Nicks began their careers with more yardage. That's an impressive group of wide receivers and really highlights the consistency shown by JuJu throughout his career so far.
The
Steelers

' New Offense

According to Warren Sharp, the Steelers were one of the most predictable offenses in the NFL last season:
the Randy Fichtner effect:



when the Steelers were under center they ran the ball 85% of the time (avg=68%)



when they were in shotgun they passed the ball 76% of the time (avg=72%)



they were the #1 most predictable offense in the NFL based solely on where the QB stood pre-snap

— Warren Sharp (@SharpFootball) June 17, 2021
We can expect this to change under Matt Canada. Mark Kaboly, who is a senior Steelers writer for The Athletic, wrote a recent article that really breaks down this new offense. Canada hopes to add more tempo and pre-snap motion to the offense. He also plans to have Big Ben line up under center, something that he only did 47 times in 646 snaps last season. This is huge news because Canada is essentially modernizing what was a vanilla and predictable offense under Fichtner. We can reasonably project improvement in efficiency across the board in Pittsburgh. This bodes well for JuJu's outlook, but what about Harris and Freiermuth?
The first-round selection of Najee Harris has fantasy players projecting a more balanced offense, which would have a negative impact on the Steelers' wide receivers, particularly JuJu, who needs more volume to be fantasy-relevant due to his low aDOT. However, this risk is a bit overblown. The Steelers passed the ball 66% of the time in neutral game script, which was the most in the NFL. Even if you project this number to decrease to about 58%, that would still rank in the top 10. The Steelers will remain a pass-heavy team with Harris playing the James Conner role from 2018, a year where Roethlisberger still had 675 attempts. The volume will be there for JuJu to remain effective.
Another concern expressed by fantasy players is that rookie tight end Pat Freiermuth joining Eric Ebron will cause the Steelers to shift to more two-tight end sets, potentially taking snaps away from JuJu, who primarily plays in the slot. We shouldn't be too worried about this because rookie tight ends take longer to make an impact in the NFL. It's unlikely that Freiermuth will be immediately thrust into a major role in his first year. Also, JuJu has stated that you can expect him to "play outside more" this season. You don't need to worry about a decrease in snap percentage for Smith-Schuster in 2021.

The Bottom Line
JuJu has finished as WR25, WR9, and WR16 in half-PPR PPG in his three healthy seasons, yet he's priced at WR38. It's hard to see a scenario where he doesn't profit at his current ADP. The Steelers' offensive line has major concerns, so we could see Roethlisberger forced into quick passes, which aligns perfectly with JuJu's skill-set as a receiver who thrives in the short-to-intermediate passing game. While a WR1 finish seems beyond JuJu's range of outcomes, he should be able to provide a solid weekly floor in the WR2/3 range, but he's being drafted as a WR4. Take advantage of this low price and capitalize on the buying opportunity. Don't sleep on JuJu.