Can Tutu Atwell Emerge as the Rams' WR3?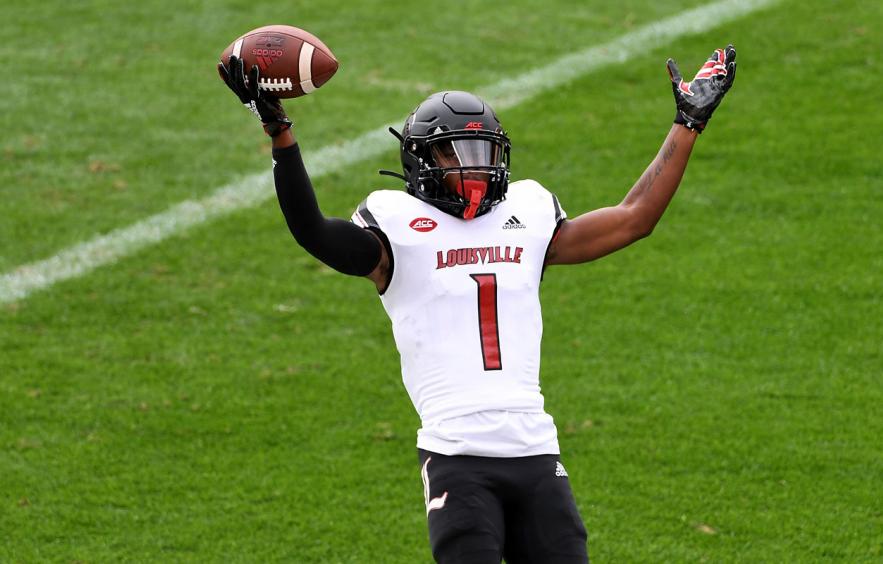 Justin Berl/Getty Images
Drafting without a first-round pick as a result of the Jalen Ramsey trade, the Los Angeles Rams selected Louisville's Tutu Atwell with the 57th overall pick in the 2021 NFL Draft. Functioning as their first pick, Atwell enters a wide receiver room already containing Cooper Kupp, Robert Woods, DeSean Jackson, and Van Jefferson. Already spending considerable resources on the position, the Atwell pick looks more curious considering his minuscule stature. Now battling size concerns and productive pass-catchers throughout the offense, Atwell's future at the NFL brings numerous obstacles to overcome.
This piece will take a look at Atwell's collegiate production and what to expect at the NFL level. From there, we will examine Atwell's potential fit with the Los Angeles Rams and decipher how this could influence the offense as a whole.
---
Editor's Note: Read more player profiles from the rest of the 4for4 staff!
---
Tutu Atwell

's Explosive Potential

One of the smallest prospects in recent memory, Louisville's Tutu Atwell checks in at 5-foot-9, 155 pounds. Officially timed at 4.39 seconds in the 40-yard dash, Atwell's explosive ability led to his second-round draft selection with the Rams. Reminiscent of Tavon Austin, Atwell actually cedes 20 pounds to Austin. However, Atwell also played a clearly defined role with Louisville, unlike Austin at West Virginia.

From a production standpoint, Atwell contributed immediately as a freshman with Louisville. Despite his minuscule size, Atwell caught 24 balls for 406 yards and a pair of scores as a freshman. Playing 98% of his snaps in the slot in 2018, Atwell showed glimpses of the big-play ability displayed in future seasons.

Moving to 2019, Atwell produced his first breakout season at age 20 with 69 catches for 1,272 yards and 11 scores in 13 games. He subsequently followed this up with 46 catches, 625 yards, and seven touchdowns in nine games during 2020. Atwell missed a pair of games due to injury, but also the majority of a few others. In total, Atwell finished with a 38.1% College Dominator and 37% target share sustained during his 2019 season. College Dominator refers to the total percentage of receiving yardage and touchdown production a player accounted for in their final season, while Breakout Age refers to the age of a player during their first season accounting for 20% of receiving yards and touchdowns in their offense.
Atwell's 2020 Game Logs

| Opponent | Targets | Rec | Yds | TD |
| --- | --- | --- | --- | --- |
| Western Kentucky | 8 | 7 | 78 | 0 |
| Miami FL | 10 | 8 | 114 | 2 |
| Pittsburgh | 10 | 4 | 37 | 1 |
| Georgia Tech | 12 | 6 | 52 | 1 |
| Notre Dame | 5 | 4 | 40 | 0 |
| Florida State | 5 | 3 | 129 | 1 |
| Virginia Tech | 10 | 8 | 78 | 0 |
| Syracuse | 3 | 1 | 19 | 1 |
| Boston College | 8 | 5 | 78 | 1 |
From an efficiency perspective, Atwell looks like a potential vertical threat from the slot. Atwell played at least 80% of his snaps in the slot during his three seasons at Louisville and will likely be limited to this role in the NFL due to size. However, he was often used downfield at Louisville. In 2020, 19 of his 71 targets occurred beyond 20 yards. He also displayed a rare ability to create on his own with 752 yards after the catch back in 2019. Although these numbers dropped in 2020, Atwell still possesses a diverse skill set for a player of his stature.

Offensive Fit with Los Angeles
Known for curious draft picks, Los Angeles came through again in 2020. Despite possessing various needs, the Rams doubled down at a position of strength with the Atwell pick. Positioned behind Cooper Kupp, Robert Woods, Van Jefferson, and DeSean Jackson, Atwell's path to playing time looks difficult immediately and potentially down the road.
Interestingly, Atwell's skill set also overlaps with Kupp's. Kupp played 61.7% of his snaps in the slot last year, posting 96 catches, 1,052 yards, and three scores on 126 targets. Also highly efficient with 1.95 yards per route run, Kupp remains too efficient to cede work to Atwell without injury. Perhaps Kupp can move to the perimeter, but the Rams also possess weapons out there. On the outside, Woods functions as the team's primary possession receiver and also has three straight seasons of at least 936 yards.
This leaves Atwell to battle with Jefferson and Jackson for complimentary snaps, with Josh Reynolds moving to Tennessee. Reynolds vacates 81 targets, 55 catches, 683 yards, and a pair of scores, so this role is significant. Also drafted with the 57th pick back in 2020, Jefferson produced very little in his first year with Los Angeles. The former Florida Gator racked up 266 yards and a pair of scores on 25 catches. However, Jefferson played just 28.7% of his snaps in the slot, making him more of a depth piece on the outside. Likewise, Jackson primarily plays a field-stretching role on the boundary. While Jackson hasn't played a full season since 2013, he retained an efficient 1.80 yards per route in limited action in 2020.
With little chance to contribute immediately outside of injury, perhaps Atwell remains a pick for future seasons. At 34-years old, Jackson is signed to a one-year deal. However, Kupp and Woods remain signed to long-term deals and Jefferson enters just the second year on his rookie contract. This means Atwell simply needs to outproduce one of these receivers to earn a significant role with the team.
Interestingly, Atwell doesn't even fill a need for the Rams on special teams. Atwell only returned four punts and no kickoffs during his career with Louisville. While the Rams may decide to use him in this capacity, he lacks experience in this area as well. Overall, Atwell's impediments to playing time extend beyond a physical profile that requires an outlier level of talent to produce on an NFL field.
From a redraft perspective, Atwell doesn't even come close to draftable. While Matthew Stafford provides an enormous upgrade to the entire Los Angeles Rams offense, Atwell simply doesn't have a path to playing time. Right now, he is best left as a potential waiver claim during the regular season.
From a dynasty perspective, Atwell looked like a late-round pick until the Rams gave him notable draft capital. However, the concerns with stature and playing time still exist for Atwell and extend well beyond 2021. 4for4's dynasty expert George Kritikos currently ranks Atwell as his WR15 and 28th overall player in rookie drafts. Kritikos also pegs Atwell as his WR77 and 158th overall player in dynasty startups.
Bottom Line
While this Rams offense earns a major upgrade with Stafford replacing Jared Goff, the ancillary pass-catchers remain a major question mark. Kupp and Woods come off the board at picks 52.4 and 45.4 on Underdog Fantasy, providing immense value in their range. Beyond that, Atwell, Jefferson and Jackson come off the board at 214.5, 206.2, and 200.6. With Atwell's size likely limiting him to the slot, taking a shot of Jefferson and Jackson makes more sense in the final rounds of drafts. While Jackson hasn't been healthy in recent years, he remains efficient at the very least. With Jefferson struggling as a rookie, he remains more likely to be replaced in the near future.