Be Careful Not to Chase the Upside with Edmonds in 2021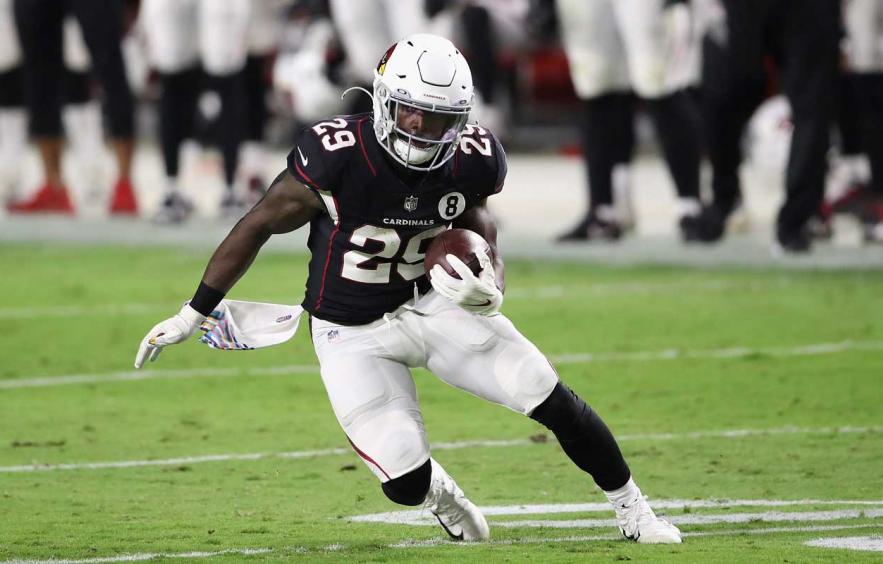 Christian Petersen/Getty Images
When the 2021 NFL Draft concluded, there was cause for optimism among all 32 NFL teams. Even the downtrodden Jets must have felt happy with their lot. But while the teams were happy—or telling themselves that they were happy—with the players they had added over the previous three days, a subsection of observers was almost ecstatic by players that one team, in particular, had NOT selected. That team was the Arizona Cardinals, who had not spent any of their picks on a running back. The subsection of observers were truthers for a former Fordham running back, almost certain that the Cardinals' inactivity was the ushering in of Chase Edmonds SZN.
Edmonds looks like he will be starting the 2021 campaign as the lead back for the Cardinals. But does that automatically mean we should be going out and snapping him up at the earliest opportunity every time we enter a draft room?
---
Editor's Note: Read more player profiles from the rest of the 4for4 staff!
---
So Much Tread On the Running Back Tires
Despite three seasons in the NFL, Edmonds has not commanded a large workload for the Cardinals. In 45 career games, he has carried the ball a total of 217 times, gaining 959 yards while scoring seven touchdowns. Edmonds has just three career games with 10 or more rushing attempts, with two games of at least 20. Last season he posted career highs in rushing attempts and yards, carrying 97 times for 448 yards. While not enjoying a high-volume role, Edmonds has at least been efficient whenever given an opportunity. He averages 5.7 yards per touch over the last two seasons.
While taking a backseat to Kenyan Drake for the most part on the ground, Edmonds was heavily involved in the passing game. Edmonds has 85 receptions for 610 yards and another five scores in his career, with 53 of these catches and 402 of the yards coming last season. He saw five or more targets in eight games last season. Edmonds lined up in the slot on 40 snaps in 2020, the third-most among all running backs according to PlayerProfiler.
The Opportunity is There For Edmonds
It certainly seems like the fates are aligning to give Edmonds a real chance at establishing himself as the primary back for the Cardinals. The Birds have 239 vacated carries from last season, the fourth-most in the league, with Drake now a thorn in Josh Jacobs's side for the Raiders. The Cardinals also like to mix in the run more than most teams, with a neutral situation pass to run rate of 55:45 last season. Only eight teams took to the air at a lower rate in one-score situations. The Cardinals also play relatively fast, averaging 67 plays per game last season for the seventh-most in the NFL.
The Cardinals are not blessed with elite offensive line play. Their unit is ranked at No.17 in the NFL according to Justin Edwards. Nor are they likely to be facing many situations where they can salt games away on the ground, feeding Edmonds in clock-killing situations—they have the ninth-hardest schedule according to their opponents' projected win totals in 2021, according to Sharp Football Stats. However, Edmonds's pass-catching should keep him involved even when Kyler Murray is forced to take to the air. The Cardinals have been around league average over the last two seasons in targetting their running backs in the passing game, looking for their backs on 19% of their pass plays.
Causes for Concern
As rosy a picture as this would seem to paint, several factors should make fantasy managers pause when considering pushing the button on Edmonds in 2021. While it would not surprise me if Edmonds led the Cardinals backfield in opportunities, that doesn't mean he'll get all the goodies that fantasy managers want from their backs.
We have to consider that Edmonds does not have an extensive back catalog to show that he is capable and comfortable in being THE guy for the Cardinals. As previously mentioned, he has just a pair of games in which he saw 20 or more rushing attempts. In one of them, he gained 126 yards and scored three touchdowns. The other? He gained 70 yards on 25 attempts. Small sample sizes worry me. Edmonds has shown he can be efficient on limited opportunities. But can he keep up this efficiency in the face of large volumes of work? We have not seen that he can. We have not seen that he can't, either. But the uncertainty makes him something of a risk for fantasy managers.
The Cardinals brought in James Conner from the Steelers in free agency to keep Edmonds company in the running back room. Things looked bright for Conner back in 2018 when he stepped in for the absent Le'Veon Bell for the Steelers. He averaged 16.5 rushing attempts and 5.5 targets per game on his way to 19.7 fantasy points per game in half-PPR formats. However, that season is beginning to look more and more like an outlier. In just 23 games (out of a possible 32) since then, Conner has commanded just over 12 carries and less than four targets, chipping in with 51.5 rushing yards. He has also dealt with a litany of injuries over the last two seasons. Conner just seems less and less likely to turn into a true workhorse at this stage of his career.
But while Conner is not likely to be an every-down option for the Cardinals, he offers something that the team has never seen in Edmonds. Namely, as an option in the scoring area. In the last four seasons, Conner has commanded 94 red zone touches. These are the 28th most among all running backs in this time. The Steelers also trusted him with 25 goal-line carries, the 20th most. In the last two seasons, the Cardinals have handed Edmonds just one goal-line carry. So assuming Conner comes in and fills the Drake role on the goal-line (Drake had 19 goal-line carries in 2020), this should cap Edmonds's touchdown upside.
There is also the not inconsiderable factor that he will have to compete for carries with his quarterback, too. Kyler Murray has rushed 226 times for 1,363 yards in his two seasons in the NFL, with 133 of the carries coming last season. This figure would have been greater had Murray not sustained a shoulder injury in Week 11. For context, Murray averaged 9.7 rushing attempts per game between Week 1 and 10. This fell to 6.6 per outing after Week 11. Murray called his own number inside the red zone 25 times last season and assuming he is fully over his injury he should continue to do so in 2021. This further limits Edmonds's potential role in the scoring area. At present, it looks like the only sure thing is that Edmonds will continue to see plenty of passing-down work in addition to a few more carries on the ground. Does this a fantasy star make?

Little Room for Upside
Edmonds is currently being taken as the RB27 by fantasy managers over at UnderDog. This fits in with our rankings, where we have Edmonds as the RB30 in half-PPR. As excited as some of us are, there are reasons to be worried. Will he see the bulk of the rushing attempts out of the backfield, in addition to his stranglehold on the passing down work? Will he be trusted with a larger role near the goal-line? Will his coach lean on him as a runner more than he does his quarterback? The evidence works against Edmonds for each question, leaving little room for him to offer great returns on his ADP as things stand. Things might change as the summer progresses, of course, but a lot would have to change to make me comfortable taking him ahead of players like Chase Claypool and Devonta Smith, players with ADPs near Edmonds.
The Bottom Line
Edmonds has a history of efficiency, but not one that shows him to be capable of delivering in the face of large volume.
Edmonds should monopolize the receiving work out of the backfield, but faces serious competition for touches when the Cardinals get inside the scoring area.
Edmonds is currently being taken close to his ceiling, according to our projections. He faces a tough fight to be a solid RB2. If you can land him as an RB3, then you may enjoy a bargain.