Josh Jacobs is a Fantasy Football Fade in 2021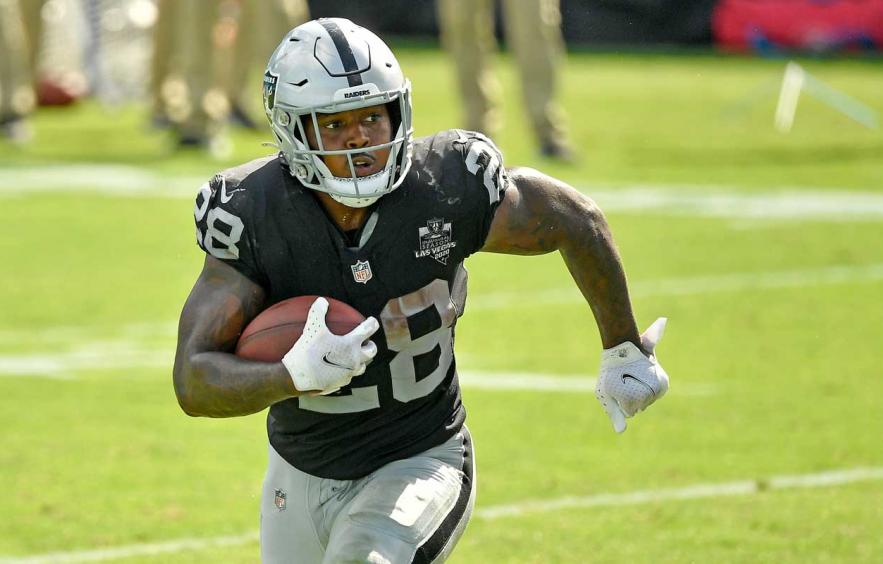 Grant Halverson/Getty Images
"He that breaks a thing to find out what it is has left the path of wisdom."
The words of Gandalf the Grey were aimed at Saruman the White as the wandering wizard first realized that the head of his order had given into the temptations of power and dominion over the free people of Middle Earth. He could have been speaking about the Las Vegas Raiders, whose actions since the end of the 2020 NFL season have been nothing short of baffling.
They have created confusion where once was cohesion, and have added competition where fantasy managers hoped for a monopoly. The deeds of the NFL's most free-spirited franchise this offseason will have serious repercussions for Josh Jacobs and, in particular, his fantasy appeal for the coming season. Can he be trusted in 2021?
---
Editor's Note: Read more player profiles from the rest of the 4for4 staff!
---
Workhorse Running Back vs Bell-cow Running Back
Josh Jacobs is a prime example of what constitutes a workhorse running back without being a bell-cow running back. Since being taken with the 24th overall selection in the 2019 NFL Draft, Jacobs has rushed 515 times for 2214 yards, scoring 19 times on the ground. Only three running backs have more carries than Jacobs in the last two seasons, while only four have more yards. In overall fantasy points, he is RB9 in half-PPR scoring. He has put in a lot of work.
But we can't class Jacobs as a true bellcow due to his lack of receiving work. In his two NFL seasons, Jacobs has drawn 73 targets, reeling in 53 of them for 404 yards. All three of these figures are outside of the top 30 running backs. Jacobs has simply not been seen as a viable receiving weapon by the Raiders. Yet despite this lack of work, he has still produced in fantasy football.
The Times Are Changing in Las Vegas
As Jacobs enters his third NFL season, his lack of receiving upside could finally catch up with him and make him a player to temper our expectations on. In past years, the Raiders have been happy to feed him the rock and let him run behind their beastly offensive line, especially in one-score situations. The Raiders neutral game script pass to run ratio in 2020 was 54% to 46%, the sixth-lowest among all NFL teams. These two situations are not likely to be repeated in 2021.
For a start, the Raiders 2021 schedule does not appear to be a favorable one. According to Sharp Football Stats, the Raiders face the third toughest schedule in the entire NFL in terms of their opponents' projected win totals. This is speculative, but the Raiders may have to take to the air more often this year than they would ideally like to. There is also the not-insignificant issue of the gutting of the offensive line over the offseason. The Raiders traded away THREE starters in Rodney Hudson, Gabe Jackson and Trent Brown, "softening" their absence by reaching for Alex Leatherwood in the first round of the NFL Draft. Once thought of as a true strong point for the team, the Raiders offensive line is now ranked No.26 in the league by Justin Edwards.
Jacobs has been able to offset his lack of passing game work by making regular trips to the endzone. Only seven backs have scored more rushing touchdowns than Jacobs in the last two seasons. The touchdown deodorant, as the great Scott Pianowski calls it, certainly boosted Jacobs last season as he scored 12 times. Indeed, for as much as the Raiders don't like to use Jacobs when they have to take to the air, they do love feeding him touches when the endzone is close by. Jacobs handled 65 red zone touches in 2020, good for second-most among all running backs. Of those red zone touches, 16 were goal-line carries, a mark exceeded by just two players across the league. He scored multiple touchdowns in four games. However, his highest weekly fantasy finish in games in which he did not find the endzone was RB20.

Two's Company and a Crowd
The Raiders signed Kenyan Drake, another Alabama alum, as a free agent this offseason. The team, and Drake himself, have talked glowingly about how they plan to use him as a receiver in the Raiders offense. This would be quite the departure for Drake, who had just 25 receptions for the Cardinals in 2020 despite a combined 103 over the previous two seasons. Drake's presence as a receiver—assuming the Raiders follow through on their talk and feature him in the passing game—is an obvious blow to Jacobs and his chances of grabbing a few passes. But it could also hamper him when it comes to scoring touchdowns. Jacobs may have been the Raiders' primary option at the goal line last season, but Drake did that same job for the Cardinals. He saw 19 goal-line carries a year ago.
So, we have a running back who is not going to see a great deal of work in the passing game, playing behind a sub-par offensive line, on a team that could have to pass the ball a lot, with a teammate who will be used as a receiver and has just as much experience of goal-line as our guy Jacobs. Based on these factors, it is not hard to see why Josh Jacobs is not a player that fantasy managers should be falling over themselves to be drafting at the moment. And they are not, as Jacobs is currently being taken as the RB21 at Underdog. This fits in nicely with our projections for him as the RB22 in half-PPR but there is as much downside as upside this season.
The Bottom Line
The Raiders have not featured Jacobs as a receiver in his two NFL seasons to date, and there is no real indication that this will change
The Raiders face a daunting schedule in 2021 and will go into the season with an offensive line that looks likely to be a massive downgrade from years gone by
Jacobs faces a potential touch squeeze in the key moments that matter for fantasy managers, with Kenyan Drake likely to hoover up passing down work while possibly cutting in on Jacobs' goal-line work too.
Jacobs is currently being taken at or close to what seems to be his ceiling. His role, as it currently stands, does not seem to offer much upside. If you can land him as your third running back, then you could be in for a treat. But as an RB2 or, heaven forbid, your RB1? Not this year.