Monkey Knife Fight Plays: Week 13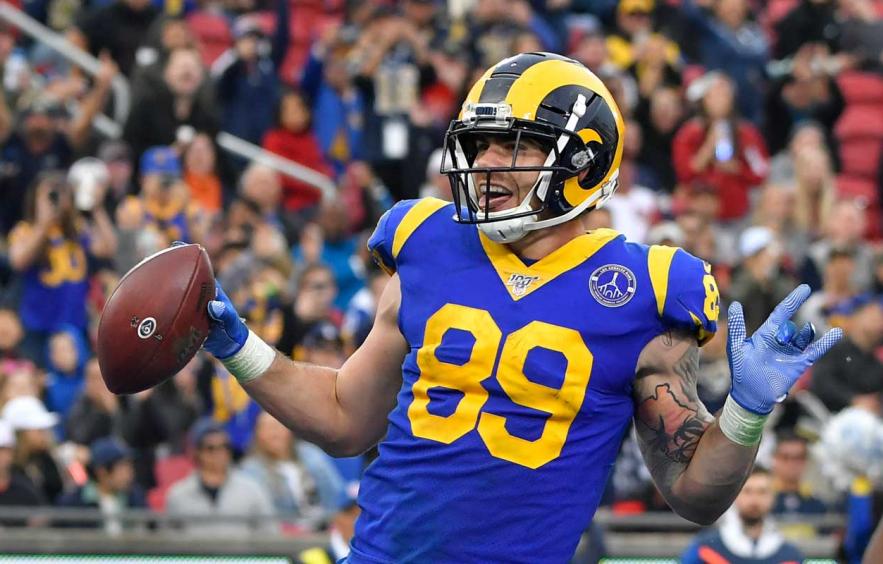 John McCoy/Getty Images
Week 12 Recap: If you went strictly off the plays from last week's article, you were stuck with a few bad numbers due to unforeseen circumstances. The Nyheim Hines Less Than was busted as soon as Jonathan Taylor was ruled out of last week's game due to close contact COVID protocol. The same situation goes for Jerry Jeudy's reception total. Kendall Hinton was the designated survivor of last week's game and thrown into quarterback duties, despite being a salesman two months prior and not even finishing his collegiate career as a quarterback. Wayne Gallman received a whopping 24 carries against the Bengals, turning that into 94 yards. He nearly doubled his rushing line of 55.5 rushing yards.
For those reading this column for the first time, we scrape Monkey Knife Fight's contests against our projections. I'll go through 10 plays we feel confident in exceeding (More Than) or failing to reach (Less Than) MKF's projections by the percent likelihood we give the outcome. The percentage you see in parentheses next to each player's name is the chance we believe the More Than or Less Than hits, according to our projections.
Most of our recommendations will be to side with the Less Than on MKF, as they know the majority of fantasy players like to root for more of everything—more points, more yards, more receptions, etc.—and set their numbers higher than a normal median projection. Be sure to check out our Discord server and the #mkf channel where I'll post the full list of how our projections stack up against those of Monkey Knife Fight.
On to Week 13…
---
Before we dive in, a quick More or Less refresher:
More or Less - You will be drafting your team by choosing More or Less for a group of player statistics presented. You will be squaring off with your own predictions. Choose the coinciding number of tiers correctly to win the prize shown prior to entry.
Top Week 13 MKF More or Less Plays
Tyler Higbee

, TE –

Rams

(84.4%)
MKF Line: 3.5 receptions
4for4 Projection: 2.0 receptions
There's a reason this is our highest rated play available. Tyler Higbee has gone over 3.5 receptions in a game just twice this season. He's averaging only 2.8 receptions per game. He saw just two targets last week while playing on 61% of the snaps.
Robert Woods

, WR –

Rams

(83%)
MKF Line: 6.5 receptions
4for4 Projection: 4.7 receptions
Robert Woods has crushed the last games on the back of massive target volume (15, 12). He converted those targets into 12 and seven receptions, respectively. Prior to the past two weeks, Woods went over 6.5 receptions in just 1-of-9 games. Looking at the season as a whole makes a lot more sense in this instance.
Adam Thielen

, WR –

Vikings

(73.9% & 69.3%)
MKF Lines: 6.5 receptions & 80.5 receiving yards
4for4 Projections: 5.4 receptions & 67.6 receiving yards
There are multiple factors working against Adam Thielen here. One of which is potential play volume. The Vikings are 9.5-point favorites against the Jaguars and they figure to be ahead most of the game. When tied or winning, the Vikings have the third-highest run-rate in the league at 56%. Looking specifically at the MKF line, Thielen has gone over 6.5 receptions and 80.5 receiving yards in just 3-of-10 games this year. Even though the matchup is good against Jacksonville's burnable secondary, I'm comfortable with taking the Less Than here.
Wayne Gallman

, RB –

Giants

(71.2%)
MKF Line: 57.5 rushing yards
4for4 Projection: 45.3 rushing yards
Wayne Gallman's biggest asset as a producer is volume. Since taking over as the starter in Week 8, he has averaged more than 4.0 yards per carry in just 1-of-4 games. He has 18 and 24 carries the past two weeks in Giants victories. In Week 13, they are 10-point underdogs on the road against the Seahawks, where they will likely trot out Colt McCoy at quarterback. It's tough to imagine Gallman sees as much volume as he has been in a game the Giants are most likely trailing the entire time.
Christian Kirk

, WR –

Cardinals

(69.6%)
MKF Line: 4.5 receptions
4for4 Projection: 3.7 receptions
Even without Larry Fitzgerald, Christian Kirk was only able to muster three receptions. Kirk has fewer than five receptions in 7-of-10 games this season. He now squares up against the Rams, who are ranked third in pass defense EPA over the past five weeks and who have been strong throughout the season. Ride the Less Than here.
Keenan Allen

, WR –

Chargers

(68.8%)
MKF Line: 7.5 receptions
4for4 Projection: 6.8 receptions
The key here is Austin Ekeler's presence. Excluding last week, Keenan Allen's target share with Justin Herbert is 31%. Last week it was just 20%. While still solid, it's going to be really difficult for Allen to post the monster games he has been when his target share takes such a dip. Five-to-six receptions is probably going to be his new baseline going forward.
James Robinson

, RB –

Jaguars

(67.6%)
MKF Line: 3.5 receptions
4for4 Projection: 2.9 receptions
James Robinson's receiving usage has been all over the place. Since the Week 8 bye, Robinson has eclipsed 3.5 receptions in just 1-of-4 games: 0, 2, 2, and 5. Prior to that, he had caught 4+ receptions in five straight games.
Alvin Kamara

, RB –

Saints

(69.5%)
MKF Line: 3.5 receptions
4for4 Projection: 2.8 receptions
We hit on this last week and will continue to if Monkey Knife Fight wants to posts lines this high. With Taysom Hill at quarterback, Alvin Kamara has just one catch for negative-two yards in two complete games. Kamara didn't record a single catch in his last meeting with the Falcons. I would take this down to three even.
Emmanuel Sanders

, WR –

Saints

(67.3%)
MKF Line: 3.5 receptions
4for4 Projection: 2.8 receptions
This is similar to Kamara, but I personally don't feel quite as strong. Emmanuel Sanders has five combined receptions in two games with Hill under center. The 3.5 line from MKF is a bit too high given the tendencies we have seen from Hill since he has taken over.
Editor's Note: The More or Less plays and projections were available at the time of this article being published. Please refer to MKF for the most up-to-date offerings.