Tight End Target Hunt: T.J. Hockenson is a Fantasy Value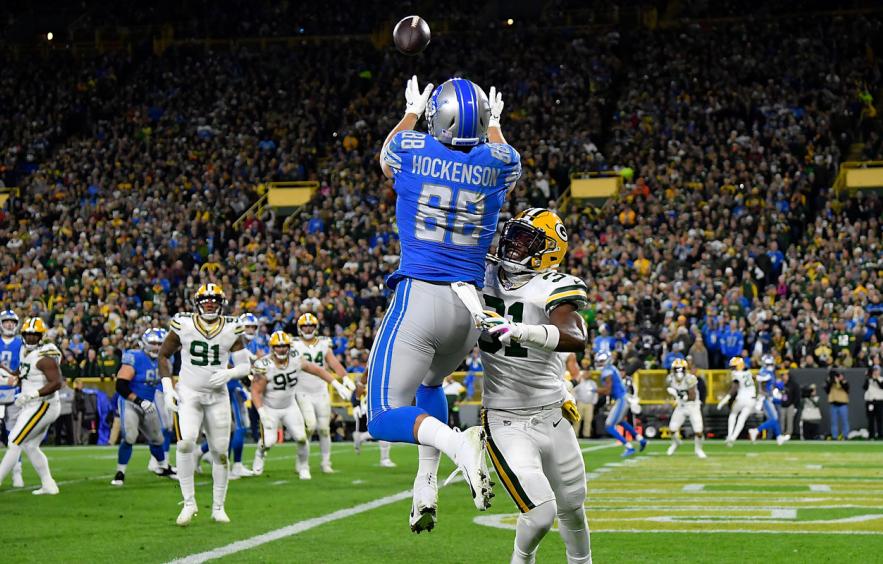 Quinn Harris/Getty Images
I'm the guy who barges into complex fantasy football back and forths to remind everyone that—well, actually—opportunity is all the matters. People like me. I have many friends. More friends than you've ever seen. Bigly friends.
So naturally, this series is going to be about volume of opportunity that hasn't been incorporated into a player's average draft position. Over the next couple weeks, I'll write about late-round tight ends most likely to see the sort of opportunity that could translate to every-week usefulness in 10- and 12- team leagues.
---
---
The tight ends highlighted in this space will certainly prove valuable as streaming options in leagues where the waiver wire doesn't resemble grocery store shelves during a pandemic. But I'm writing about these tight ends because I think there's a fairly straightforward path to them becoming plug-and-play options for those who don't go all-in on Travis Kelce, George Kittle, or Mark Andrews.
In another timeline of the simulation in which we exist, Hockenson is being drafted somewhere in the middle to late sixth round, right around Hunter Henry and Rob Gronkowski.
In that version of the simulation, Matthew Stafford played 16 games for the Lions in 2019, and Hockenson reaped the opportunity-based benefits. In our timeline, Hockenson was a fantasy football non-factor for much of his rookie campaign, weighed down by some of the league's most putrid quarterback play. Now he's going in the 13th round of 12-team leagues.
I think we all remember where we were in Week 1 when Hockenson—last year's No. 8 overall NFL Draft selection—did what so many tight ends did against Arizona last season and posted an obscene stat line: six grabs on nine targets, 131 yards, and a touchdown. A cool 25 fantasy points in his pro debut—a line that accounted for a good chunk of his fantasy production.
Certainly, his Week 1 blowup was an outlier, as Hockenson saw more than three targets just twice in his next five games. Then Stafford went down to injury and the Lions turned to second-stringer Jeff Driskel and third-stringer David Blough (who combined to complete 56% of their passes for eight touchdowns and 10 interceptions), and Hockenson was hardly utilized in the Detroit passing game until Thanksgiving when he magically turned 11 targets into 18 receiving yards. His season ended on Turkey Day with an ankle injury.
The rookie ran an average of 23.75 passing routes per game last year, a not-quite-hateful number that matters far more than snaps since tight ends can't score fantasy points unless they're running routes. Your eyes: they're open.
For the sake of almighty context, an oft-used tight end like Darren Waller ran 29 routes per game last season, while a less-utilized tight end on a run-heavy offense like Kyle Rudolph ran about 21 routes per game. The Hock—we're calling him The Hock this year—was comfortably between those two kinds of tight ends. It would seem The Hock's route running won't be all that concerning for fantasy managers who take a flier on him.
What sort of target opportunity could be available for Hockenson in 2020? Well, three Detroit tight ends cobbled together 115 targets in 2019, with Hockenson getting 52.2% of those looks. Jesse James and Logan Thomas saw the rest. Overall, he had a 10.9% team target share. A healthy 2020 campaign for Hockenson and perhaps a more featured role in the Lions' offense could bump that number to 12%, which would very nicely come out to around 69 targets. A 15% target share would translate to more than 80 targets if the Lions pass as much as they did in 2019.
Here's the rub: we know Matt Patricia desperately wants the Lions' offense to be run-heavy and ultra-conservative. Some of last season's passing volume was necessitated by chasing points while down a bunch in the second half of games. If Detroit runs its offense the way Patricia wants to run it in 2020, it probably won't be fantastic news for any Lions pass catcher. But considering the team's Vegas over/under of 6.5 wins in 2020 (only five teams have a lower win over/under), it seems safe to bet against the Lions seeing the sort of game script that leads to big rushing totals. There's always the chance, I suppose, that Patricia and his coaching staff will stick with the run as a moral victory as Detroit goes on to lose 11 games in 2020.
Assuming a 16-game 2020 season for Stafford—he played eight straight full seasons before his injury-shortened 2019—Hockenson could quite easily be the beneficiary of a functional offense in his second year considering the massive early first-round investment the team made in Hockenson one short year ago. While we can't quantify exactly how much the Lions value their 2019 first-rounder, I think it's safe to believe they want their investment to work out, and will incorporate Hockenson accordingly.
We can and (maybe) should add Hockenson's potential opportunity bump to his red zone usefulness for Detroit. At 6'5", 250 pounds, and something of an athletic freak, Hockenson saw seven red zone targets last season in his limited usage. Four of those targets came inside the 10-yard line. Kenny Golladay, who led the NFL last season with 13 targets inside the 10-yard line, will naturally continue to get looks close to the paint, but Hockenson could become the red zone 1b to Babytron's 1a in 2020.
Do we want a touchdown-dependent tight end? Of course not. Are you going to have to rely on touchdown-dependent tight ends unless you take Kelce or Kittle in the second round? Well, yes, to varying degrees.
In Hockenson we have a tight end being drafted as an afterthought in best ball and seasonal leagues—one who has as good a chance as any late-round option of becoming a consistent part of his team's passing attack.
About Author