High Stakes Late-Round Targets: Wide Receivers & Quarterbacks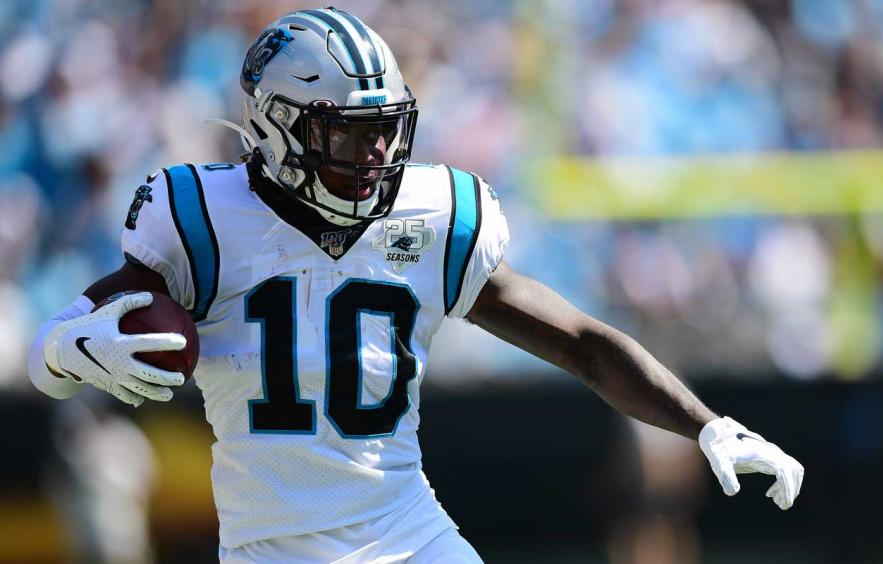 Jacob Kupferman/Getty Images
With most people drafting their fantasy teams in the coming few weeks I want to make sure our subscribers know which players I am targeting or fading. I already published a list of my early-round players to avoid and am still largely fading all of those of players.
This article will specifically focus on players going after pick 100 in the past week of FFPC $350 drafts. Some call these players "sleepers" but I generally try and avoid calling them that. With so many good analysts out there, I'm sure not everyone is "sleeping" on these players.
Especially in FFPC Main Event's and mid-stakes $350 leagues, landing high-upside bench players can be the difference in your team making the playoffs and potentially winning your league. With such a top-heavy prize pool, your bench players' ceiling is so much more important than their floor. I'm not going to spend too much time on each player and will mostly look at their upside because that's what's important. They are late-round picks for a reason and usually have a very low floor. Part 1 focuses on running backs while Part 2 looks at wide receivers and quarterbacks.
Wide Receiver
Curtis Samuel

,

Panthers

(ADP: 145.4, WR57)

Samuel is a great post-hype pick in the later rounds. Last season was like having both of his legs tied to cement blocks. On one leg he was attached to abysmal quarterback play in Kyle Allen while the other was stuck unimaginative coaching where he was assigned decoy clearout duties. I expect to rid himself of both shackles this year. With LSU wunderkind Joe Brady on board and the Panthers picking up Robby Anderson in the offseason we can expect a significant role change for Samuel.

Anderson should be running most of the clearout routes while Samuel should be schemed into space underneath and in the middle of the field. Matt Harmon's Reception Perception has revealed that Samuel's route-running ability has been immaculate with a 92nd percentile success rate against man in 2018 and ranking 15th of the 51 receivers sampled in 2019. Samuel is a player who could take a big step forward with a hyper-accurate quarterback in Teddy Bridgewater, a new coaching staff, and a new role in the offense.
Jalen Reagor

,

Eagles

(ADP: 105.1, WR42)

Reagor's ADP is rising rapidly as reports out of camp have been glowing. The Eagles receiving corps continues to be hampered by injuries leading up to the season with Alshon Jeffery yet to practice and an aging Desean Jackson taking frequent "rest days." Last year the lack of competent pass-catcher was a big issue for the offense as they rolled out Greg Ward as their top wideout. This season Reagor is expected to play a major role and "start from Day 1" according to Jimmy Kempski. The rookie out of TCU is expected to line up all over and has a shot to be fantasy-viable from the get-go as one of Wentz's top pass-catchers.

Editor's note: Reagor will miss at least the opener after an MRI revealed a small tear in his labrum.
Mecole Hardman

,

Chiefs

(ADP: 119, WR48)

The cliché saying of "I like him more in best ball" is probably true here but I also think there is legitimate upside in season-long leagues. Hardman's blazing speed paired with Mahomes's rocket arm alone provides tantalizing upside. The biggest issue is his consistency in getting playing time. Hardman saw less than 50% of the offensive snaps in 12-of-13 games to finish the season including the playoffs. There's a bit of projection here but if Hardman sees more playing time there's no reason to think he can't outperform a player like Sammy Watkins and become Mahomes's No. 3 target behind Hill and Kelce. If that happens Hardman becomes a volatile perfect high-upside, low floor pick that could make a difference in your starting lineup.
Laviska Shenault

,

Jaguars

(ADP: 174.6, WR65)

Shenault entered the 2019 season as one of the top collegiate wideouts and a potential top-10 pick in the NFL Draft after racking up 1,011 yards and six touchdowns on 86 receptions in just nin games. His junior season didn't pan out quite as well with just a 56-765-4 line in 11 games. He decided to turn pro regardless and was selected with the 10th pick in the second round by the Jaguars. Shenault has done nothing but impress in camp according to most sources.

The Jaguars have found a variety of ways to get the ball into the playmaker's hands and according to Jaguars beat writer John Reid, Shenault has been able to "fight through press coverage and run precise routes." There's a good chance that Shenault settles in as the Jaguars No. 2 receiver and is utilized frequently on screens and gadget plays. Even on the lowly Jags, that type of usage is worth a late-round dart-throw.

Honorable Mention: Steven Sims, Bryan Edwards, N'Keal Harry
Quarterback
Jimmy Garoppolo

,

49ers

(ADP: 225, QB19)

Jimmy GQ has flashed fantasy upside whenever the 49ers are forced to throw the ball and move away from their desired run-heavy gameplan.
Games with 30-or-more attempts (7): 22.76 FPPG
Games with 32-or-more attempts (6): 24.19 FPPG
Games with 35-or-more attempts (3 games): 27.48 FPPG
Predicting which games he will be forced to throw a lot might not be easy but the upside exists. He's a very stream-able quarterback heading into this year.
Cam Newton

,

Patriots

(ADP: 159.6, QB14)

The last we saw a healthy Cam Newton he was playing at an elite level.
The last time we saw a healthy Cam Newton (weeks 1-12

in 2018).....



-69.6% completion rate (T-3rd)

-4.6 CPOE (T-3rd in 2018 season)

-57% passing success rate (2nd)

-107.6 Passer rating (8th)

-7.5 YPA (T-16th)

-22/7 TD/INT Rate

— Connor Allen (@ConnorAllenNFL) July 22, 2020
I went more in-depth on his outlook this season from a betting standpoint but all of the information translates to his fantasy upside. Among the signal-callers being selected outside the top-12, I think he has the best shot of finishing as a top-five fantasy quarterback.
Joe Burrow

,

Bengals

(ADP: 183.5, QB18)

Sure, Burrow is a rookie. He also has a lot of factors working in his favor and is coming off one of the best seasons in collegiate history. The Bengals defense still projects to be league-bottom. This means that even if the Bengals want to start with a run-heavy gameplan they will be forced to air it out due to negative game script. Burrow also has legitimate pass-catching options to throw to. A.J. Green has returned to practice, Tyler Boyd is a fantastic option out of the slot, John Ross has top-tier speed, and the Bengals spent the first pick of the second round on former Clemson WR Tee Higgins. This doesn't even factor in late-year breakout Auden Tate who was the "MVP of training camp" and will likely play some kind of role on the offense.

Burrow also has sneaky athleticism that looks bad due to CFB counting sacks as negative rushing yards. He actually averaged 39 rushing yards per game if you don't count the negative yardage from sacks. As Rich Hribar, coined it, he has some "Konami Code" upside. With projected negative game script, legitimate weapons, and some rushing upside, there will be plenty of weeks where Burrow finishes as a QB1. I wouldn't be overly excited about starting him in Week 1 against the Chargers but there will be some good spots to play him down the road.
Teddy Bridgewater

,

Panthers

(ADP: 255.4, QB23)

I made a bet with @HillowFF in May that Teddy Bridgewater WOULDN'T be a QB1 (top-12) by the end of the season. There have been a lot of sleepless nights since then. I am nervous, to say the least.

Bridgewater showed he could be extremely accurate last season in New Orleans and while he didn't put up big numbers, he proved he had starter qualities. He now has an array of ascending pass-catchers in D.J. Moore, Curtis Samuel, Robby Anderson, Christian McCaffrey, and Ian Thomas. The Panthers have a new but exciting coaching staff with the aforementioned Joe Brady working as the OC in addition to program-changer Matt Rhule at the helm.

Even if the coaching staff faceplants in their first year in the NFL the defense is likely to struggle. That volume combined with his impressive weapons should provide an intriguing upside for Teddy "two gloves" Bridgewater.

Honorable Mention: Ryan Tannehill, Gardner Minshew, Ben Roethlisberger
Tight End
Joe Paeno fleshed out all of his tight end targets in a three-part series that kicked off last week. Part 1 can be found here but be sure to stay tuned for parts two and three.
Thanks for reading and if you have any questions feel free to reach out on twitter @ConnorAllenNFL