High Stakes Late-Round Fantasy Targets: Running Backs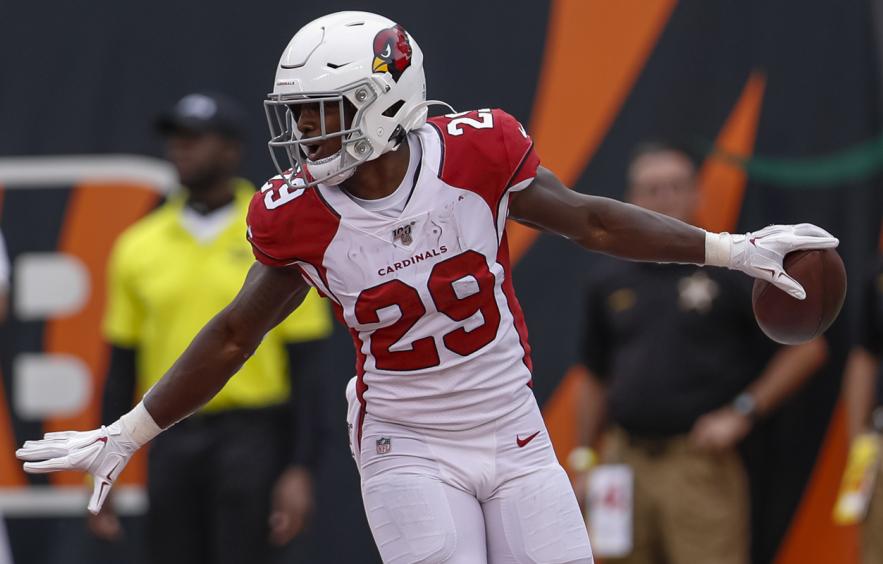 Michael Hickey/Getty Images
With most people drafting their fantasy teams in the coming few weeks I want to make sure our subscribers know which players I am targeting or fading. I already published a list of my early-round players to avoid and am still largely fading all of those of players.
This article will specifically focus on players going after pick 100 according to the past week of FFPC $350 drafts. Some call these players "sleepers" but I generally try and avoid calling them that. With so many good analysts out there, I'm sure not everyone is "sleeping" on these players.
Especially in FFPC Main Event's and mid-stakes $350 leagues, landing high-upside bench players can be the difference in your team making the playoffs and potentially winning your league. With such a top-heavy prize pool, your bench players' ceiling is so much more important than their floor. I'm not going to spend too much time on each player and will mostly look at their upside because that's what's important. They are late-round picks for a reason and usually have a very low floor. Part 1 includes running backs and part 2 will have wideouts and quarterbacks.
Chase Edmonds

,

Cardinals

(ADP: 127.4, RB49)

Edmonds has already shown he can explode in the Cardinals offense (27-126-3 in Week 7) when given the opportunity. Will he get that opportunity right off the bat? Obviously not, but the sought after role is part of the reason why teammate Kenyan Drake is going in the late first round. HC Kliff Kingsbury recently noted that "We all feel like he's [Edmonds] a starting running back in this league, and he does, too. When he had his opportunities, he shined, and he continues to shine. He can catch it, run it, block, play special teams, and he's really bright football-wise. He's everything you want."

It's also worth noting that Drake doesn't have a history of being a workhorse and was scarcely utilized at Alabama. If a full workload catches up to him and forces him to miss time, Edmonds is likely a league-winner.
Darrell Henderson

,

Rams

(ADP: 116.2, RB46)

To be frank, I didn't really like Henderson as a prospect coming out of Memphis. He ran fast through truck-sized holes. Henderson didn't do much as a rookie to prove me otherwise either. The thing is, my evaluation of a player couldn't be more irrelevant to how many touches he gets in an NFL offense. Especially a Rams offense that has talked about utilizing Henderson, Cam Akers, and Malcolm Brown. The Rams offense as a whole has also shown to be explosive at different times in McVay's tenure and has realistic upside.

At this point in fantasy drafts, I'm looking for running backs with lots of upside that can happen either through proving to be the starter in an ambiguous backfield or by acquiring a valuable role through an injury to the starter. Henderson's situation fits the former. There is way too much confidence that Akers will walk into the majority of the touches despite the coaching staff suggesting a timeshare and the Rams sinking a second-round pick into Henderson just a year ago. It's highly unlikely they completely give up on him this early. Henderson is an "embrace the unknown" pick that could pay off big time in the double-digit rounds.
Devonta Freeman

, FA (ADP: 68.5, RB61)

I can already hear the dinging of my phone from the mentions of trolls on twitter. "Why would I draft a guy that's not even on a team?!"

This is like buying a stock at its bottom. As soon as he signs anywhere his ADP will jump at least 40-50 spots. If it's an ideal situation it could go up even more. Even if he doesn't sign before your draft, he might also be waiting to sign until there is an injury to a significant running back. This would place him squarely in a big role and pay off in a big way. As a player you likely don't have to draft until the 14th round, he is a perfect high-upside flier for leagues with a sizeable bench.
Jerick McKinnon

,

49ers

(ADP: 167.5, RB54)

His ADP has continued to rise throughout the offseason as positive reports about his health have been released. He is the cheapest of the three 49ers running backs likely to see significant work. Reports have been glowing out of camp as Evan Silva notes here:
"In short, (Jerick) McKinnon has looked a lot like he did in the #49ers 2018 training camp, when he was embarrassing linebackers and establishing a close rapport with Jimmy Garoppolo."https://t.co/7OEpfQYDkO

— Evan Silva (@evansilva) August 17, 2020
McKinnon has even been lining up in the slot at times during practice. NBC writer Matt Maiocco believes "Coleman and Mostert will share the playing time on base downs (the hot hand will get the bulk of the playing time in any given game). And McKinnon will be the third-down back."
If McKinnon continues to play well it wouldn't be surprising to see him get a crack at the early-down work in addition to usage in the passing game and put up some significant fantasy points. It's unlikely Shanahan will ever lean on one back consistently on a week-to-week basis but there will be plenty of big games in the backfield regardless.
DeAndre Washington

,

Chiefs

(ADP: 129.2, RB50)

I'm not sure Washington has much standalone value but that's acceptable at this price. If Clyde Edwards-Helaire goes down he has immediate pass-catching upside plus some type of early-down work. Washington also went to Texas Tech and played with Patrick Mahomes for two seasons where he was the feature back. Despite being undersized he has the capability to see a significant workload if he were to find himself without competition.
Tony Pollard

,

Cowboys

(ADP: 111.7, RB42)

Pollard is widely noted as a premier handcuff and for good reason. He rushed for over 100 yards in two games despite not starting either. He averaged 5.29 yards per carry and showed a lot of upside in limited work. Like some of the other backs on this list, he showed little-to-no predictable standalone value. If Zeke goes down or gets COVID, Pollard is going to have some massive weeks.
A.J. Dillon

,

Packers

(ADP: 139.3, RB57)

The Packers oddly spent a second-round pick on Dillon despite having uber-efficient Aaron Jones and replacement-level back Jamaal Williams in the backfield. While Dillon's standalone value is mostly touchdown-based he has plenty of upside if Jones were to miss time. Dillon is a solid late-round dart throw.
Boston Scott

,

Eagles

(ADP: 115.3, RB51)

Unlike many players on this list, Scott has already proven to be a viable fantasy asset. In the Eagles' final four games he saw six or seven targets in every game and caught 23-of-25 total targets for 199 yards (8.65 yards per reception). It's assumed that Sanders will soak up some of that pass-catching work as their primary running back but it's no guarantee. This means there is some potential for some standalone value if he is able to carve out around five targets per game. If Sanders were to miss time it would all but guarantee a sizeable pass-catching role plus some early-down work for Scott, making him a viable fantasy starter.

Honorable Mentions: Damien Harris (was in here until his ADP has bounced up to ninth round in some spots so I'm not sure he qualifies. He should be drafted anytime after Round 8), Justin Jackson, Bryce Love, Reggie Bonnafon.

Stay tuned: Part 2 with wide receivers and quarterbacks will be posted in the next couple of days.