Fantasy Debate: Chris Carson vs. Le'Veon Bell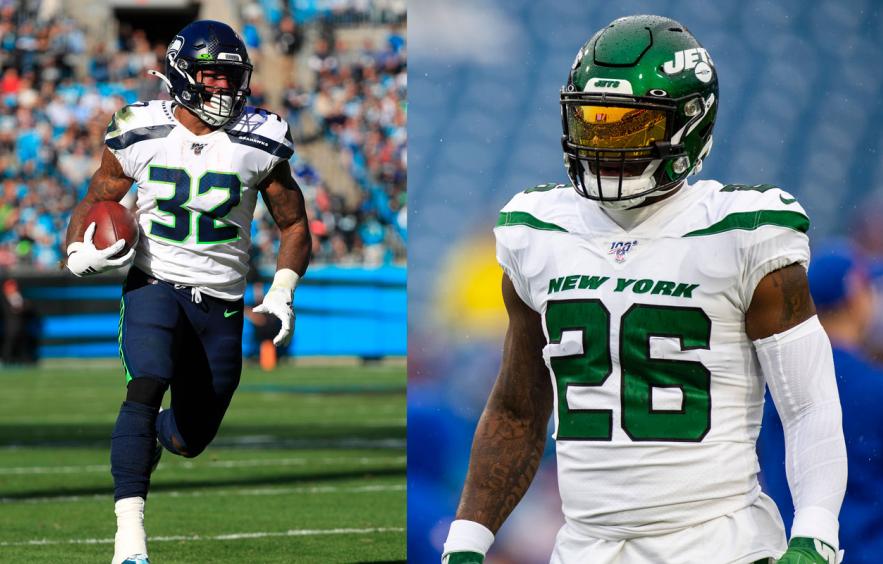 Streeter Lecka/Brett Carlsen/Getty Images
Chris Carson and Le'Veon Bell are being drafted as the RB18 and RB19, respectively, according to multi-site ADP. In this debate, Jennifer Eakins will explain why she prefers the Seahawks running back while Eric Moody argues for the Jets back.
The Case for
Chris Carson
Jennifer: The argument for Chris Carson over Le'Veon Bell can easily be simplified by looking to their coaching staffs. Seattle has a very clear commitment to the run, ranking third and second in rushing attempts with 481 and 534, respectively, over the past two seasons with Carson as the lead back. Adam Gase, who has a track record of underutilizing the position, came in 26th last year in rushing attempts with 383, nearly 100 fewer than the Seahawks.
Last season, Carson was fifth in the league among backs in both rushing attempts and yards, and finished as the RB11 in half-PPR scoring. Some can argue that his lack of usage in the passing game hinders his fantasy outlook, but the 25-year old put up starter numbers last year while receiving the 26th-most targets, and did it with some fumbling issues and a hip injury that took him out for the last game of the season.
Some are hesitant to draft Carson this season due to perceived competition in the backfield (sweet for those of us who will scoop up a starting back for super cheap). Seattle already had Rashaad Penny and Travis Homer hanging out in the running back room, then drafted DeeJay Dallas in the fourth round of this year's draft, and also signed Carlos Hyde this offseason, to boot.
These new acquisitions seem to be more about Penny's recovery from a brutal ACL tear, than cutting into Carson's starting role. Penny will most likely begin the season on the reserve/PUP list, costing him a mandatory six contests, opening the door for some work as a change-of-pace back, most likely for Hyde with Dallas in the mix, too. The Seahawks were rumored to have passed on Devonta Freeman's higher price tag in favor of a complement to Carson, instead of a replacement.
As long as Carson can stay healthy, his floor is that of an RB1. Last season he saw 736 snaps, with Homer and Penny at 155 and 152, respectively. The fourth-year back is looking at a minimum of 200 rushing attempts, and with his career yards-per-carry of 4.5, it would be surprising to see him not eclipse 1,000 yards for the third-straight season.
Last season in New York, Le'Veon Bell struggled to get anything done behind the Jets offensive line. He rushed for just 52.6 yards per game and tied a career-low in touchdowns with just three (and that year he got injured and played in only six games). Bell also averaged a mere 16.3 rushing attempts per game which was another low in his NFL career. This year could be more of the same for Bell, stuck in the Jets offense with a pre-season o-line rank of 28th.
We can't forget about the addition of freak-of-nature Frank Gore, who manages to keep escaping father time season after season. Now a Jet, Gore could cut into Bell's touches a bit as a two-down torpedo, plus there's also fourth-round add LaMichel Perine to fend off.
Side-by-side, give me the guy in a run-first offense ad-nauseam, over the player coming off a season where he struggled to make things happen, in a brutal offense with a coach that isn't really into him.
The Case for
Le'Veon Bell
Eric: One positive about Bell's 2019 season was the opportunity share the Jets provided him. He averaged 21.6 opportunities per game. The only other running backs last season who averaged a higher number of opportunities per game were Nick Chubb (21.8), Derrick Henry (21.9), Saquon Barkley (22.3), Dalvin Cook (22.4), Ezekiel Elliott (23.3), Leonard Fournette (24.3), and Christian McCaffrey (26.9). Bell only finished as an RB1 in 40% of his games last season, averaging a disappointing 12.3 half-point PPR fantasy points per game. He averaged a disappointing 3.2 yards per rushing attempt and tied a career-low in rushing touchdowns. Bell's ADP implies many fantasy football players are treading lightly with the 28 eight-year-old running back in 2020. Bell is shaping up to be an excellent value in fantasy drafts this summer.
Bell sat out the 2018 season after a well-documented contract dispute. Many were skeptical if he could return to form with the Jets in 2019. Many believe that Bell's best days are behind him, but when you examine the situation in New York closer, your perception may change. The Jets offensive line was an abomination last season. Bell was unable to do his usual dance behind the line of scrimmage last season. The unit ranked 31st in Football Outsiders adjusted line yards metric and averaged just 0.7 rushing yards before contact per attempt according to Pro Football Focus as they battled a myriad of injuries.—that this was the lowest mark of any team in the NFL.
Every offensive line Bell ran behind with the Steelers since his rookie season had finished the season in the top-eight for adjusted line yards. He averaged 26.2 opportunities, 86.1 rushing yards, 43 receiving yards, and 19.4 half-point PPR fantasy points per game in 62 active games from 2013 to 2017. Bell's leaned heavily on patience and vision as a runner throughout his NFL career. The good news for this season is that Jets' have proactively upgraded its offensive line this offseason. They handed out contracts totaling $67.5 million to George Fant, Connor McGovern, and Greg Van Roten in free agency. The Jets also drafted Mekhi Becton in the first round of this year's NFL Draft. In total, the Jets front office acquired eight offensive linemen this offseason. Bell has publicly stated his excitement about the changes and you should feel energized about it too.
A bounce-back season from Bell is indirectly tied to quarterback Sam Darnold. The Jets investment in its offensive line will also help the team's franchise quarterback. He led the position in the highest rate of dropbacks under pressure, per Pro Football Focus. Did you know that 2,264 of Darnold's 3,024 passing yards last season were accumulated in a clean pocket? Teams stacked the box early in the season against Bell especially when Sam Darnold missed three games due to mono and then trend continued as the season progressed. He still appears to be developing slowly as an NFL quarterback. This may not sit well with returning offensive coordinator Dowell Loggains whose job is at risk.
The Jets finished 32nd in the league in offensive yards and 31st in points. The team also added Breshad Perriman in free agency and drafted Denzel Mims this offseason. These receivers along with slot dynamo Jamison Crowder provide Darnold with adequate receiving weapons in 2020. Having effective weapons in the passing game opens up more quality opportunities in the running game. New York has an average running back schedule in 2020 when you analyze our signature strength of schedule metric, schedule-adjusted fantasy points allowed (aFPA). The Jets have a bad one when you analyze the quarterback position. All signs are pointing to the Jets leaning heavily on Bell this season.
When choosing between Chris Carson and Le'Veon Bell one factor you should consider is use as a receiver out of the backfield. Bell has averaged a healthy 6.2 targets and 40.5 receiving yards per game in his career. Carson, on the other hand, has only averaged 3.1 targets and 17.8 receiving yards per game. Let me guess—you're worried about Bell's age and career workload. The short answer is you shouldn't be. Matt Forte (304.3), Marshawn Lynch (287.8), LeSean McCoy (273.4), DeMarco Murray (269.4), Arian Foster (258.5), Mark Ingram (255), and Jamaal Charles (237) are the only running backs over the last 10 years to finish their age-28 season with 230 fantasy points in half-point PPR. These running backs averaged 306 touches during their age 28 seasons. It's in the realm of possibility that Bell sees a similar workload in 2020.