Fantasy Debate: Calvin Ridley vs. Courtland Sutton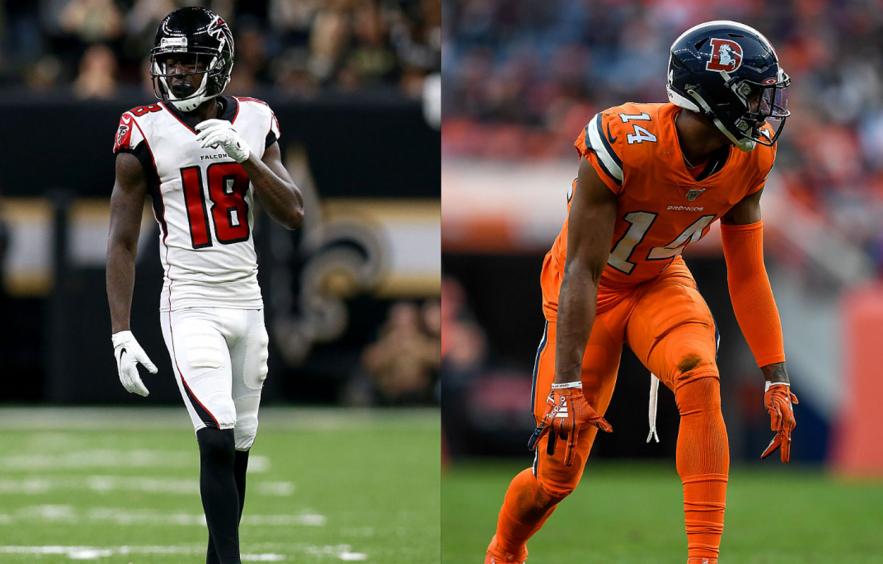 Sean Gardner/Dustin Bradford/Getty Images
Calvin Ridley and Courtland Sutton are being drafted within five picks of each other across all sites as the WR15 and WR17, respectively. In this debate, Justin Edwards will explain why he prefers the Falcons third-year receiver while Eric Moody sides with the Broncos wideout.
The Case for
Calvin Ridley
Justin: After finishing 2019 with the highest pass percentage in football (68.5%, 64.3% in neutral game script), the Atlanta Falcons' defense is sure to force the ball into Matt Ryan's hands again. In the five seasons since Dan Quinn took over as head coach, this defense has finished with an average ranking of 24th in Football Outsiders Defensive DVOA, finishing no higher than 20th since 2015. With passing volume remaining steady, the furthered ascension of third-year future superstar Calvin Ridley seems all but inevitable.
On pace for 1,000+ yards and nearly double-digit scores in his sophomore year before injury, Ridley looks to absorb even more usage with both Austin Hooper and Mohamed Sanu moving up north. In fact, no team has more vacated targets from 2019 than the Falcons, missing a whopping 16 targets per game. Atlanta added Todd Gurley and Hayden Hurst (who I'm also a fan of) but there are still plenty of extra touches to go around for the incumbent pass-catchers. Because of the nature of this offense, Julio Jones can maintain his upper-echelon 20-25% target share while Ridley improves on his 14% target share and they can each still eat.
The Falcons are a unique NFL offense in their ability to support two high-level wide receivers and a third option—be that Hurst, Gurley, or hell, even Russel Gage. If Jones loses his elite 25% target share in his age 31 year and simply regresses to a "very good" 20%, that would leave Ridley available to close the gap, and with a fully healthy season, there's no reason he couldn't climb to an 18% share. Matt Ryan has eclipsed the 600 passing attempt mark in six of the last eight seasons, making an 18%-range target share very usable for fantasy purposes, and that is likely Ridley's floor.
With those aforementioned seven touchdowns in his sophomore season, Ridley already has 17 scores on his career resumé. What's impressive about that is, even as he kept adding to that total he did so with a red zone target share of 9.0%. With Austin Hooper leaving town (23.1% RZ target share, the highest in the league), some of those highly valuable balls may start siphoning down to Ridley.
On the opposite end of the spectrum of target opportunities, we have Courtland Sutton of the Denver Broncos. With the 15th-overall pick of the NFL Draft, Denver snatched up Jerry Jeudy, an already NFL-calibre route runner who made his hay eating up yards after the catch in a versatile Alabama passing attack. In the very next round, speedy slot receiver K.J. Hamler came off the board to the Broncos. Two rounds after Hamler, pass-catching specialist tight end Albert Okwuegbunam—"Albert O"—was selected to complement incumbent Noah Fant in two-tight-end sets. One month prior to this was the signing of running back Melvin Gordon, who has averaged five targets per game played over the last four seasons.
Most damning of all, Denver only had 3.7 vacated targets per game heading into the 2020 offseason. Not only is it nearly impossible for Sutton's role to grow in this offense, but it's also not even likely he can reach the level of usage he received in his sophomore year. Drafting him anywhere over his 2019 finish (WR20) is simply betting that players in front of him will fall, not that his opportunity will grow.
Ridley was already outscoring Sutton by an entire fantasy point per game before all of the additions to the Denver offense. With Calvin Ridley allotted more room to breathe on his depth chart and Courtland Sutton having to share the field with more and more options, I expect the gap between them to grow exponentially throughout the season, making Ridley your choice in fantasy drafts.
The Case for
Courtland Sutton
Sutton is coming off of a very productive sophomore season. He finished as a WR2 or better in 43% of his games last season in half-point PPR. This is impressive considering the dysfunction the Broncos had at the quarterback position during the 2019 season. Sutton averaged nearly 12 half-point PPR fantasy points per game with three different starting quarterbacks. Joe Flacco, Brandon Allen, and Drew Lock all made starts for the Broncos. All three had a passer rating of 104.7 last season when targeting Sutton.
He was only credited with three drops last season which is impressive considering the poor quality of targets Sutton was provided. Did you know that he ranked 89th in Player Profiler's quality of targets metric? Sutton averaged nearly eight targets, 4.5 receptions, 69.5 receiving yards, and 88 air yards per game last season. He outperformed his double-digit ADP last summer by emerging as the primary receiving option for the Broncos as Emmanuel Sanders returned from an Achilles injury. His 72 receptions were 44 more than any other Denver receiver who played the entire season. Sanders was ultimately traded to the 49ers late last season.
Courtland Sutton TURNED INTO RANDY MOSS 🤯



(via @NFL)pic.twitter.com/djxnLDxT5f

— Bleacher Report (@BleacherReport) November 3, 2019
Sutton finished last season with a 26% target share and is in a great position to replicate that feat again in 2020 with new Broncos offensive coordinator Pat Shurmur. Denver's in a great position to bounce back from a disappointing 2019 season in which the offense finished 28th in total yards and scoring.
Shurmur is a proven playmaker who has the pedigree to maximize the skillset of Sutton, quarterback Drew Lock, and the other young players on the Broncos offense. His offense is a blend of the West Coast and spread offenses. Shurmur is part of Chiefs head coach Andy Reid's coaching tree. This provides you a visual of the Broncos quarterback and receiver friendly offense could look like in 2020. Shurmur has a knack for leveraging mismatches to allow his receivers to make plays. Sutton has always had elite size at the receiver position and as he continues to improve as a route runner there are no limits for him this season.
Wow. Broncos not messing around. Jerry Jeudy AND KJ Hamler.

— Albert Breer (@AlbertBreer) April 25, 2020
You may be wondering how the Broncos selection of receivers Jerry Jeudy and K.J. Hamler in back-to-back rounds affect his fantasy value in 2020. These additions are positive for Sutton. The Broncos have the seventh-most difficult schedule according to our signature strength of schedule metric, schedule-adjusted fantasy points allowed, or aFPA. Sutton will see his fair share of stout No. 1 cornerbacks, but the addition of receivers Jerry Jeudy and K.J. Hamler will help shift some of the defensive attention away from him.
With all of these receiving weapons, opposing defenses will not be able to completely sell out to contain Sutton. Our initial projections have Lock finishing the season with 572 pass attempts. The league average was 575 in 2019. Lock has the ability to find the open receiver in order to make defenses pay. He thrived in a spread oriented scheme at Missouri. Sutton will see enough targets to meet or outperform his ADP.
Calvin Ridley has been touted as a breakout candidate all offseason. We all witnessed what Mike Evans and Chris Godwin were able to accomplish last season in Tampa Bay. The dynamic duo finished in the top four in receiving yards per game. Godwin averaged 95.2 which ranked second while Evans finished fourth with an average of 89. The biggest hurdle Ridley will have to overcome is teammate Julio Jones.
Julio Jones is just a straight up bully on the football field 😳🤣



(via @nflthrowback)pic.twitter.com/21d7Tyr0V7

— FOX Sports: NFL (@NFLonFOX) June 25, 2020
Jones ranks first in targets (969), receptions (623), receiving yards (9,388), and air yards (12,247) since 2014. He also ranks sixth in touchdowns (37) over that time frame. Jones is a seven-time Pro Bowler (2012, 2014-2019) who has accumulated 1,000 or more receiving in seven of nine seasons and has surpassed 1,394 receiving yards in each of the last six seasons.
He was named the most efficient receiver over the last decade in connection with Pro Football Focus' yards per route run metric. The only other wide receiver who has averaged a higher number of fantasy points per game in half-point PPR formats who's played in 70 or more games than Jones (16.1) is Antonio Brown (19). Ridley's only averaged 6.4 targets, 4.4 receptions, 58.2 receiving yards, and 75.2 air yards per game over the last two seasons in 29 active games. He was on pace for 112 targets last season before landing on injured reserve with an injury.
One area of opportunity for Ridley from a fantasy perspective is the target volume. Ask yourself where will it come from? You may immediately be thinking about the 197 vacated targets Atlanta has due to the departures of tight end Austin Hooper, Mohamed Sanu, and Devonta Freeman. The reality is that Ridley is not going to inherit all of this volume. The Falcons also acquired Todd Gurley. He's accumulated 161 red zone touches over the last three seasons and has seen extensive use as a receiver out of the backfield. Ridley has limited experience running routes from the slot.
This is one aspect of what made the duo of Evans and Godwin so devastating to opposing defenses last season. Godwin finished last season with 68 targets, 50 receptions, 838 receiving yards and five touchdowns from the slot. Ridley finished last season with nine targets from the slot. It will be an uphill battle for Ridley to provide fantasy players an adequate return on investment at his current ADP. Falcons quarterback Matt Ryan has averaged 37.5 pass attempts per game since Jones' rookie season back in 2011. The All-Pro receiver has commanded a target share of 27% from 2011 on. Would you rather be Batman or Robin? Captain America or Bucky Barnes? Would you rather be Iron Man or War Machine? What about Superman or Jimmy Olsen? That's the comparison between Sutton and Ridley. He's the alpha wide receiver you should target in 2020 at his current ADP.