How Hayden Hurst to the Falcons Impacts Fantasy Football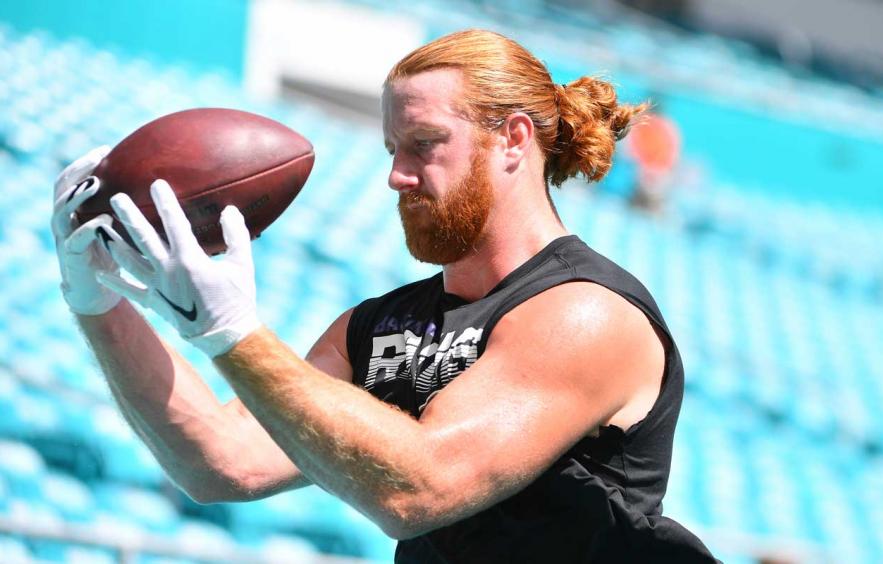 Mark Brown/Getty Images
On March 16th, it was announced that the Baltimore Ravens had traded Hayden Hurst and a 2020 fourth-round pick to the Atlanta Falcons, receiving a 2020 second-round and a 2020 fifth-round pick in return. The trade fills a roster hole in Atlanta after tight end Austin Hooper signed with the Cleveland Browns earlier that same day. Hurst will head a tight end room that also includes undrafted free agent Jaeden Graham and practice squad regular Carson Meier.
How
Hayden Hurst

's Departure Impacts the

Ravens

Let's begin with the city Hurst left before we dig into his new team. Baltimore successfully hit at the tight end position three times in three years, first with Nick Boyle in 2015 (fifth round), then again in 2018 with both Mark Andrews (third round) and Hurst (first round). It turns out Hurst—who was the 25th overall pick just two years ago—was the odd man out, leaving the two tight ends with less draft capital behind to catch balls from Lamar Jackson.
2019

Ravens

Tight End Usage

| Player | Receptions | Yards | TDs | Target Share | Air Yards Share |
| --- | --- | --- | --- | --- | --- |
| Mark Andrews | 64 | 852 | 10 | 23% | 28% |
| Nick Boyle | 31 | 321 | 2 | 10% | 7% |
| Hayden Hurst | 30 | 349 | 2 | 9% | 9% |
Hurst had a reasonably productive TE34 season en route to finishing with 30 catches and 349 yards on 39 targets, despite working essentially as the team's TE3. With Andrews spending a majority of his snaps lined up in the slot or out wide, Hurst and Nick Boyle either rotated as in-line tight ends, or saw the field at the same time. Baltimore ran two-TE sets at one of the highest rates in the league, in both the run game and passing game, even leading the league in 22 personnel (two running backs, two tight ends), according to SportsInfoSolutions. With the Ravens finishing the year as the number one offense, the number one rushing offense and offensive coordinator Greg Roman going nowhere, I wouldn't expect any sweeping changes to their offensive commitments.
Andrews's 98 targets were already an extremely high number, and gifting him another 5-10 targets from Hurst's share is not likely to change his current projection as fantasy's TE4 in early drafts. Nick Boyle can become a usable commodity in tight end-premium leagues, where any player at the position who has a chance at 50+ targets is worth stashing.
The departure of 39 targets also opens up more action to a wide receiver group that consisted of Willie Snead, Seth Roberts and Miles Boykin behind Marquise Brown, all of whom combined for 174 of Lamar Jackson's targets. With many mock drafts pegging the Ravens to grab more wide receiver talent on Day 2 of the draft, the biggest beneficiary may not even be on the team yet.
How
Hayden Hurst

Impacts the

Falcons

Unlike a Baltimore Ravens team that spreads the ball thin and lines up with two tight ends at one of the highest clips in the NFL, the Atlanta Falcons are quite the opposite in both respects. Running only 4% of their snaps out of 22 personnel, the Falcons prefer to use only a single tight end at a time, and whoever heads the position group is the man who receives a vast majority of the targets in the passing game.

In the three years since Kyle Shannahan gave up offensive coordinator duties to head to San Francisco, Austin Hooper has received the following target shares: 12%, 14% and 18% (13 games played). No other tight end has received more than 4% of Atlanta's targets. Compare that with the 2019 Ravens, who saw all three of their tight ends double that number.

If we do some rudimentary projections, we see that Hurst has an opportunity to beat his entire 28-game career receiving numbers in 2020 alone. Let's say Matt Ryan matches his lowest attempt total since 2010 (529 in 2017) and he also matches the lowest target share to his TE1 since Shannahan's departure (12%, also in 2017). By looking at Hurst's 69.4% catch rate and 11.9 yards per reception to this point in his career, that would give him a 2020 receiving total around 44 receptions and 524 yards, a line eerily close to his real-life 43 receptions and 512 receiving yards over his first two seasons. If that finish were to have happened last season, he would have finished as the TE19.

Clearly, a TE19 finish is not something you're looking for in a fantasy asset, but barring injury, those numbers are a floor for Hurst. Ryan's lowly 529 pass attempts are from a 2017 season in which the Falcons still had a top-10 defense. Things are much different now, and it forces the offense to move the ball through the air more often, not being able to rely on their run game to grind out the clock. Last season, Atlanta led the league in passing rate at 67% thanks in part to a defense that ranked 23rd in points allowed and an offensive line that ranked 24th in Football Outsiders' adjusted line yards.

As any frustrated Julio Jones owner would be able to warn you; the Falcons have been among the league leaders in targeting their tight end when in the red zone over the last couple of years.

Touchdowns aren't the stickiest stats to look at year-over-year for an idea of how a tight end will score his fantasy points, but nevertheless, Atlanta passed the ball on 64.7% of their plays inside the red zone, the second-highest percentage in the league. There's a good chance there is more of that usage coming for the next man up. As evidenced by Hooper and Hurst's Relative Athletic Scores (pictured below), we can infer that the new Falcon will be used in much the same way as Hooper has been.
The Bottom Line
With Lamar Jackson's propensity to spread the ball around and the Ravens' historical infatuation with multiple tight ends on the field, it's hard to see the departure of Hayden Hurst providing an even bigger boost than the one Mark Andrews already has in that passing game.
Nick Boyle is the most likely beneficiary of the tight end departure in Baltimore.
Hurst should slot directly into Austin Hooper's role in the offense, giving him a floor of a startable TE2 and a ceiling of an overall top-eight finisher.
When it comes down to it, the biggest boost of anyone affected by this signing is the man in the title of the article, Hurst. Barring multiple injuries or a transformation into a wide receiver, Hurst was never going to be a startable fantasy commodity playing with Andrews and Boyle. Instead, he lines up to make an easy transition on a team that was providing heavy usage to another tight end with comparable college measurements and production.
Going at the 160th pick (14.04) as the 26th tight end off the board is an egregious mispricing and the community will correct itself if they don't attack the position in the NFL Draft.