7 Players to Target in Best-Ball Before the NFL Draft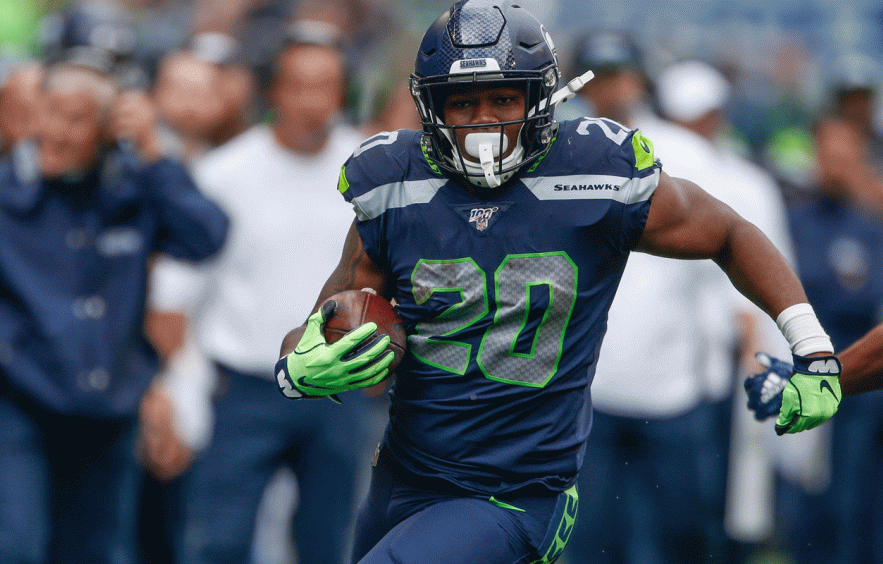 Otto Greule Jr/Getty Images
With the NFL Draft just around the corner and best-ball leagues in full swing, we're at a point in the year where it's a great time to find value in your fantasy drafts before rosters fill up with rookies and depth charts shake out. In this roundtable discussion, the bright minds at 4for4 explain which players they are targeting leading up to the draft and why if you don't pounce now, these players could see a huge ADP spike in the coming weeks.
RB
Rashaad Penny

,

Seahawks

Jennifer Eakins: Seattle boasted a highly productive run game in 2019, finishing fourth in yards and third in total rushing attempts among NFL offenses. Chris Carson was technically the lead back, but his fumbling issues allowed Rashaad Penny to profit. In Week 12 when Carson put the ball on the ground on back-to-back plays, Penny stepped in and posted 18.9 half-PPR points, and then dropped 24.7 the very next week while splitting the load with Carson. The Seahawks aren't likely to select a rusher in 2020, as their defense took a big hit this offseason and will need more draft attention. Penny is currently RB56 in best-ball drafts as an 18th rounder, but his ADP should rise after the draft and as he starts to recover in the coming months.
WR
Preston Williams

,

Dolphins

JE: As an undrafted free agent who flashed during the preseason, Preston Williams led the Dolphins in targets from Weeks 1–9 until he suffered a knee injury that derailed his rising rookie campaign. Williams' season-long line was 32-428-3 on 60 targets, but he saved his best contest for last, putting up 72 yards and a pair of touchdowns against the Jets in Week 9. The 23-year old is undervalued right now, aside from whatever Miami has planned for the draft at his position. He's a WR2 in an improved offense and is the 54th wideout leaving draft boards, currently. Williams and his fellow receivers could also see a spike in ADP after the Dolphins draft their franchise quarterback, so grab the sophomore now while he's still available for peanuts.
WR
Calvin Ridley

,

Falcons

Chris Allen: Ridley finished his rookie season with a 15.1% target share behind Julio Jones and Mohamed Sanu. Austin Hooper and Tevin Coleman also crowded the red zone leaving fewer opportunities for the rookie to shine. He finished 2019 with a 16.8% target share despite missing the final two games with an abdominal injury. Plus, his competition for targets has diminished. Coleman left for San Francisco after the 2019 season. Sanu was traded away to the Patriots in the middle of the 2019 season. Hooper and Freeman left via free agency during the 2020 offseason. Those departures not only open up more targets, but targets from the slot that were typically taken by Sanu or Hooper.

With a likely uptick from his 30.4% slot rate in 2019, Ridley is in line for increased usage during the upcoming season. Hayden Hurst has been acquired to fill Hooper's role and Todd Gurley has been signed to replace Freeman. Ridley needs to dodge a significant wide receiver acquisition during the draft. His increased role alongside Julio Jones and in the slot will pay dividends in 2020 should the Falcons maintain their current depth chart. Assuming this holds, Ridley's ADP of 58.6 will only increase as the offseason progresses.
RB
Boston Scott

,

Eagles

CA: Some teams just have a type and that's OK. Apparently, the Eagles have a thing for short-speedy running backs. The Darren Sproles comparisons felt reductive, but it's hard to tell the difference once Scott took the field in 2019. The Eagles were pulling practice squad guys like Greg Ward in order to fill out their injured pass-catching group as they tried to literally limp into the playoffs. Jordan Howard's back kept him sidelined. Rookie Miles Sanders was still adjusting to the game as a professional. So the team turned to the sixth-round COP back. From Weeks 14–17, Scott averaged 17.6 half-PPR points per game with over 15 touches per game. He turned his opportunity into a solidified role as the team began to see Sanders and Scott as a viable duo.

But the draft looms large. Wide receiver is a clear need with Alshon Jeffrey's age and contract taking its toll on the team. However, since Howard's depart to Miami, it's hard to see Philadelphia entering the 2020 season with just Sanders and Scott (plus Elijah Holyfield signed from Carolina) as their primary options at running back. Draft capital will be the tell-all, but should the team wait until the later rounds to address the position Scott will have tremendous value at his current ADP of 178.7.
QB
Matthew Stafford

,

Lions

Andrew Fleischer: Matthew Stafford missed half of the 2019 NFL season with multiple injuries, but in the eight games that he did play, he averaged 312 passing yards per game under offensive coordinator Darrell Bevell. In 16 games played in 2018, Stafford attempted 55 passes of 20 yards or more. In 2019 under Bevell, Stafford had attempted 57 passes of 20-plus yards despite missing half the season, which equated to the highest percentage of deep attempts among all quarterbacks who threw deep at least 20 times.

Stafford returns with the same offensive coordinator, the same number-one wide receiver in Kenny Golladay, the same number-two in Marvin Jones, a second-year ascending tight end in T.J. Hockenson, the reliable slot receiving skills of Danny Amendola, and the free-agency addition of Geronimo Allison for depth. Stafford is currently going off the board as the QB12 in the 11th round, and it's hard to see how he doesn't return value at his ADP.
WR
Auden Tate

,

Bengals

AF: Auden Tate was drafted by the Cincinnati Bengals in the seventh round of the 2018 draft, and after six weeks of seeing zero offensive snaps, he was actually waived during his rookie season and re-signed to the practice squad after no other NFL team put in a claim for him. Tate is a 6'5" 228-pound wide receiver whose athletic measurables may be far from elite, but who finally saw a starter's opportunity in Cincinnati in 2019 that began in Week 3.

Over the full 2019 season, Tate's 81 targets were 44th at the position, which would be less notable were it not for the fact that Tate was very rarely drafted at all in Bestball10s, and his early 2020 ADP rests in the fringe-final-round. Tate finished the 2019 season with three games with double-digit targets, five games with over 60 receiving yards, and was within striking-distance of WR3 numbers. If draft expectations prove true, Tate now stands to see a significant quarterback upgrade if the Bengals draft Joe Burrow with the first overall pick, and while Tate shouldn't be mistaken for an elite receiving option in the Bengals offense, at his late-final-round ADP he's one of the better late-round values at his position right now.
QB
Cam Newton

, Unsigned

TJ Hernandez: After the initial wave of free-agency signings, it was clear that teams were going to wait until the NFL Draft to decide whether or not to offer Cam Newton a deal, creating a huge opportunity for anyone already playing best-ball. As it stands, Cam is currently being drafted as the QB26 in the 14th round of 12-team leagues. There's no need to recap how great of a fantasy quarterback Newton has been when healthy—the point here is buying at his floor. The Bengals are a virtual lock to draft Joe Burrow and there are a few teams that could pick Tua Tagovailoa, whether it be a team with a current top-five pick or someone that trades up. This leaves five potential landing spots for Cam with the potential to start in Week 1 (Odds of Cam Newton's next team, according to DraftKings):

Regardless of where Newton lands, he will land somewhere after the NFL Draft plays out and his price will spike simply on the knowledge that he is a potential starter and where that actually is. The most intriguing option is the Chargers. Los Angeles is a team with enough talent to try to win now and Tyrod Taylor is just +100 on DraftKings to be the Chargers' Week 1 starter, compared to a +200 line for Cam. While the Jags, Dolphins and Pats could be in "Win Never for Trevor" mode this season (assuming none draft Tua), Washington is an interesting long shot.

Newton has ties to Washington's new head coach, Ron Rivera, and the Redskins have an exciting young wide receiver duo in Terry McLaurin and Steven Sims. This new regime has no attachment to former first-round pick Dwayne Haskins, so don't exclude this possibility. In the best-case (or worst-case, depending on how many shares you end up with) scenario, drafters could be taking Cam as a fringe-QB1 by the time we get into May. Especially if you are drafting Newton as your QB3 in best-ball leagues, this is one of the most obvious values available before the NFL Draft.