The Top DFS Contrarian Stacks: Week 6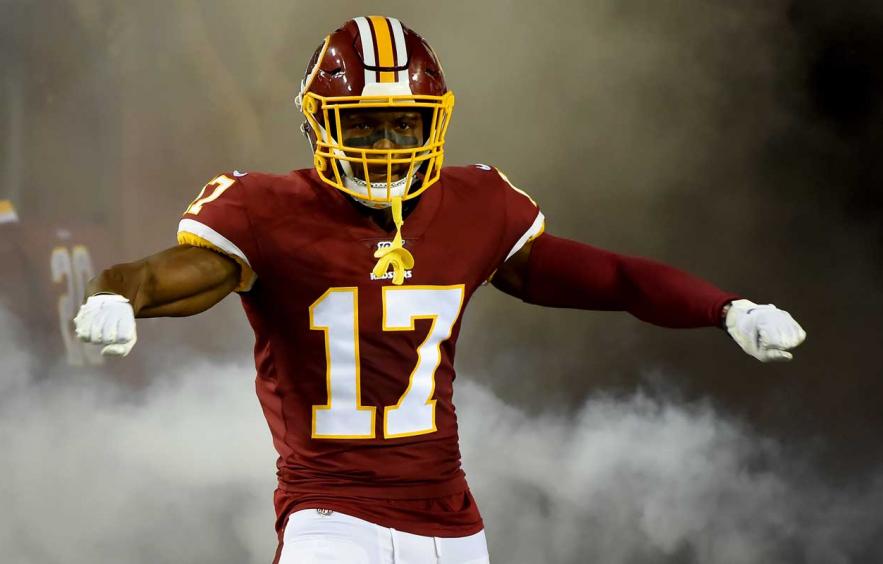 Will Newton/Getty Images
When laying out Week 6 NFL DFS contrarian stacks, I'll be using a combination of our Stack Value Reports and GPP Leverage Scores to find unique stacks that can take down a tournament. I encourage you to read the series on how to win a GPP in the DFS Strategy Hub. You'll quickly realize that taking down a tournament requires a balance of players ranging from low-owned to chalky.
I like building contrarian stacks around my chalkier core of players because you only have to get one instance correct for it to hit. For example, if we hit on a contrarian quarterback play while having a pass-catcher or two from that same game, the positive correlation of those stacks is technically getting one contrarian play correct despite filling multiple roster slots. I feel this is easier than having a chalkier stack while trying to hit multiple individual low-owned plays throughout the rest of your lineup. Keep in mind that these are contrarian stacks, so you don't have to use these stacks in a large percentage of lineups to be overweight on the field. They should be used in tandem with a chalkier core of players.
QB/WR1/TE1/Opp
QB
Lamar Jackson

($6,900 DK/$8,200 FD)

RB

Mark Ingram

($6,600 DK/$7,500 FD)

WR

Auden Tate

($4,500 DK/$5,400 FD)

There are only 10 games on the main slate this week, so there aren't many enticing opportunities to be contrarian. One that I'm exploring is playing Lamar Jackson without a pass-catcher. Little known fact: the only quarterback that was not stacked with a pass-catcher since Week 1 of last year's winning Millionaire Maker was Lamar Jackson last season. This stack will obviously be very unique. You're banking on Lamar having a big day on the ground and/or throwing a touchdown pass to Mark Ingram. You are also hoping Jackson spreads his targets around. If multiple Ravens pass-catchers have 3-30-1 type lines, Jackson is really the only valuable asset there.

Look for this game to go the way of the Ravens' first two matchups when they crushed the Cardinals and Dolphins. In those games both Jackson and Ingram had their share of success. The Bengals are allowing 167 yards rushing per game, meaning Ingram will have one of his best matchups to date. By playing the Ravens primary goal line back and a mobile quarterback, the hope is that you expose your lineup to all of the team's touchdowns. You want a game script of a Raven's blowout in this game similar to Week 1. Your lineup will undoubtedly be unique if you omit Marquise Brown and/or Mark Andrews.

Auden Tate's price seems prohibitive compared to last week, but I like going back to the well after Tate disappointed for the first 50 minutes of last week's game. The Ravens' secondary is a mess and Tate saw six targets last week despite not doing much with them. He comes with touchdown equity as he's the size of a tight end at 6'5". The week prior, the Bengals designed multiple back-shoulder throws to him in the end zone, so it's no secret they have faith in him as a jump ball receiver. After Tyler Boyd's smash week and his string of consistent production, he'll carry more ownership than Tate, so this is a pivot worth considering.
QB/WR1/WR2/Opp WR1 Stack
QB
Dak Prescott

($6,200 DK/$8.000 FD)

WR

Amari Cooper

($7,000 DK/$8,100 FD)

WR

Michael Gallup

($5,600 DK/$6.100 FD

WR

Jamison Crowder

($4,000 DK/$5,400 FD)

The Jets have a bit of a pass funnel defense going on, only allowing 87 yards a game on the ground to opponents, but 260 through the air. Combine that with the fact that Ezekiel Elliott can't seem to find a rhythm and it's a recipe for Prescott and his receivers once again to attack through the air. The offensive play-calling hasn't leaned on Elliott like in past years. He's especially not involved in the passing game. On the other hand, Amari Cooper and Michael Gallup have combined for over 50% of the Cowboys' targets and over 60% of their air yards. Outside of the slugfest at New Orleans, Prescott has thrown for multiple touchdowns and eclipsed 23 fantasy points in every game. I don't think this stack will be highly owned, but it definitely won't be contrarian. The Jets component is how we will make it unique.

Put yourself in Sam Darnold's shoes. You're getting over an illness that has called your spleen to enlarge. You were unable to play football because a hit to your spleen could cause it to rupture. Now you're on a football field a few weeks later with the Cowboys defense breathing down your neck. I'd be getting rid of that ball quickly. What better way to avoid taking hits all day long than to check down to your underneath safety valve all day long. We saw it in Week 1, the last time Darnold took the field. Crowder went 14-99. There were reports all camp that Crowder and Darnold had a connection, then it was on full display in Week 1. I'm going to take a chance that that chemistry is rekindled against the Cowboys. Hopefully, Crowder flies a bit under the radar as he only played 54% of snaps last week and hasn't been productive since Darnold was his quarterback.
QB/WR1/Opp RB1/Opp WR1 Stack
QB
Case Keenum

($5,000 DK/$6,500 FD)

WR

Terry McLaurin

($6,000 DK/$6,400 FD)

RB

Kenyan Drake

($4,400 DK/$5,600 FD)

WR

DeVante Parker

($4,200 DK/$5,400 FD)

This is a dart throw stack. If this game happens to be more of an offensive battle, McLaurin, Drake and Parker will be the skill players that get each team there. Terry McLaurin has been the recipient of more than half of the Redskins air yards, which in and of itself is an insane state. He has seen no less than seven targets and was Keenum's favorite target before both were sidelined due to injury. Keenum actually looked decent before his Week 4 injury, throwing for multiple touchdowns in every game and eclipsing 300 yards in two out of three. The Dolphins will be the easiest matchup Keenum has had to date as they are giving up an average of 296 yards through the air. The ownership on this stack should be a bit depressed as Keenum and McLaurin haven't been in the spotlight since Week 3

We can run this Redskins stack back with Drake or Parker, or both. Parker has been near the top of the league in air yards all season. He's continually getting deep shots from Rosen. He finally capitalized on one in Week 4. This week he will face off against Josh Norman, who is one of the most favorable matchups this season in terms of fantasy points allowed to wide receivers. Parker ranks first in average depth of target (minimum 10 targets) at 20.3 yards per attempt. These are the types of targets that we want from our GPP fliers. Drake has taken command of the backfield snaps and touches over the last two weeks. He's been by far the most effective back. In fact, anyone that has watched the Dolphins has probably been infuriated a time or time by the ineptitude of Ballage.