The Top DFS Contrarian Stacks: Week 3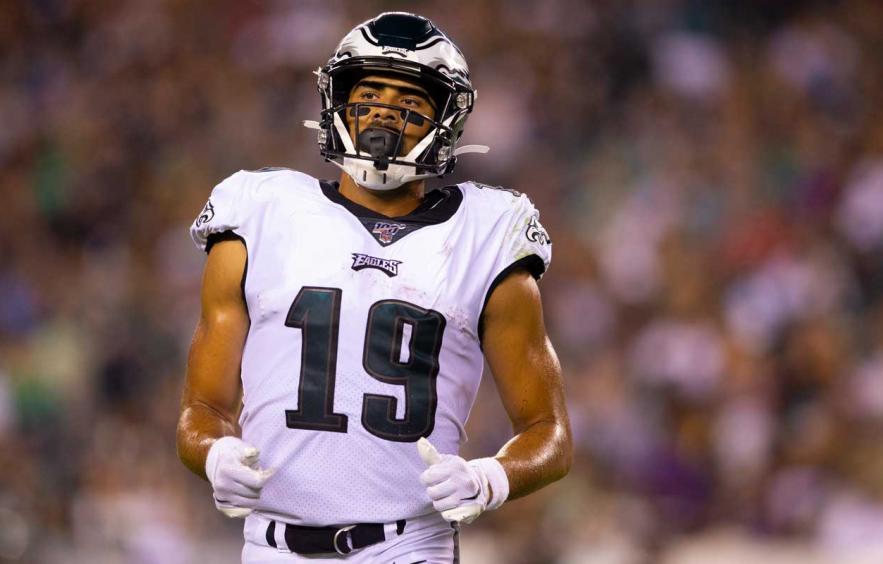 Mitchell Leff/Getty Images
When laying out Week 3 NFL DFS contrarian stacks, I'll be using a combination of our Stack Value Reports and GPP Leverage Scores to find unique stacks that can take down a tournament. I encourage you to read the series on how to win a GPP in the DFS Strategy Hub. You'll quickly realize that taking down a tournament requires a balance of players ranging from low-owned to chalky.
I like building contrarian stacks around my chalkier core of players because you only have to get one instance correct for it to hit. For example, if we hit on a contrarian quarterback play while having a pass-catcher or two from that same game, the positive correlation of those stacks is technically getting one contrarian play correct despite filling multiple roster slots. I feel this is easier than having a chalkier stack while trying to hit multiple individual low-owned plays throughout the rest of your lineup. Keep in mind that these are contrarian stacks, so you don't have to use these stacks in a large percentage of lineups to be overweight on the field.
QB/WR1/TE1/Opp WR1 Stack
QB Carson Wentz ($5,600 DK/$7,700 FD)
WR J.J. Arcega-Whiteside ($3,500 DK/$4,600 FD)
TE Zach Ertz ($5,700 DK/$6,900 FD)
WR Kenny Golladay ($6600 DK/$7,000 FD)
One of the major takeaways from my offseason research was that chalk wide receiver is one of the easiest positions to fade. It makes sense—the act of completing a deep pitch and catch, which offense needs to occur to have a monster fantasy performance, is much more difficult to predict than rushing or passing success. Nelson Agholor is going to be uber-chalk this week with DeSeasn Jackson and Alshon Jeffrey likely out. I like pairing Carson Wentz with J.J. Arcega-Whiteside and Zach Ertz. Ertz doesn't need much of an explanation—he currently owns a 33% target share and a 32% air yards share. He is the defacto number one receiver for the time being. Arcega-Whiteside had 20% of the Eagles' air yards in Week 2 despite only seeing 8% of targets. Doug Pederson said in his press conference that Arcega-Whiteside will get work with the ones in practice this week and he'll be on the field a lot against the Lions. Let's run this Eagles' stack back with Kenny Golladay. The Eagles have been crushed by WR1s over the last two seasons, most recently Terry McLaurin and Julio Jones. Golladay received 52% of the Lions' air yards in Week 2 and has barely come off the field through two weeks. I think each part of this stack may have a decent amount of ownership, but combined will be a very unique stack.
QB/WR2/Opp RB1 Stack
QB Kyler Murray ($5,800 DK/$7,200 FD)
WR Christian Kirk ($5,000 DK/$5,900 FD)
RB Christian McCaffrey ($8,700 DK/$8,900 FD)
Week 3 will go down as the week Kyler Murray had his coming-out party. He has played well through the air through two weeks but hasn't had to run much. I don't know if this will be the week he gets a ton of rushing production, but Kingsbury should start giving him some zone-read plays in the red zone. The Cardinals struggled mightily in the red zone against the Ravens and if they allowed Murray to use his legs a little bit, he could suck the defense in for play-action passes. Christian Kirk has been solid as well. Kirk is averaging 100 air yards a game and has been targeted on 21% of Murray's throws. He's playing exclusively in the slot along with Larry Fitzgerald, who should be very popular. This is a contrarian stacks write up, which is why I left Fitz off this recommendation. There are going to be plenty of Kyler Murray stacks, but not many will leave Fitz out, making this a contrarian stack. Christian McCaffrey is in for a bounce-back week after a 10-day game rest. With Kyle Allen likely at the helm, we can expect McCaffrey to reach double-digit targets and be leaned on in the run game. He's coming off a sub-par effort against the Buccaneers which may keep his ownership somewhat depressed. Both the Cardinals and the Panthers have played at the two fastest paces in the league to this point, so I'm banking out a bunch of extra plays being run in this game, potentially resulting in the shootout of the week. I wouldn't even mind throwing more players into the mix here and creating an "onslaught" roster construction. I'm high on Greg Olsen this week in addition to McCaffrey.
QB/WR1/Opp WR 1 Stack
QB Dak Prescott ($6,500 DK/$8,400 FD)
WR Amari Cooper ($7,500 DK/$7,700 FD)
WR DeVante Parker ($4,000 DK/$4,800 FD)
It's the Cowboys turn to hammer on the tanking Dolphins. Dak Prescott looks like a top-five quarterback in the league in his first two games and the target share just got a little tighter. With Michael Gallup out of the lineup, that leaves a quarter of the Cowboys' targets. Because of their salary, Randall Cobb and Devin Smith will garner ownership, but I'm going to plant my flag on Amari Cooper. We constantly see the near-minimum price receiver that is supposed to be thrust into a large role flop. Cooper already has a 23% target share and 26% air yard share and I would bet both of those jump up to around 33% this week. I always qualify these recommendations by saying you can add to them with additional players, but the players listed are the base of the unique, contrarian stack. If you want to tack Zeke or Devin Smith onto this stack that works. What makes this stack one of my favorite of the week is DeVante Parker. I also can't believe I typed that last sentence. It's very hard to ignore that Parker's 300 air yards puts him second in the league. I always like to look for players who have had opportunity and have not converted it, because usually, that means their time is near. He has 14 targets through two games and an average depth of target of 22.1 yards per target. Preston Williams will get the ownership on the Dolphins side, but I like a pivot to Parker. Obviously these stacks are to be used sparingly because Parker is not someone I want a lot of my bankroll invested in.