Offensive Line Rankings and Matchups to Exploit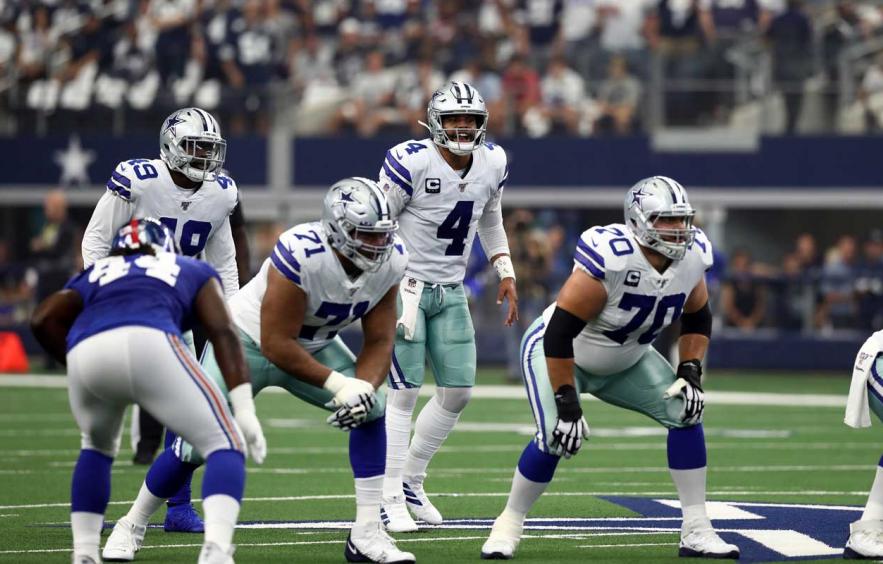 Ronald Martinez/Getty Images
Evaluating offensive line play regarding its effect on fantasy football output has been a stone unturned throughout the course of our game within a game. Here at 4for4, we're dedicated to looking at fantasy pieces from all angles, and that includes the positive and negative impact an offensive line has on that team's fantasy assets.
Below I'm going to be digging into specific weekly matchups between offensive lines and the opposing defense's aFPA—one of the many useful tools available to us here at 4for4. Many sites publish raw fantasy points allowed by position, but 4for4 goes a step further and adjusts those numbers for a defense's relative year-to-date schedule strength. For now, the aFPA numbers are from the 2018 season as we allow the 2019 season to shape into form. Once we have some reliable numbers and patterns the aFPA stats will begin to reflect this season (starting Week 4).
Let's begin by diving into the passing game to see what o-line/defense match-ups we can exploit.
Favorable Quarterback Matchups
Basically, what we're looking for here is a tall bar (a team ranked low in aFPA) towards the left of the graph (a team ranked high in offensive line play) for a positive correlation to offense and a small bar towards the right to a positive correlation for a defense. Here are some plays that stick out to me:
Patriots

@

Dolphins

Despite losing right tackle Marcus Cannon for a few weeks, the Patriots Sunday Night Football game was mostly a positive. Clearly a 33-3 thrashing of the Pittsburgh Steelers is a plus, but the play of left tackle Isaiah Wynn finally extinguished the flames that moving on from Trent Brown may have been a mistake. This week they have the honor of playing a Dolphins team that just allowed Lamar Jackson to complete 85% of his passes for 324 yards and five scores. Jackson did all of that while only attempting three rushes and taking only a single quarterback hit.

Tom Brady without pressure is still the best in the business, and possibly the best of all time. You were probably never sitting Brady if you have him in redraft, but don't be afraid to play the obvious play in DFS as well.
Cowboys

@ Redskins

The Cowboys offensive line was back in full force in Week 1 and combined with the play-calling debut of Kellen Moore, Dak Prescott went ahead and became the fourth quarterback in the Super Bowl era to log 400+ passing yards, 4+ passing touchdowns and a perfect passer rating. That seems pretty good. The cohesive line allowed a 0.5% Adjusted Sack Rate (second-best of Week 1's action) and blew only three total blocks as a unit according to Sports Info Solutions' Blown Block statistic.

Washington held up admirably for the first half of action against the Philadelphia Eagles but ended up blowing a 17-0 league by being roasted by the passing attack and namely DeSean Jackson. This week, if Josh Norman is able to hold his own against Amari Cooper, look for Michael Gallup and even Randall Cobb to build upon their Week 1 success.
Favorable Defensive Matchups
Browns

@

Jets

Even before we dig into this match-up it's important to note that Sam Darnold will be missing this game and Trevor Siemian will be filling in, which makes the Browns defense all the more enticing to play. In the Jets' opening game their offensive line allowed the Buffalo Bills to rack up a whopping 15 pressures according to SIS. On top of that, their Adjusted Line Yards sat at 3.52, ranking them 26th in the NFL.

If the trend of mediocre-to-poor games from left guard Kelechi Osemele continues throughout the year it will be safe to assume that his disappointing 2018 season wasn't just an outlier but a sign of things to come. Next to him, center Ryan Kalil had the worst performance of the group in his first game out of retirement and it will be a difficult task righting the ship against the Browns front seven.
Ravens

vs.

Cardinals

For the second week out of two, the Baltimore Ravens defense should be the chalky defensive play of Sunday. We have Baltimore, who own the second-best Pass Rush Win Rate teeing up against this Cardinals O-Line that just allowed 21 quarterback pressures in a pass-heavy, fast-tempoed offense. The one-vs.-one fight to keep an eye on will be right tackle Justin Murray (who got smoked early and often last week) against the rotation of Tyus Bowser and Tim Williams on the left edge of the defense.

If the Ravens are able to run the score up in this game the pressure will be on Kyler Murray and the Arizona Cardinals to stick to the air-it-out approach, which is exactly what we're looking for in our fantasy defenses.
Favorable Running Back Matchups
The above rushing aFPA graph will work exactly the same way as the QB aFPA graph worked; tall lines on the left are areas we want to attack and short lines on the right should make you second guess the fantasy pieces associated with those offenses.
Patriots

@

Dolphins

We already hammered this in the passing section, just know that New England has the best O-Line vs. Defense match-up of the week.
Eagles

@

Falcons

It's been long-standing football knowledge that the Falcons are susceptible to opposing running backs as pass catchers and the numbers here bear that out. Philadelphia comes into this game with one of the most well-rounded offensive lines in all of football and a slew of running backs capable of catching the ball. In Week 1, the Minnesota Vikings didn't even need to take advantage of Atlanta's weakness, instead handing the ball off to Dalvin Cook (21 carries) and Alexander Mattison (nine carries) en route to 172 team rushing yards and three touchdowns (one on a QB sneak by Kirk Cousins).

The Eagles will have no problem moving the ball on the ground and through the air. The real question is who will be the running back to capture the biggest piece of the pie? In Philly's opener Jordan Howard (eight touches), Miles Sanders (12 touches) and Darren Sproles (12 touches) were all involved to an annoying degree, providing little fantasy value in any one play. An effective run game may just point to even more production for the man handing them the ball, Carson Wentz
Ravens

vs.

Cardinals

For many of the reasons addressed in the section above, the Baltimore Ravens could be in control of this game from start to finish. We've already seen what they can do through the air, could this be the week we see a resurgence of that dangerous running game we saw for the majority of the back half of 2018?

Detroit's running backs stumbled along with 3.1 yards per carry against the Cardinals defense on Sunday, but the Lions don't have Mark Ingram, Justice Hill and Lamar Jackson at their disposal. Arizona allowed the most rushing yards and rushing touchdowns in 2018 because of continual negative game script. Baltimore are currently favored by 13.5 points, indicating more of that negative game script in Week 2.
Running Backs with Bad Matchups
As opposed to breaking down every bad match-up through the rest of the slate, here are some running backs I'm looking to avoid because of their poor offensive line and the strong defensive fronts they will be facing:
That's all I've got for this week, everyone. If there's something you'd like me to dig into specifically with regards to offensive line vs. defensive lines please give me a shout! For further reading regarding our aFPA statistic and how to use it in your favor, give John Paulsen's Sneaky Starts series a read!