NFL Week 14 Betting Picks & Predictions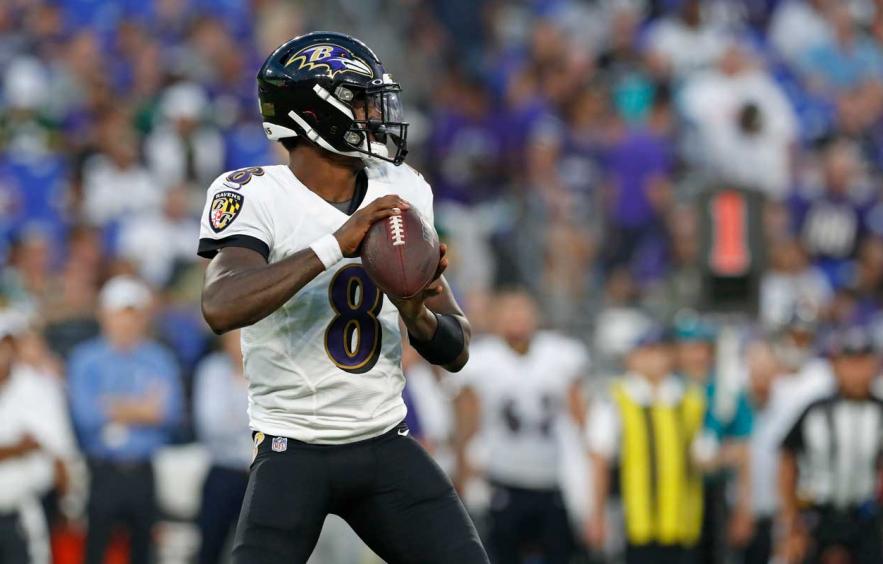 Todd Olszewski/Getty Images
Week 13 Recap: Pittsburgh won outright against the Browns as a 2-point home underdog and while things got a little nerve-racking in the fourth quarter, the under 51 also cashed in the Raiders-Chiefs matchup. Of all teams to ruin the trifecta, the Patriots failed to cover as a 3-point favorite in Houston.
So, after going 5-10-1 during a rough four-week stretch, my selections are now 5-2 over the past two weeks. While that still leaves me just 23-22-1 on the season, at least there are signs of life for the stretch run.
131 Baltimore Ravens at 132 Buffalo Bills
Spread: Ravens -6
O/U: 44
Time: 1:00 p.m. ET, Sunday, December 8
After the Ravens failed to cover as a 5.5-point home favorite versus the 49ers and the Bills throttled the Cowboys as a 6.5-point road underdog in Dallas on Thanksgiving Day, the impulse might be to take Buffalo as a 6-point dog this Sunday.
While improved, the Bills' biggest weakness defensively is against the run. If you go back to that late-October meeting with the Eagles in Buffalo, the Bills were gashed for 218 yards on 41 carries. Their pass defense is excellent, but they can be had by teams that run the ball well.
That...could be a problem this weekend. The Ravens own the league's top rushing attack based on most metrics, including Football Outsiders' DVOA rankings. Their quarterback (some guy named Lamar Jackson) has rushed for 977 yards this season, which ranks ninth. Their top back, Mark Ingram II, is 12th with 837 yards on 166 carries. When Ingram needs a rest, enter bruising back Gus Edwards. Everyone in the stadium knows Baltimore is going to run the football and yet, the Ravens do it anyway because they do it better than anyone else in the league.
Jackson also forces defenses to play a lot of zone. When defenses play man-to-man (like the Patriots did in the first quarter-plus in their matchup with the Ravens back in October), Jackson will take off for big gains because cornerbacks are forced to turn their backs to the quarterback in efforts to stay with their receiver. Jackson is a nightmare to defend and he's only one cog in this deadly Baltimore rushing attack.
Here's how I see this game unfolding: The Bills will hang in the first half but the Ravens will pull away with their ground game eventually. Josh Allen is having a solid season playing behind an underrated Buffalo offensive line, but once the Bills start to put the ball in the air, they're playing into the Ravens' strength defensively.
NFL Week 14 Selection: Baltimore Ravens -6
---
Looking for more picks? Check out Sharp Angle Sports for access to Anthony's CFB selections and exclusive NFL selections from SuperContest Winner James Salinas, who is a documented 63% ATS over 320 NFL selections since 2015.
---
137 San Francisco 49ers at 138 New Orleans Saints
Spread: 49ers +3
O/U: 44.5
Time: 1:00 p.m. ET, Sunday, December 8
The Superdome will be raucous for this matchup of top NFC teams, but the 49ers just dealt with a hostile environment last Sunday when they traveled to Baltimore. The Niners are a fundamentally-sound, well-coached team that will be prepared. They've proven that week in and week out, including last Sunday when they nearly pulled off the upset against the Ravens.
I think they accomplish the feat this week. New Orleans is banged up. Andrus Peat (forearm) isn't expected to play and Terron Armstead (ankle) was a limited participant in practice. They dealt with these same injuries a week ago in Atlanta, but the Saints' defensive line overwhelmed the Falcons' offensive line to the point it didn't matter how Drew Brees and Co. played.
But it will matter this weekend. If Peat is out and Armstead isn't 100%, San Francisco owns the league's top pass rush. I see Brees being under siege and just like any quarterback, he hates pressure in his face. The Saints' offensive line is outstanding but again, they're dealing with injuries and they'll have their hands full with Robert Saleh's front seven this weekend.
On the other side, Jimmy Garoppolo is a different quarterback when the pieces are healthy around him. Matt Breida should be back, while George Kittle (knee, ankle), Deebo Samuel (shoulder) and Emmanuel Sanders (ribs) are all likely to play as well. Granted, the Saints' pass rush is a concern, but I expect Kyle Shanahan to have an answer to get the ball out of Garoppolo's hand quickly and not turn his quarterback into a sitting duck like the Falcons did last week.
The 49ers are a perfect 4-0 against the spread in their last four games as an underdog and have covered the number in four of their last five games when facing an opponent with a winning record. This one comes down to the wire, but give me the field goal.
NFL Week 14 Selection: San Francisco 49ers +3
---
DraftKings Sportsbook Deposit Bonus: Available to Current & New Users! Create an account, deposit and DraftKings will match 50% of the deposit amount up to $500. Additionally, new users will get their first bet matched with up to a $200 risk-free bet.
---
151 Kansas City Chiefs at 152 New England Patriots
Spread: Chiefs +3
O/U: 48.5
Time: 4:25 p.m. ET, Sunday, December 8
As I wrote last week, I thought if the Patriots offense was ever to turn things around, it was last week. They were playing inside as opposed to the nasty conditions in Foxborough, and that Houston defense is merely average without JJ Watt. Instead, Tom Brady and Co. struggled while the defense couldn't figure out a way to get the ball back from Deshaun Watson.
I realize betting against the Patriots is often a recipe for disaster, but I'm going to trust my eyes. The offensive line has put together solid back-to-back games, but Brady and the passing game is off. Opponents are foolish if they don't double Julian Edelman and force Brady to look elsewhere. He's not in sync with anyone else, which is why his frustration continues to boil over. There's no true deep threat in this offense and more importantly, the running game isn't feared. This is a different offense than what we're used to seeing in New England.
Meanwhile, I feel like the Chiefs are the Clemson of the NFL, which is to say they're an excellent team currently flying under the radar. The talk of college football has been Ohio State, LSU and whichever team is going to be the fourth seed in the playoffs. Meanwhile, the defending champion Clemson Tigers are routing teams every week and if not for head coach Dabo Swinney having playful banter with ESPN's Paul Finebaum, they would be largely ignored this week. In the NFL, with all the attention on the Ravens, Patriots, Cowboys, and Seahawks, the favorite in last year's AFC title game has largely flown under the radar.
The Chiefs have the better offense in this matchup and if Watson and Jackson's mobility gave the Patriots problems, Patrick Mahomes' ability to move inside and outside the pocket should as well. I know the Pats have owned this matchup in the past and that opponents have to play perfect to beat Bill Belichick and Co. I'm willing to take that risk. Again, I'm trusting my eyes here. The Pats aren't suddenly going to turn it on offensively. If they run all over Kansas City's defense and play keep-away from Mahomes, so be it. I'll take the loss. But I'll gladly take the points with an 8-4 Chiefs squad that has more than enough talent to win this weekend in Foxborough.
NFL Week 14 Selection: Kansas City Chiefs +3
2019 NFL ATS Betting Record
Week 1: 1-2
Week 2: 1-2
Week 3: 3-1
Week 4: 3-1
Week 5: 2-1
Week 6: 1-2
Week 7: 2-1
Week 8: 1-3
Week 9: 1-3
Week 10: 2-2
Week 11: 1-2-1
Week 12: 3-1
Week 13: 2-1
Season Total: 23-22-1 (51%)