The Training Room: Week 10 Injury Updates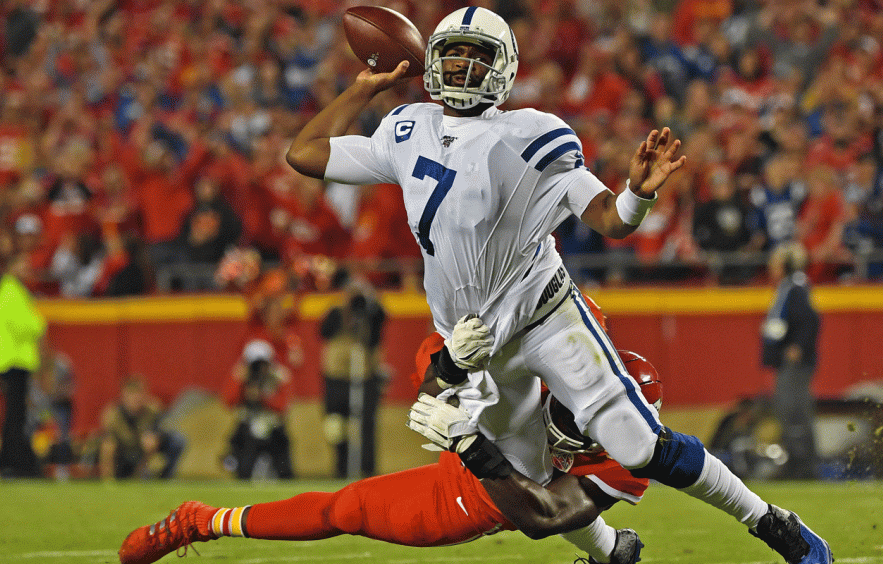 Peter G. Aiken/Getty Images
Whether you want to admit it or not, fantasy playoffs are only a few weeks away and the season is quickly coming to a close. What are you doing to position yourself to make a playoff run?? Let's take a look at the injuries that occurred in Week 9 and also discuss players who are returning from injuries or are close to returning.
Jacoby Brissett

, QB

Colts

Injury: Sprained MCL

Timetable For Return: 2-4 Weeks, Ruled OUT for Sunday

Potential Replacement: Brian Hoyer

Comments: This was the expectation all along as it is very rare that a player returns from an MCL sprain only a week after the injury occurred.
JuJu Smith-Schuster

, WR

Steelers

Injury: Sprained Foot

Timetable For Return: Day-To-Day, Questionable for Week 10

Potential Replacment: Diontae Johnson, James Washington

Comments: Being added to the injury report on Friday is never a good sign for a player's availability on Sunday. However, this hasn't been any indication or reports that Juju is in danger of missing Week 10. With the Steelers playing later in the day, you'll need to have a backup plan just in case Smith-Shuster can't give it a go.
George Kittle

, TE

49ers

Injury: Sprained Knee/Ankle

Timetable For Return: Week-To-Week, Doubtful for Week 10

Potential Replacement: Ross Dwelley, Levine Toilolo

Comments: Even with the 49ers playing on Monday, the extra day wasn't going to be enough for Kittle who is battling both knee and ankle injuries. He'll sit and watch from the sidelines a huge NFC West matchup against the Seahawks.
Matthew Stafford

, QB

Lions

Injury: Strained Hip, Low Back Pain

Timetable For Recovery: Game Time Decision

Potential Replacment: David Blough

Comments: Stafford has been trying to play through a hip injury that has been giving him trouble over the last few weeks but apparently it is still lingering to the point where now his back is giving him trouble as well. This is defiintely a situation to monitor as it looks like Stafford is looking more doubtful due to the discomfort. Add in the fact that the Lions are facing the Bears defense and it seems like that could potentially factor into the decision as well as he'd be more vulnerable to getting hurt if unable to move around the way he normally does.
Adam Thielen

, WR

Vikings

Injury: Re-aggravated Hamstring Strain

Timetable For Return: 3-4 Weeks, Ruled OUT for Week 10

Potential Replacement: Stefon Diggs, Olabisi Johnson

Comments: We discussed before Thielen was active for Sunday that he was a high risk of re-aggravation and that came to fruition as he left Sunday's game early due to that same hamstring. Re-aggravations have a tendency to be more lengthy in time for recovery so the Vikings might not bring him back until he's fully healthy.
LeVeon Bell, RB
Jets
Injury: Sprained Knee

Timetable For Return: Day-To-Day, Expected to play Week 10

Potential Replacement: Bilal Powell

Comments: Both Bell and Coach Gase have confirmed that he is expected to play Week 10 against the Giants. It doesn't seem like the knee issue that Bell is dealing with is significant enough to keep him sidelined and he should be used without too much risk.
DeSean Jackson

, WR

Eagles

Injury: Abdominal Strain Re-aggravation

Timetable For Return: Placed on IR

Potential Replacement: Nelson Agholor, Zach Ertz

Comments: DJax could never get healthy for ths season and being put on IR is a fitting way to end his season. When they switched his designation from a groin strain to a core muscle injury, the writing was on the wall that this injury was going to be more difficulty to return from. Jackson will have surgery and won't be eligible to play until opening round of the playoffs which means his fantasy season is officially over.
Preston Williams

, WR

Dolphins

Injury: Torn ACL

Timetable For Return: Out For Season

Potential Replacement: DeVante Parker

Comments: Just brutal. Williams was starting to contribute more frequently and with bigger impact before going down with his knee injury which will now end his season. We'll get an idea of whether or not he'll be 100% depending on if any other tissue is involved during the surgery.
Evan Engram

, TE

Giants

Injury: Sprained Foot

Timetable For Return: Week-To-Week, Ruled OUT for Week 10

Potential Replacement: Rhett Ellison

Comments: Foot issues always have a tendency to linger so the Giants are going to play it safe and sit Engram out in hopes he can make some progress. With that being said, he's no lock to possibly return in Week 11 so we'll need to keep an eye on his status early next week to get an idea of where he stands.
On The Mend
Alvin Kamara

, RB

Saints

Injury: High Ankle Sprain

Timetable For Return: Not on final injury report, will play Week 10

Potential Replacement: Latavius Murray

Comments: Fire up Kamara as a top end running back this week against a porous Falcons defense. I wouldn't be overly concerned about his ankle issues as he's had no issues or setbacks during practice and he's clearly as healthy as he's been since the injury which is a great sign.
Patrick Mahomes

, QB

Chiefs

Injury: Dislocated Kneecap

Timetable For Return: Full participant

Potential Replacement: Matt Moore

Comments: Mahomes will get the green light after only a two week absence due to a dislocated kneecap. There is always some risk of the kneecap possibly giving him trouble the remainder of the season and we still need to keep tabs on his high ankle issue that he was struggling with before the knee injury occurred as well. Regardless, Mahomes is a huge upgrade for all the Chiefs skilled position players and shouldn't miss a beat when he gets back on the field.
A.J. Green

, WR

Bengals

Injury: Ankle Surgery

Timetable For Return: Week-To-Week, Ruled OUT for Sunday

Potential Replacement: Tyler Boyd, Auden Tate

Comments: Green is out indefinitely after experiencing renewed swelling in his ankle when trying to ramp up his activity this week. There's a chance that the Bengals put Green on IR to end his season as the Bengals haven't won a game yet and it would not make a lot of sense to put Green out there at less than 100%.
T.Y. Hilton

, WR

Colts

Injury: Strained Calf

Timetable For Return: 2-4 Weeks, Ruled OUT for Week 10

Potential Replacement: Zach Pascal, Parris Campbell

Comments: Hilton hurt his calf midweek last week and did not play Week 9. The timing of the injury is significant, as now he'll likely miss at least the next two weeks if not more. Calf strains are very difficult to try and return quickly from.
Brandin Cooks

, WR

Rams

Injury: Concussion

Timetable For Return: 2-3 Weeks, Ruled OUT for Week 10

Potential Replacement: Robert Woods, Josh Reynolds

Comments: Cooks returned to a limited practice on Friday which is an encouraging sign for his potential availability the rest of this season. The Rams will likely still proceed with caution as most teams would when a player is dealing with multiple concussions in the same season. I would expect Cooks to possibly miss another week or so but it's important that he's back out on the field participating in drills.