Perfect Draft: 12th in a 12-Team ESPN PPR League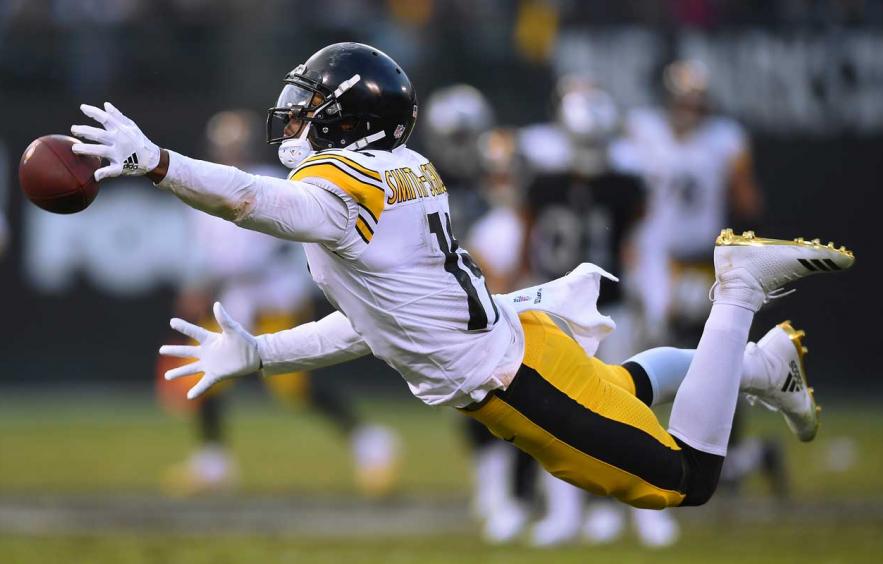 Thearon W. Henderson/Getty Images
I picked first and in the middle in my previous two perfect drafts, so I decided to choose the last pick this time around. I typically like the last pick because there is always a handful of running backs available in the late-first, early-second round I can double-up on. However, there seem to be more question marks at the top of the position than what I'm used to. As a result, I thought it'd be interesting to practice drafting at the end. After several simulations, I continued to like my overall roster better when I went without a running back in the first two rounds more than if I took James Conner or Joe Mixon – or both – at the turn. As a result, after leaning into the zero running back strategy drafting from the sixth spot, I leapt into it here.
---
Editor's Note: Click here to read all our perfect draft series.
---
In this edition of the Perfect Draft Series, I'll be walking through a perfect draft from the 12th slot in a 12-team PPR league. Each pick was optimized using projections and value-based rankings from the 4for4 Draft Hero tool.
Draft Hero Settings
Roster settings: 1QB, 2RB, 2WR, 1 WR/RB/TE, TE, K, DEF, seven bench spots.

No QBs before the 10th round: I keep waiting longer and longer for a quarterback and I've yet to be disappointed with the results. This time, I'm waiting until double-digit rounds to grab a passer, and I have no concerns whatsoever about missing out.

Zero RB: As I mentioned above, I'm going zero running back in the first two rounds. When picking at the back end of the draft, I'm committing to WR-TE for my first two picks, and I've set Draft Hero as such. I allowed Draft Hero to recommend two receivers, just in case all the top-three tight ends are gone, but if one of them is there, I like locking up the position at the 12/13 turn.

Targeting the Bills Backfield: Because of the murkiness of the backfield in Buffalo, LeSean McCoy and rookie Devin Singletary are both going way late in drafts right now. I'm perfectly happy to take a flyer on both of them, hoping one will pan out. I have been super high on Singletary since I started watching tape on him in January, and I think he's a legitimate starter if he gets touches. If he doesn't win the job, that should mean McCoy has returned to form. With two late-round picks, I'm banking on getting a steal in one of them.

Not the WRs I'm Looking for: I might be the only one, but I don't want to draft Odell Beckham Jr. this year. He's probably going to be great, and I'll probably regret it. I don't even hate the guy. I'm just electing to let someone else worry about the fact that his temper may flair up on a team with a lot of egos. I'm going to let another owner risk a high pick on a player who has missed 16 of his last 32 games with injury. I'll regret it later, but I don't want Draft Hero suggesting him to me with my first two picks, so I'm removing him from my draft board. Also, I'm still not interested in rooting for Tyreek Hill.
No Ks or DSTs until the last two rounds: As always, there's no need to take a defense or a kicker until the last two rounds of the draft, in that order.
Jump to Pick 1 | 2 | 3 | 4 | 5 | 6 | 7 | 8 | 9 | 10 | 11 | 12 | 13 | 14 | 15 | 16
Round 1, Pick 12 –
JuJu Smith-Schuster

,

Steelers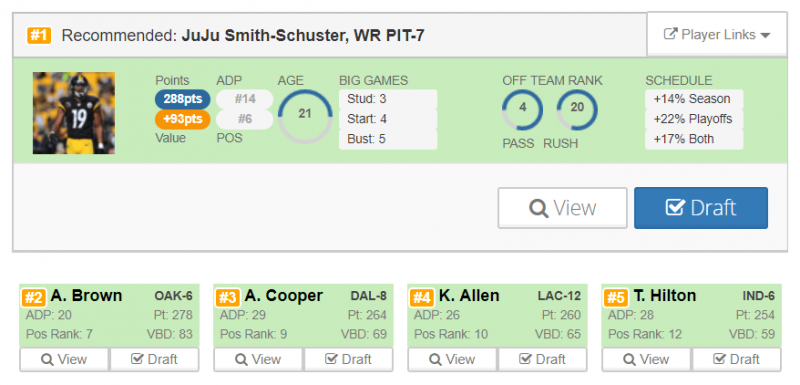 This would be a spot where Draft Hero would recommend Odell Beckham Jr. and Tyreek Hill, but luckily, DA followed instructions and left them off the list. I was a big fan of Smith-Schuster last year and he was a big part of my success in a large majority of my leagues. As the unquestioned WR1 on the high-powered Steelers passing offense, it's hard not to like anchoring my team around him. No team attempted more passes than the Steelers in 2018 and Smith-Schuster ended up fifth in the league with 1,426 yards. While I don't expect him to get more than his 111 receptions from a year ago, he should improve on his seven touchdowns after watching Antonio Brown take 15 touchdowns with him to Oakland. He scored a touchdown in each of the three games Brown missed over the past two years.
The only running back that would've given me pause on my strategy is James Conner, who came off the board one pick before me in this case. The rest of the backs available all have some sort of question mark, from Damien Williams' usage to Nick Chubb's potential limitations in the passing game. I'd much rather lock up a bona fide star in the first round and gamble on running backs available in rounds four and later than risk missing out on an elite receiver here.
Each round, Draft Hero suggests the top available suggestion along with four alternatives, as shown at the top of this section. Throughout the rest of the article, I will note those suggestions as well as my top alternative to the player that I actually selected.
My Top Alternative: Keenan Allen
Round 2, Pick 1 –
Travis Kelce

,

Chiefs

Draft Hero followed my directions and recommended the top tight end in this spot. Had Kelce, George Kittle or Zach Ertz not been available, I would've punted on my TE strategy and gone with another receiver – likely Keenan Allen or Mike Evans – but in this simulation, all three of the top tight ends are available. The production gained from these three elite tight ends should outweigh the cost of missing out on available running backs and receivers, especially when considering the gap between tiers at the positions. Had Davante Adams or Julio Jones been available, I wouldn't have hesitated to double-up on receivers, but with Beckham, Hill, and Antonio Brown the top options here, I prefer the security of Kelce, who seems like the best of the best. He caught 103 balls last year for 1,336 yards and 10 touchdowns. There's no reason to suspect a drop-off in the high-octane Chiefs offense.

After I selected Kelce, I modified my draft plan to no longer suggest tight ends. Getting one of the elite options allows you to forego getting a backup at the position. For Kelce's bye week, I'll hit the waiver wire, but for now, I'd much rather use that roster spot on another running back or receiver with upside. If Kelce wasn't available, Kittle would be my preferred option since he's on an emerging offense, is very young, and is clearly the best receiving target in San Francisco.

Suggested Alternatives: George Kittle, Zach Ertz, O.J. Howard, Hunter Henry

My Top Alternative: George Kittle
Round 3, Pick 12 –
Julian Edelman

,

Patriots

If this were a standard league, I would've definitely take Brandin Cooks here, or perhaps doubled-up on the running back position with these two picks and taken Devonta Freeman and Josh Jacobs. However, since it's a PPR, I happily took Edelman as my second receiver. He's an excellent target for this format as he continues to be the primary chain-mover in New England. The less Tom Brady throws downfield, the more he looks to the trusty Edelman, and he's averaged 6.9 catches per game in the 11 games since 2016 without Rob Gronkowski on the field. That production should continue this year with Gronk's retirement. The end of the third round is good value for a guy who has averaged 9.5 targets per game over the past two seasons.

I like taking both a receiver and a running back on the turn and would do that regularly until it was time to take a quarterback. With an elite tight end locked up in the second round, I was able to focus on taking the best players available in the important middle rounds. The availability of guys like Jacobs and Freeman gave me confidence in my choice to start the draft with two receivers and a tight end.

Suggested Alternatives: Brandin Cooks, Chris Godwin, Devonta Freeman, Josh Jacobs

My Top Alternative: Brandin Cooks
Round 4, Pick 1 –
Josh Jacobs

,

Raiders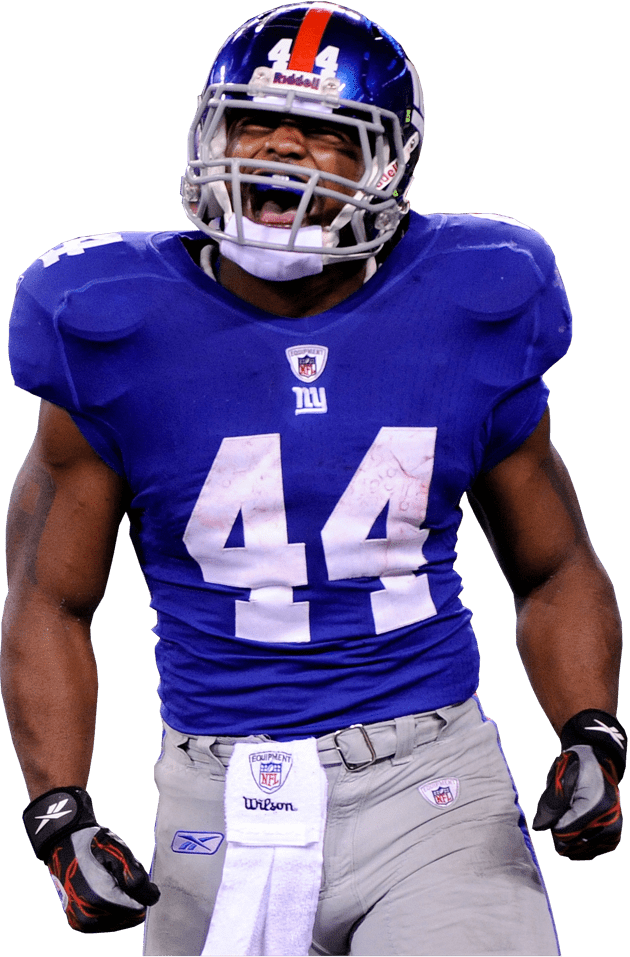 You're Missing Out!
Get access to this article and all our tools and rankings:
All Premium Content
The most Accurate Rankings Since 2010
Expert Draft Picks w/DraftHero
Highest Scoring Lineup + Top Available Players w/LeagueSync
...and much much more